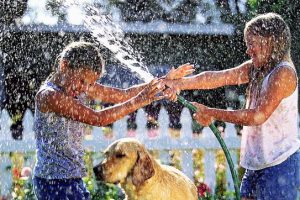 Now that school's almost out, many parents are probably looking for ways to keep the kids entertained. Here are some ideas for free and cheap summer fun for kids in the Kansas City area in 2017 (click on the links below for more details). I'll add to the list as I find more, so make sure you check back. Also, if you know of any I missed, please leave a comment below.
If you're not doing this already, you can subscribe to Kansas City on the Cheap's daily emails (just one a day), and follow us on Facebook and Twitter. Want exposure for your business or event? Consider sponsoring this popular post. Email jhenryrn2@gmail.com.
FREE Bowling: All summer long, kids can bowl two free games per day at Kansas City area bowling alleys that are participating in a national Kids Bowl Free program. For a one-time payment of $28.95, up to four family members can also bowl two games per person per day.
FREE Roller Skating: Northland Rolladium Skate Center in Liberty and River Roll Skate Center in Riverside are participating in a national Kids Skate Free program for kids ages 10 and under.
FREE or Cheap Swimming: There are plenty of places to swim "on the cheap" this summer; some are even FREE.
FREE Spraygrounds: To cool the kids off on a hot day, many Kansas City area parks are offering access to FREE spraygrounds.
Cheap Theatre: The Theatre in the Park has outdoor shows throughout the summer that are rated G or PG (in Shawnee Mission Park). Tickets are $8 for adults; $6 for kids (4-10). P.S., this was one of my very favorite things to do as an adolescent/young teen growing up in Kansas City!
FREE and Cheap Movies (indoor):
Alamo Drafthouse is holding an annual Kids Camp with movies from $1 to $3.
B&B Theatres is running a Summer Kids Series with $3 movies ($2 for Backstage members) on Tuesday, Wednesday, and Thursday.
Blue Springs 8 has a Kid Show Summer Series that will allow you to see 10 movies for $15 (or you can pay $2 per show).
Cinemark's Summer Movie Clubhouse will allow you to see 10 kid-friendly movies for $5 (or you can pay $1 per show).
Woods Chapel United Methodist Church is having an Inside Out Movie Night (i.e., showing the movie Inside Out) at all three of its campuses during the month of June. Admission is FREE and open to the public.
FREE and Cheap Movies (outdoor):
On Fridays, July 7-August 4, Crown Center has a Weekender Event that includes live music by a local band, food trucks, vendors, and a movie. Admission is FREE.
Every Saturday, June 3-July 22 (except for June 24), Briarcliff Village is showing FREE outdoor movies.
On Thursday nights, June 15-August 10, you can watch FREE Moonlight Movies on Independence Square.
On select Tuesday nights, June 6-August 1, The Theatre in the Park will be showing family-friendly movies on a 40-foot screen on the theatre stage. Admission is $1 per person.
There will be FREE movies in Hyde Park on select Friday nights as part of the Hyde Park Children's Film Festival.
FREE (or Cheap) Festivals: See our list of Kansas City Spring & Summer Festivals.
FREE County Fairs: There are several country fairs (plus the Missouri State Fair) this summer with livestock shows, rodeos, carnivals, contests, demolition derbies, live entertainment, and more:
FREE Airplane Rides: Kids can get free airplane rides from volunteer pilots in the Young Eagles program.
FREE Summer Camps:
Kansas City area Apple stores are holding some FREE Apple Camps, where kids can learn how to make movies, compose musical stories, code games and robots, and more.
Bass Pro Shops is holding a FREE Family Summer Camp that includes craft activities, FREE workshops, a catch & release pond, kids' games, and a FREE family photo.
Thomas & Friends: Explore the Rails Exhibit: Beginning on May 27, Crown Center will have a new FREE interactive exhibit that will allow kids to help Thomas The Tank Engine be a "Really Useful Engine."
Summer Reading Program: Kids in grades 1-6 who read eight books and submit a Summer Reading Journal can get a FREE book.
Other: Check out our list of: