Are you looking for a place where kids in Kansas City can cool off on a hot day?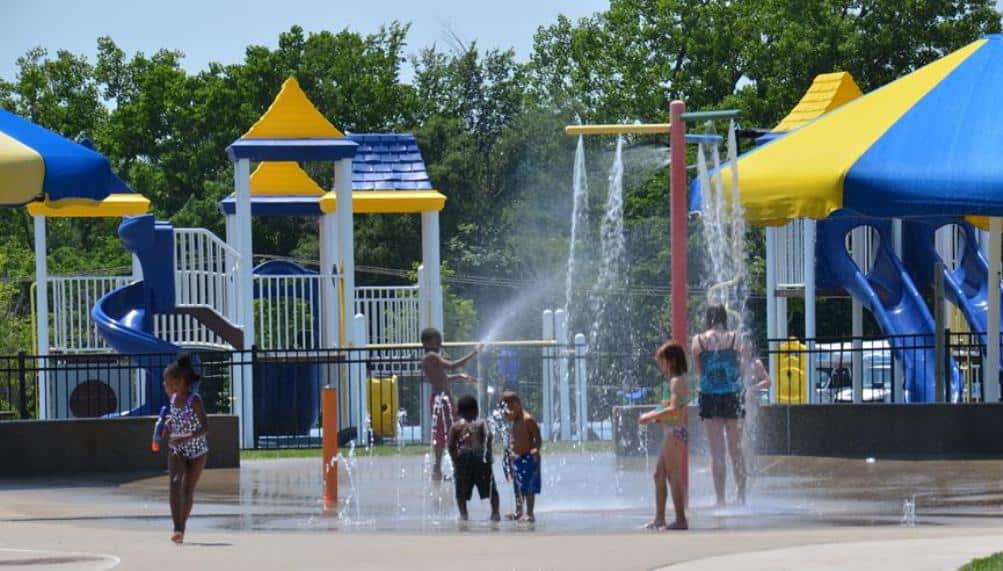 Here's a list of Kansas City area spraygrounds where kids can play in the water for FREE. These are perfect places for some cheap and spontaneous fun this summer. Throw in snacks or a picnic lunch for a full afternoon.
Most spraygrounds are open by Memorial Day and remain open through Labor Day. Hours and rules vary, so be sure to follow the links for more details.
You may also be interested in Free and Cheap Swimming in Kansas City.
Stay cool this summer Kansas City!
Free Missouri Spraygrounds
Blue Valley Park – 23rd Street and Topping, Kansas City, MO
Burrus Old Mill Park – 112 NW Woods Chapel Road, Blue Springs, MO
Central Park – Linwood Boulevard and Bales Avenue, Kansas City, MO
City Park – 970 S. Highway 291, Liberty, MO
Dagg Park – 1201 Clark Ferguson Drive, North Kansas City, MO
Douglass Park – 2632 Jarboe Street, Kansas City, MO
Garrison Square – 4th Street and Forest Avenue, Kansas City, MO – CLOSED FOR PLAYGROUND CONSTRUCTION
Gillham Sprayground – 41st and Gillham, Kansas City, MO
Harmony Park Sprayground – 10th Street and Agnes Avenue, Kansas City, MO
John Anderson Splash Park– 4701 E 135th Street, Grandview, MO
Longview Tract: 7101 Longview Road, Kansas City, MO
Loose Park – 52nd Terrace and Summit Street, Kansas City, MO
Lykins Square – E. 8th Street and Myrtle Avenue, Kansas City, MO
McCoy Park – 24 Highway and North Delaware, Independence, MO
Miller J. Fields Park – 1301 SE 3rd Terrace, Lee's Summit, MO
Parade Park – 1600 John & Buck O'Neil Way, Kansas City, MO
Rotary Park – 24th and Hardy, Independence, MO
Ruth Moore Park – 401 Grover Street, Liberty, MO
Seven Oaks Park Sprayground – E. 39th Street and Kensington Avenue, Kansas City, MO – CLOSED FOR PLAYGROUND CONSTRUCTION
Spring Valley Park – East 27th and Woodland Avenue, Kansas City, MO
Sunnyside Park – 8255 Summit, Kansas City, MO
Free Kansas Spray Grounds
Eisenhower Park – 2901 N. 72nd Street, Kansas City, KS (behind Eisenhower Middle School)
Heathwood Park – Parallel Pkwy. and N. 10th Street, Kansas City, KS
Lake Olathe Park – S. Wardcliff Drive, Olathe, KS
Pierson Park – 1800 South 55th Street, Kansas City, KS
Roe Park – 10400 Roe Avenue, Overland Park, KS
Sapling Grove Park – 8210 Grant, Overland Park, KS
Thompson Park – 8045 Santa Fe Drive, Overland Park, KS