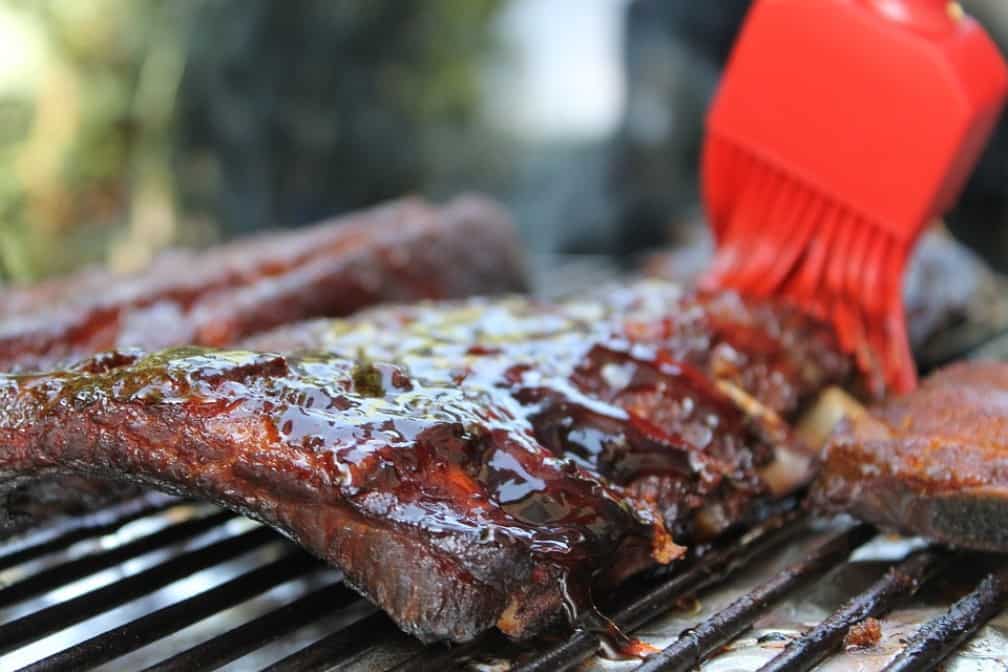 Kansas City is famous for barbecue – ribs, burnt ends, brisket – all smoked up and slathered in sauce. There are so many choices we had a hard time narrowing it down to the best barbecue restaurants in Kansas City.
We asked our Facebook friends and Twitter followers to weigh in on their favorite Kansas City barbecue joints. We got a lot of responses. Some people couldn't choose just one place, others had a definite favorite. Together we came up with this list (in no particular order) of where to find the best barbecue in Kansas City.
Honestly, we doubt you can go wrong with whichever one you choose.
Best BBQ Restaurants in Kansas City
Formerly known as Oklahoma Joe's, the original became famous for being in a gas station. It's not unusual to see a line out the door and down the sidewalk. Get in line and be patient. It's worth it.
They're also famous for the Z-Man sandwich. It's made up of sliced smoked brisket, smoked provolone cheese, a couple of onion rings, a bit of barbecue sauce, all on top of a Kaiser roll.
Just know, all Joe's locations are closed on Sunday.
Locations:
Joe's #1 (the original)
3002 West 47th Avenue
Kansas City, Kansas 66103
(913) 722-3366
Joe's #2
11950 South Strang Line Road
Olathe, Kansas 66062
(913) 782-6858
Joe's #3
11723 Roe Avenue
Leawood, Kansas 66211
(913) 338-5151
Q39 is something of a newcomer to the Kansas City BBQ scene. They debuted with their first location in Westport in 2014. It wasn't long before they expanded to a second location in Johnson County.
Locations:
Q39 Midtown
1000 W 39th St
Kansas City, MO 64111
(816) 255-3753
Q39 South
11051 Antioch Rd
Overland Park, KS
(913) 951-4500
This is one of Kansas City's fancier BBQ joints, but don't let the upscale nature fool you. They're serving fantastic, Kansas City-style BBQ – pure and simple. They also have some amazing side dishes. Don't miss the cheesy corn.
Locations:
The Freight House
101 W 22nd St., #300
Kansas City, MO 64108
(816) 472-7427
Country Club Plaza
4747 Wyandotte St.,
Kansas City, MO 64112
(816) 531-7427
Martin City
13441 Holmes Rd.
Kansas City, MO 64145
(816) 942-9141
Overland Park
9520 Metcalf Ave.
Overland Park, KS 66212
(913) 385-7427
Lee's Summit
1840 NW Chipman Rd.
Lee's Summit, MO 64081
(816) 816-621-7427
Zarda is a true family affair and has been serving Kansas City-style BBQ since 1976. They have the standard favorites and sometimes offer off-the-menu creations you might be lucky enough to catch before they run out.
Zarda's sauces and baked beans are also sold in grocery stores around town.
Locations:
Blue Springs
214 N 7 Hwy
(816) 229-9999
Lenexa
11931 W 87th St.
(913)-492-2330
Woodyard is a favorite when the weather is nice, and you can enjoy their outdoor seating. Of course, anything on the menu is good year-round. Interestingly enough, you can order a single rib. Just one at a time. Also, try the burnt end chili.
No surprise they also sell wood if you're into smoking your own meats.
Location:
3001 Merriam Lane
Kansas City, KS 66106
(913) 362-8000
Open seven days a week, Rosedale started out as a beer and hot dog stand. We sure are glad they changed their business plan. Today, Rosedale Barbecue is Kansas City's oldest major barbecue restaurant continuously owned and operated by the same family.
Location:
600 Southwest Boulevard
Kansas City, KS 66103
(913) 262-0343
Serving great BBQ along with one-of-a-kind menu items, even for breakfast. Bison empanadas or burnt end hash, anyone?
Location:
5835 Lamar Avenue
Mission, KS 66202
(913) 262-7300
B.B's does the best of Kansas City: BBQ and Blues. For a minimal cover charge ($3-$5) you get to listen to great live music while eating ribs, burnt ends, smoked chicken or a BBQ sundae.
Locations:
1205 E 85th St.
Kansas City, MO 64131
(816) 822-7427
L.C's BBQ
A small but mighty location serving great Kansas City BBQ to loyal patrons.
Location:
5800 Blue Pkwy
Kansas City, MO
(816) 923-4484
A relative newcomer in the list of KC BBQ restaurants. Slap's stands for (squeal like a pig) but the menu has meats from every animal and premium sides. Go early because they typically sell out each day.
Location:
533 Central Ave.
Kansas City, KS 66101
(913) 213-3736
Home of "the Destroyer", a triple-decker sandwich with over a pound of three meats. If that doesn't sink you the "Ultimate Destroyer" will with 4.5 pounds of meat. Makes a great party sandwich.
11610 Kaw Drive
Kansas City, KS 66111
(913) 422-4210
Subscribe to our free daily newsletter to be notified of all the free Kansas City events and deals. Sign up here.