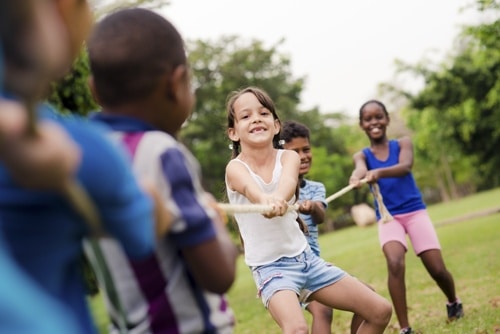 There are a lot of FREE and cheap activities for kids in Kansas City year round. Regardless of whether you have babysitting duties, are planning an outing for visiting nieces and nephews or need something for your own kids to do, this is the place to get a look at some of the top things to keep them busy and smiling.
I'll keep adding to the list as I find new ones, so make sure to check back often. If you know of any that I missed, feel free to send me a quick note at info@kansascityonthecheap.com.
If you're not doing this already, you can subscribe to Kansas City on the Cheap's daily emails (just one a day), and follow us on Facebook and Twitter. Want exposure for your business or event? Consider sponsoring this popular post. Email ads@kansascityonthecheap.com.
Attractions
Crown Center: Crown Center is a three-level complex hosting popular events and activities throughout the year. The Showplace features FREE, interactive exhibits for kids that change periodically. The Square, located across the street from the shops, is home to many festivals, live music shows and outdoor movie series.
Crown Center Ice Terrace: From November to mid-March, you can glide and slide at this public ice skating rink. Admission is $7 plus $4 skate rental if you don't have your own. Kids under age four and adults over 60 are FREE. Don't miss the two-for-one special on Tuesday evenings.
Deanna Rose Children's Farmstead: Designed to depict a turn-of-the-century family farm in Kansas, the Deanna Rose Children's Farmstead has tons of animals, vegetable and flower gardens, a mining camp, a dairy barn, an ice cream parlor, a fishing pond, play areas, pony rides, and more. Activities, attractions and programs are provided April through October in a fun, educational farm setting. Admission is usually $3 per person but you can get in for FREE from 2 p.m. to 5 p.m. Monday through Thursday. There is a cost for some activities.
Kansas City Northern Miniature Railroad: On Saturdays, Sundays and select holidays May through September, you can take a ride on on a half-mile oval track in Frank Vaydik Park (6060 N.W. Waukomis Drive, Kansas City, MO). Admission is 75 cents.
Mahaffie Stagecoach Stop and Farm: This is the last remaining stagecoach stop open to the public on the Santa Fe Trail. It offers a unique hands on experience for visitors of all ages, with a focus on 1860s farming, frontier life and stagecoach travel. Hours, activities and admission vary by day and season. Admission ranges from $3-$7 for adults and $2-$5 for kids ages 5 to 11. Kids ages four and under are always FREE.
Missouri Town 1855: A 30-care outdoor history museum that lets kids see what a progressive farming community looked like in the mid-1800s. Interpreters in period garb are on hand to enhance your self-guided tour. Admission is $7 for adults, $4 for kids ages 5-13 and seniors ages 62+.
Science City at Union Station: Kids can train to be an astronaut, dig for fossils, and ride a bicycle 30 feet off the ground and more at this interactive science center. Tickets are $13.25, plus taxes and fees. There is an additional $7 cost for the Arvin Gottlieb Planetarium.
Shawnee Town: Experience history in the setting of a 1920's Kansas farm community through authentic collections, exhibits, demos and educational programs. Self-Guided Tours of the museum grounds are open from 10 a.m. to 4:30 p.m. from March through October, Tuesday through Saturday. The museum's visitors' center, gift shop and exhibit are open year round from 9 a.m. to 5 p.m., Monday through Friday. The museum is closed on all public holidays observed by the City of Shawnee. Museum tour cost is $3 for adults, $1 for kids ages 5-17 and FREE for kids under five
Classes
Coder Dojo KC: Every second Saturday of the month, Google Fiber and the KC STEM Alliance sponsor a FREE class for kids from 9 a.m .to noon. These gatherings are mentor-driven to help drive youth interest in technology. You must pre-register to attend.
Hobby Lobby: Hobby Lobby offers a wide variety of craft and fine art classes, including drawing, painting, cake decorating, scrap booking, and various crafts for all ages. For more information on classes and schedules, contact the local store.
Home Depot: Mix in some skill-building, creativity and safety for future handymen (and women) and you've got the makings of Home Depot's FREE kids' workshops. These take place from 9 a.m. to noon the first Saturday of the month. You'll need to register in advance to secure a spot.
Kaleidoscope: Kids of all ages are able to create art together during FREE 50-minute art sessions. All kids must be accompanied by an adult. FREE tickets are available as early as 9:30 a.m. on a first come basis. Sessions begin at 9:45 a.m. Kaleidoscope is open every day of the week except Sunday.
Lowe's: FREE Build and Grow workshops are monthly, in-store clinics designed to inspire young builders and boost their DIY confidence. These workshops are designed for ages 4-11 and to have parents participate. Clinics are held the second Saturday of the month from 9 a.m. to noon at participating stores. Each project kit will take about 15 to 30 minutes to complete. You must sign up in advance.
Michael's: Every Saturday from 10 a.m. to noon, your kids can take part in one of two 30-minute crafty classes designed for ages three and up. Check individual stores for specifics. Classes cost $3 per kid.
Museums
Kemper Museum: Experience the connection between life and modern or contemporary art with exhibits and gatherings for kids and all ages. Most are FREE but some require advance registration.
Nelson-Atkins Museum of Art: You can meander around the Neslon on your own or join a variety of FREE guided tours. The museum also has some FREE activities for younger kids, teens and all ages.
Wonderscope Children's Museum: Wonderscope provides fun, dynamic exhibits and programs that integrate the arts, sciences, and literature for kids ages eight and under, their parents, and teachers from across the Kansas City area. Tickets are $8 for adults; $7 for ages 64+; and FREE for kids under age two.
Kidscape at the Johnson County Museum is a hands-on exhibit where kids learn to play as they did in the past. It has three unique communities to explore:
An 1870s farmstead introduces kids to life on the farm
A 1900 City Market where they'll sell fruits and vegetables
A 1950s suburbs community where kids can work in a hospital or at a diner or help build a house.
Admission is $5 for adults; $3 for kids. Closed Sundays and holidays.
Other
Barnes and Noble: Many of the Kansas City area Barnes and Noble stores have periodic storytimes. Click here for upcoming events.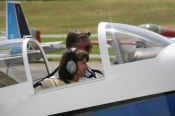 Kansas City Public Library: Kids' reading programs, concerts, learning activities, snack times and more are offered at various branches throughout Kansas City, Missouri. Click here for a current schedule.
Young Eagles: Kids can get free airplane rides from volunteer pilots in the Young Eagles program.
More Free and Cheap Things To Do in Kansas City:
Subscribe to our free daily newsletter to be notified of all the free Kansas City events and deals. Sign up here.