The Crown Center Ice Terrace, downtown Kansas City's only public, outdoor skating rink, is open for its 49th season through March 13, 2022.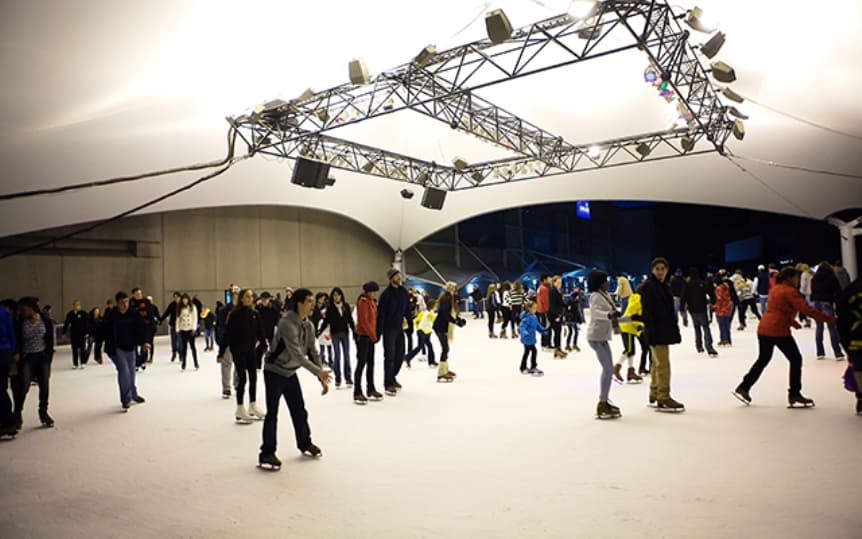 As of opening day, reservations are not required to skate at the Crown Center Ice Terrace this season. Skaters can enjoy the ice without any time limit. Anyone who wants to leave and return in the same day will be issued a wristband so they don't have to pay another admission.
Fun Fact: Nearly 10,000 gallons of water is frozen for this wintertime enjoyment.
Crown Center Ice Terrace Admission for 2021-2022
To skate on the rink, there is an admission fee plus a cost for skate rental, unless you bring your own.
Skaters (age 4+): $8
Skate rental: $4
Season pass: $90
Non-skaters who wish to enter the fenced rink area are required to pay admission. Kids 6-12 must be supervised by an adult. Kids under the age of 6 musty be accompanied on the ice by an adult.
Crown Center Ice Terrace Hours
The schedule is always subject to weather conditions.
November, December and January:
Sunday – Thursday: 10 a.m. – 9 p.m.
Friday and Saturday: 10 a.m. – 11 p.m.
Holiday Hours:
Thanksgiving Day: 3 – 10 p.m.
Christmas Eve: 10 a.m. – 6 p.m.
Christmas Day: closed
New Year's Eve: 10 a.m. – 6 p.m.
New Year's Day: noon – 11 p.m.
February and March:
Sunday: 10 a.m. – 9 p.m.
Monday – Thursday: 11 a.m. – 9 p.m.
Friday: 11 a.m. – 10 p.m.
Saturday: 10 a.m. – 10 p.m.
Crown Center Ice Terrace Location and Parking
Crown Center Ice Terrace is in downtown Kansas City, MO at 2455 Grand Blvd. (25th Street & Grand Blvd.).
Covered parking for Crown Center Square is available at 25th Street and Grand Blvd. Three hours of FREE parking is available with validation. Parking is FREE in retail and office parking garages on weekends, starting at 6 p.m. on Friday.