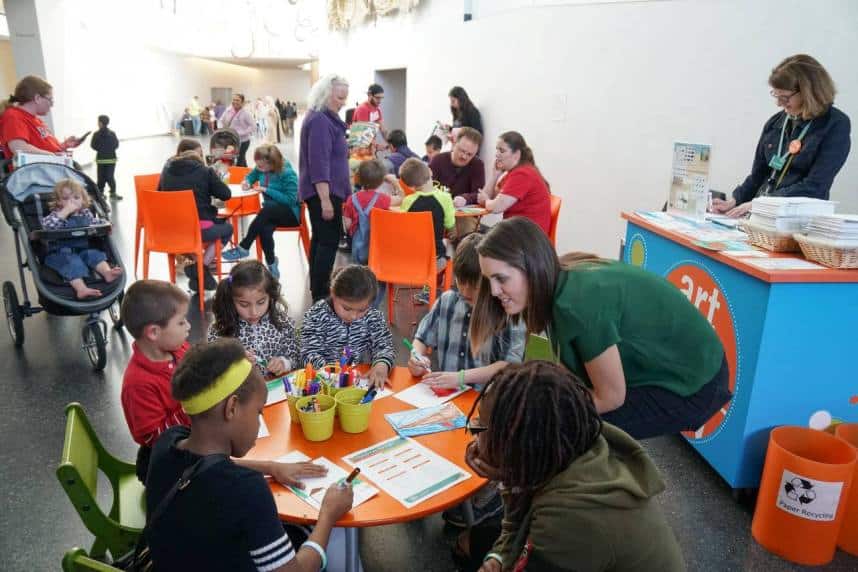 A crown jewel for Kansas City, the Nelson-Atkins Museum of Art boasts more than 35,000 works of art, some amazing grounds to explore and, best of all, FREE admission. There is a charge for some special exhibits.
Nelson-Atkins Museum of Art Hours
The museum is open from 10 a.m. to 5 p.m. on Mondays, Wednesdays, Saturdays and Sundays and from 10 a.m. to 9 p.m. on Thursdays and Fridays.
The museum is closed on Tuesdays.
Nelson-Atkins Museum of Art Special Activities
The Nelson hosts a variety of events, creative activities, tours and special events, many that are FREE and fun for all ages.
Free Guided Tours at the Nelson
Whether you're visiting alone or with a group, there are various FREE tours that can help you get more out of your visit to the museum.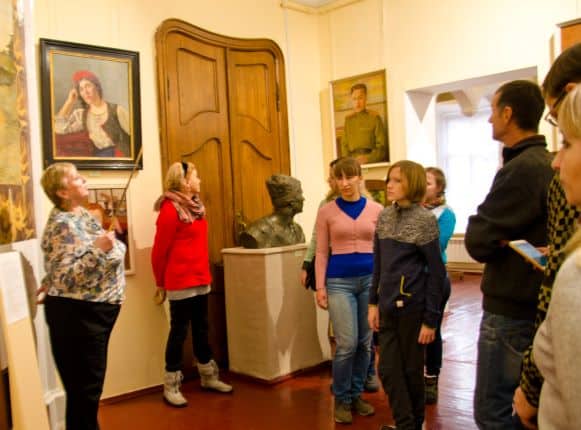 You take part in a 45-minute Spotlight Tour that highlights a topic relevant to the current times. These tours are offered at 1:30 p.m. Monday and Wednesday through Friday.
A Collections Highlight Tour is available at the following days and times. Meet at the information desk shortly before the start of each tour:
1:15 and 2:30 p.m. –  Saturday and Sunday
1:30 p.m. – Monday, Wednesday through Friday
6:15 & 7:30 p.m. – Thursday and Friday
Stroller-friendly tours are available every third Friday from 10:15 a.m. to 11 a.m. Meet by the coat check.
Tours are available for adult and college audiences in a wide range of topics, as well as those who may need special assistance. These are available for groups of six or more people. Click here for a list of current topics and registration options.
Free Weekend Fun at the Nelson
Every Saturday and Sunday, the Nelson-Atkins Museum of Art has FREE activities for all ages from 1 p.m. to 4 p.m.
Teen Events at the Nelson
The museum also has a FREE Teen Open Mic Night from 6 p.m. to 8:30 p.m. Teens can watch performances and socialize with kids their own age. The next scheduled dates include:
Jan. 17
Feb. 21
March 13
April 10
May 15
Third Thursdays at the Nelson
Billed as a not-so-quiet night at the museum, the third Thursday of the month features adult revelry with live music, free programs, art activities and more from 6 p.m. to 9 p.m.
Tivoli at the Nelson-Atkins
Atkins Auditorium has been transformed into an arthouse theater with unique programming.
Miniature Golf Art Course
While not FREE, you can putt putt along through Art Course, the nine hole miniature golf course located in Donald J. Hall Sculpture Park. Each hole represents an interpretation of artwork in the museum's collection. Availability of the course is seasonal and tickets are required. They are:
Adults – $14
Members – $11
Kids age 4-12-  $9
Kids age 3 and under – FREE
Tickets can be purchased online or at the information desk in Bloch Lobby.
Free Festivals
Celebrate special holidays and cultural events with these upcoming FREE festivals at the museum in 2020.
Jan. 26: Chinese New Year
April 19: Passport to India
June 12: Juneteenth
July 19: Kansas City's Big Picnic
Sept. 15: Native American Cultural Celebration
Sept. 19: Deaf Cultural Festival
Nov. 3: Day of the Dead
Tips for a Good Experience at the Nelson-Atkins Museum of Art
Admission to the Nelson-Atkins Museum of Art is always FREE which makes it a good option if you're looking for something to do or showing off this Kansas City spectacle to visitors. Here are a few things to know that can help you make the most of your visit:
Admission: Some special exhibits have an admission price. Check here for prices.
Bags and purses: Bags larger than a standard backpack need to be checked at the coat check counter. Anything smaller you can just carry with you.
Small Kids: Strollers are allowed in most places of the museum, but there may be some limitations with special exhibits. For young kids, the museum recommends short and frequent visits – even easier since admission is FREE.
Photos: Your personal cameras are allowed in the museum. Flash photography is allowed, but there may be some restrictions with certain exhibits so check with museum staff before you click.
Refreshments: Food and beverages are available for purchase at the museum if you're hungry or thirsty.
Nelson-Atkins Museum of Art Location and Parking
The Nelson-Atkins Museum of Art is located at 4525 Oak Street in Kansas City, Missouri.
Parking in the parking garage is $10 (FREE to members). There is some small amount of FREE parking at Rockhill Road and 45th Street.
Nelson-Atkins Museum of Art
4525 Oak Street
Kansas City, MO 64111
(816) 751-1278