There are plenty of FREE and cheap summer movies in Kansas City, so I hope you'll be able to find something you want to watch that fits your schedule. Here's a list of the ones I've found so far for 2019. If I come across more, I'll add them later, so make sure you check back.
If you know of any I missed, please leave a comment below.
If you're not doing this already, you can subscribe to Kansas City on the Cheap's daily emails (just one a day), and follow us on Facebook and Twitter.
Indoor Movies
Alamo Drafthouse is holding an annual Kids Camp with admission prices from $1 to $5. Movies are shown at various dates and times at the Alamo Drafthouse Cinema in the Power & Light District. See more details here.
AMC Theatres, has a Summer Movie Camp with $4 movies every Wednesday morning. Tickets are available at the box office of participating theatres where you can also find exact showtimes.
Participating locations from this Kansas City-based chain include:
AMC Dine-In Studio 28
12075 So Strang Line Road
Olathe, KS
(913) 393-3030
Here's what's showing:
June 5: Trolls
June 12: Wonder Park
June 19: Hotel Transylvania 3 Summer Vacation
June 26: Peter Rabbit
July 3: Smallfoot
July 10: The Lego Movie 2
July 17: Team Titans Go! To the Movies
July 24: The House with a Clock in its Walls
July 31: How to Train Your Dragon: The Hidden World
B&B Theatres is running a Summer Kids Series with $3 movies on Tuesdays, Wednesdays, and Thursdays at 10 a.m. Find more details here about show dates and participating locations in Kansas City.
Blue Springs 8 Miller Theatre has a Kids Show Summer Series with $2.50 movies every Tuesday, Wednesday, and Thursday at 10 a.m. and 12:30 p.m.
Cinemark's Summer Movie Clubhouse will allow you to see 10 kid-friendly movies for $1 per show or you can see all 10 for $5 by getting a 10-week series punch card from the box office, while supplies last. Don't miss this coupon for $2 off a large popcorn or fountain drink.
The North-East branch of the Kansas City Public Library features a FREE movie enjoyable for your whole family each Wednesday from noon to 2 p.m. Popcorn is provided.
The North-East Branch is in the historic Northeast area – about 15 minutes from downtown Kansas City at 6000 Wilson Road.
The movie schedule is:
June 5: Wreck-It Ralph
June 12: Moana
June 19: Inside Out
June 26: Coco
July 3: Zootopia
July 10: Big Hero 6
July 17: Sing
July 24: Home
Oak Park Mall is featuring FREE Summer Movie Nights in Center Court by the Dillard's South store. Come early at 6 p.m. for FREE activities with retailers . The movie starts at 7 p.m. Bring your lawn chairs and blankets for viewing comfort.
Here's the movie schedule:
June 14 – The Incredibles 2
July 12 – Ralph Breaks the Internet
August 9 – How to Train Your Dragon: The Hidden World
Outdoor Movies
Outdoor movie watching sites are happening all over Kansas City this summer. Most are FREE, family friendly and show some great classics or something that wasn't released too recently. Grab your blankets, lawn chairs, maybe some of your favorite snacks and get ready to sit back and enjoy some outdoor movie magic.
I've divided these out by state (Kansas and Missouri).

Missouri
Crown Center Weekender Event – Kansas City, MO
This option is a bit unique as its more of a full-on festival that wraps up with a movie. On Friday evenings July 12 through Aug. 9, Crown Center has a Weekender Event that includes live music by a local band, food trucks, vendors and a movie.
Admission is FREE. General festivities begin at 6 p.m. with the movie starting around 9 p.m. A schedule of bands, movies and more details can be found here.
Briarcliff Trails Saturday Night Movies – Kansas City, MO
The public is welcome to gather on select Saturday evenings for FREE outdoor movies at Charles A. Garney Park and Trails (4100 N Mulberry Drive) across from Briarcliff Village in Kansas City, MO. Here's more details and the movie schedule.
Downtown Movie Nights – Lee's Summit, MO
Crowds gather at Lees's Summit City Hall Plaza at 220 SE Green Street for FREE movies in downtown.
This season's dates are listed below. Movie titles will be released soon so be sure to check back.
Aug. 8 at 8:30 p.m. – TBD
Sept. 12 at 8 p.m. – TBD
Oct. 10 at 7 p.m. – TBD
Drive-In at the Square – Gladstone, MO
Linden Square, 620 NE 70th Street, is the destination for FREE movies that start playing at dusk. Here are the dates when you can join:
June 29: Mary Poppins Returns
July 27: The Lego Movie 2: The Second Part
Moonlight Movies – Independence, MO
Bring lawn chairs to the Independence Square and catch a FREE movie projected on the side of the Pharaoh Theatre building. Here's the schedule and more details.
Movies in the Park – North Kansas City, MO
On select Friday nights, there will be FREE movies shown at Macken Park (1002 Clark Ferguson Drive). The movies will begin at dusk. Bring your lawn chairs or blankets. Concessions will be sold on site. The movies to be shown are:
June 28: Wreck-It Ralph: Ralph Breaks the Internet
Aug. 10: The House with a Clock in its Walls
Off the Wall Film Series – Kansas City, MO
Every third Friday May through Sept., the rooftop terrace of the Central Library, 14 W. 10th Street, Kansas City, MO, is transformed into a FREE movie-watching venue at dusk (about 8:45 p.m.). Find out more details here.
Popcorn in the Park – Liberty, MO
FREE admission and FREE popcorn and water make this a great family fun activity on select Friday evenings at Stocksdale Park (901 La Frenz Road). Bring blankets, lawn chairs and a full picnic, if you like. No alcohol, please.
The fun starts at 7 p.m. and  movies begin at dusk (about 8:30 p.m.).
Here's the upcoming dates. Additional movies will be announced later so check back:
Aug. 9: Wonder Park
Oct. 4: TBA
Silver Screen on the Sand – Kansas City, MO
Pack the car and pack it full. Admission is just $5 per car to get in and watch a movie on Longview Lake Beach this summer. Check out the schedule here.
Drive-In theatres:
Watching movies at a drive-in theatre has sort of fallen to the wayside. Fortunately, Kansas Citians can still try out this cinematic experience. Check out local options here.
Kansas
Movies in the Park – Lenexa, KS
A partnership with the City of Lenexa and the Johnson County Library brings these FREE live music and movie options to various locations within Lenexa. Music starts at designated times followed by a movie at dusk.
Here's the music and movie schedule:
June 14, 7 p.m.: Modern Day Fitzgerald and Space Jam at The Commons, Lenexa Civic Center, 17101 W. 87th St. Parkway
July 19, 8 p.m.: Sara Morgan and Apollo 13 at Buffalo Meadows Park, 9650 Lone Elm Road
Aug. 16, 8 p.m.: Kansas City Latin Jazz All-Stars and WALL-E at Electric Park, Loiret Boulevard and 95th Street
Sept. 20, 7 p.m.: Stage 5 Clinger and Inside Out at The Commons, Lenexa Civic Center, 17101 W. 87th St. Parkway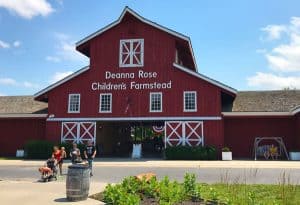 Moo-vie Night at the Park – Overland Park, KS
Fun at Deanna Rose Farmstead (13800 Switzer Road) never stops. Beginning at 7:30 p.m., your family can enjoy lawn games and activities prior to the movie starting at dusk. Admission is FREE. Don't forget your blankets and lawn chairs. Here's the schedule:
June 20 – Tangled; dairy treats provided as part of National Dairy Month celebration
July 18 – Finding Nemo
Movies at Theatre in the Park – Shawnee, KS
On select Tuesday nights, June 11 through Aug. 5, Theatre in the Park will be showing movies on a 40-foot screen on the outdoor theatre stage. Admission is $1 per person. Ages 3 and under are FREE.
You can bring along blankets, low-sitting beach chairs and snacks.
Gates open at 7:30 p.m. and the movie beings around 8:30 p.m. or as soon as it is dark enough.
Here's the movie schedule:
June 11: Solo
June 25: Christopher Robin
July 9: Mary Poppins Returns
July 23: Black Panther
Aug. 5: A Dog's Way Home
Deanna Rose Children's Farmstead
13800 Switzer Road
Overland Park, KS 66221
(913) 897-2360
Macken Park
Howell St & Clark Ferguson Drive
North Kansas City, MO 64116
(816) 300-0545
Oak Park Mall
11149 W 95th Street
Overland Park, KS 66214
(913) 888-4400
Prev

1
2

Next