Crown Center will once again offer FREE summer entertainment with its summer WeekEnder series.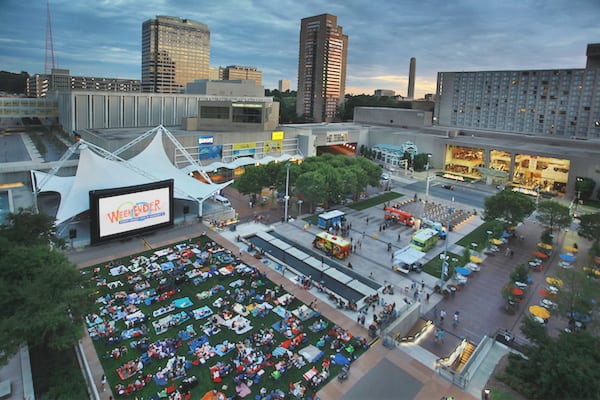 WeekEnder events will take place outdoors under the evening skies on Crown Center Square. The 2022 series kicks off on Friday, July 8 and continues for the next three Fridays, each one featuring a different local band or musician.
Admission is FREE. Local food trucks will be on site for WeekEnder guests. Beverages, including adult, will also be available for purchase.
For all dates, the fun starts at 6 p.m. The movies start around 9 p.m.
Bring along a blanket or your lawn chairs to stay spaced out during the event. Pets, alcoholic beverages and glass containers need to stay at home.
The 2022 Crown Center WeekEnder Schedule
Friday, July 8
Band: Damien Gunn Band
Movie: Jungle Cruise
Friday, July 15
Band: The KC All Stars
Movie: Indiana Jones and the Last Crusade
Friday, July 22
Band: Retroactive
Movie: A League of Their Own
Friday, July 29
Band: The Accidental Moguls
Movie: Guardians of the Galaxy
Parking
Crown Center is located at 2450 Grand Boulevard in Kansas City, Missouri. Parking is available at 25th Street and Grand Blvd. Weekend parking is FREE, starting at 6 p.m. on Friday, so perfect for these WeekEnder events.
If you're coming early to take in other parts of Crown Center, know that three hours of FREE parking is available with validation from any Crown Center merchant. You can get an additional three hours of FREE parking when you show $25+ in same-day receipts from any Crown Center shop or restaurant at the Crown Center Customer Service desk. Just know that you must get the six-hour validation slip from Customer Service. Receipts won't be accepted at the parking gate.
If you don't have a validation slip, standard parking rates apply.