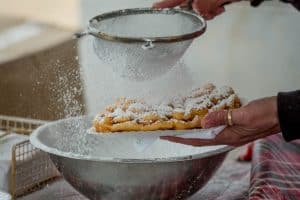 The Wyandotte County Fair begins on July 9, 2019, and runs through July 13 at the Wyandotte County Fairgrounds. Early bird tickets are on sale now for $2.50 per person. Admission is $5 per person, beginning July 9. Parking is $5.
This event will feature 4-H exhibits with food, clothing, arts & crafts, livestock, crops, and other items. There will also be a carnival ($), live entertainment, concessions, petting zoos, magic shows, contests, and more.
Fair hours are:
Tuesday – Thursday: 5 p.m. to 10 p.m.
Friday: 5 p.m. to 11 p.m.
Saturday: Noon to 11 p.m.
You can buy wristbands each night that will let you ride all the carnival rides for a flat rate. The prices are:
Tuesday – $15
Wednesday, Friday and Saturday – $25 (per night)
Thursday – $20
The Wyandotte County Fairgrounds are located at 13700 Polfer Road in Kansas City, Kansas.
For more festival fun check out: Kansas City Spring & Summer Festivals.
Wyandotte County Fairgrounds
13700 Polfer Road
Kansas City, KS 66012
(913) 788-7898