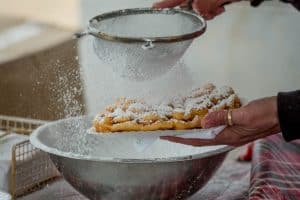 The Wyandotte County Fair begins on Tuesday, July 10, 2018, and runs through July 14 at the Wyandotte County Fairgrounds. Admission is $5 per car.
This event will feature 4-H exhibits with food, clothing, arts & crafts, livestock, crops, and other items. There will also be a carnival ($), live entertainment, concessions, petting zoos, contests, and more.
Hours are from 5 to 10 p.m. Tuesday-Friday and noon to 11 p.m. on Saturday. Click here for the schedule.
The Wyandotte County Fairgrounds are located at 13700 Polfer Road in Kansas City, Kansas.
Wyandotte County Fairgrounds