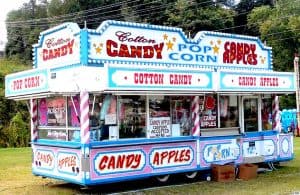 Your summer is not complete without visiting a county fair! Bring your family to the Leavenworth County Fair Tuesday, July 30 through Saturday, Aug. 3. Admission is FREE.
Enjoy a parade, great food (mmm cotton candy and funnel cake!), carnival, petting zoo, pony rides, tractor pull, 4H activities, pie eating and duct tape contests, live music and entertainment, and more.
The fair is open daily from 11 a.m. to 10 p.m. Check here for the schedule of events. Parking is $4.
Carnival rides
Arm bands for the carnival rides are $25 with a different color each night. Arm bands are good from 6 p.m. to 10:30 p.m. Tuesday through Friday and two different times on Saturday the first time is from 1 p.m. to 5 p.m. and the second time is from 5 p.m. to 10 p.m.
Leavenworth County Fairgrounds is located at 405 West 4th Street in Tonganoxie, Kansas.
More upcoming Kansas City festivals
Saturday, September 30, 2023