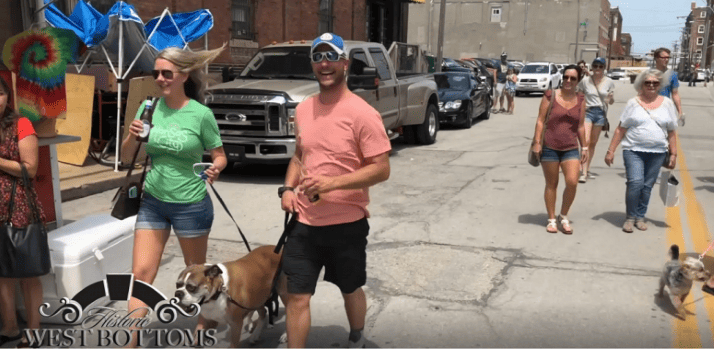 School is just around the corner but everyone can still have a tail-wagging good time on the hunt for back-to-school locker and dorm room decor during Bark in the Bottoms First Friday Weekend Aug.2-4, 2019 in Kansas City's West Bottoms off the 12th Street Bridge. The special monthly weekend event offers thirteen blocks of stores in 22 nineteenth-century, multi-story buildings that collectively make up the largest indoor vintage and antique shopping destination in the United States.
The area is dog-friendly year-round, allowing visitors to enjoy the eclectic mix of foods, entertainment and shopping with leashed furry friends, Bark in the Bottoms adds some fun with special store sales and activities.
Visiting pups and pooches will have access to treats and water throughout the district as their owners may enjoy beverages of all types and the featured August's cocktail a Fuzzy Paw. Families looking to add a best friend to their pack may adopt from Missouri Pit Bull Rescue. The West Bottoms' Dusted Attic Flea Market will host the hounds that need a home.
You may also be interested in: 
FREE and Cheap Weekend Events in Kansas City
Best Public Dog Parks in Kansas City
Top Back-to-School Prep and Fun Activities in Kansas City
Historic West Bottoms
12th Street Bridge Entertainment District
Kansas City, MO (816) 842-4280