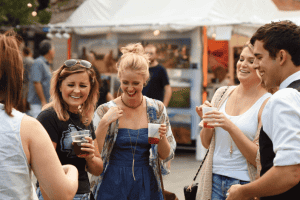 The 40th annual Art Westport Festival will take place Sept. 6-8, 2019 along the streets of Westport. Admission is FREE.
Exclusive to local artists, Art Westport features original art, jewelry and fine crafts in an outdoor festive atmosphere. There will also be live music and food vendors.
Art Westport 2019 schedule:
Friday: — 1 p.m. to 9 p.m.
Saturday: — 10 a.m. to 9 p.m.
Sunday: — 11 a.m. to 5 p.m.
Parking in Westport
Part of Westport's charm is its historic buildings and layout. That design doesn't always make it the most user-friendly place for lots of parking. You might want to consider public transportation or a ride share option. There is street parking and some lots are available on weekends. Here is some Westport parking information that should be helpful. 
Be sure to check out our full listing of Kansas City Fall Festivals.
Upcoming Kansas City festivals by day
Westport Entertainment District