The spookiest time of the year means Halloween movies are hitting theatres in Kansas City.
Halloween in Kansas City means haunted houses, pumpkin patches, ghost tours, trick-or-treating and plenty of other fun events and activities, including watching Halloween movies.
Usher in the season of witches and vampires with a movie marathon of your favorite Halloween flicks. Whether you're a fan of horror films, comedies or cartoon classics, there are plenty of choices on our list so you should be able to find something to watch.
There are different venues in Kansas City showing Halloween-themed movies. Some are inside theatres; others are outdoor set ups. Scroll down to see details on these fun and spooky screenings.
If you want to watch Halloween movies at home, you can find many options on various streaming services like Netflix, Hulu and Amazon Prime Video.
Others who still have DVD or even VHS collections (we know you are out there) will probably find a few of these housed in your stash or you can purchase them online or in stores.
Here are some of our favorites from Kansas City on the Cheap.
10 Scary Halloween Movies
Round up family and friends, turn off the lights (if you dare), grab some Halloween treats and get ready for the ultimate movie fright night.
The Exorcist – A tale of an exorcism loosely based on events that happened in St. Louis, Mo.
Friday the 13th – Jason's hockey mask has become one of the most recognizable images in horror and popular culture. It all started with the franchise that includes 12 slasher films.
Halloween – Michael Myers started terrorizing with the original movie in 1978. There are 13 movies to choose from in this franchise.
Mother – A psychological thriller follows a young couple whose lives are disrupted by the unexpected arrival of a mysterious couple
Nightmare on Elm Street – Wes Craven brought Freddy Krueger to life (or back from the dead) in 1984. A total of nine films make up this movie franchise.
Nosferatu – Go classic with the 1922 silent horror film.
Poltergeist – A supernatural horror film that reminded kids in the 80s to turn the TV off at night.
Psycho – Alfred Hitchcock's slasher classic.
The Shining – Make up some red rum punch and get ready for a run through the English maze.
Texas Chainsaw Massacre – Leatherface came to life on the big screen in this 1974 American slasher film.
10 Not-so-Scary Halloween Movies
If you've got small children to entertain or just don't want to get too freaked out yourself, try some of these not-so-scary classics.
The Addams Family – Anjelica Huston and Raul Julia lead this comedy.
Addams Family Values – The story of America's spooky and kooky family continues in this sequel.
Casper – Features everyone's favorite friendly ghost.
Corpse Bride – A Tim Burton animated musical fantasy film
Frankenweenie – Tim Burton's story about a boy and his dog
Hocus Pocus – A coven of evil witches (Bette Midler, Sarah Jessica Parker, Kathy Najimy) terrorize Salem, Mass.
Hotel Transylvania (1, 2 and 3) – A film series starring Adam Sandler as Dracula the dad
It's the Great Pumpkin Charlie Brown – Wah, wah, wah, wah, we love it!
The Nightmare Before Christmas – Another Tim Burton classic
Young Frankenstein – A fantastic Mel Brooks comedy starring Gene Wilder, Peter Boyle, Madeline Kahn, Marty Feldman and Teri Garr
Halloween Movies Showing in Kansas City
Here are Halloween movies that are part of the Halloween fun in Kansas City. Check back because we are updating this list as we find more screenings.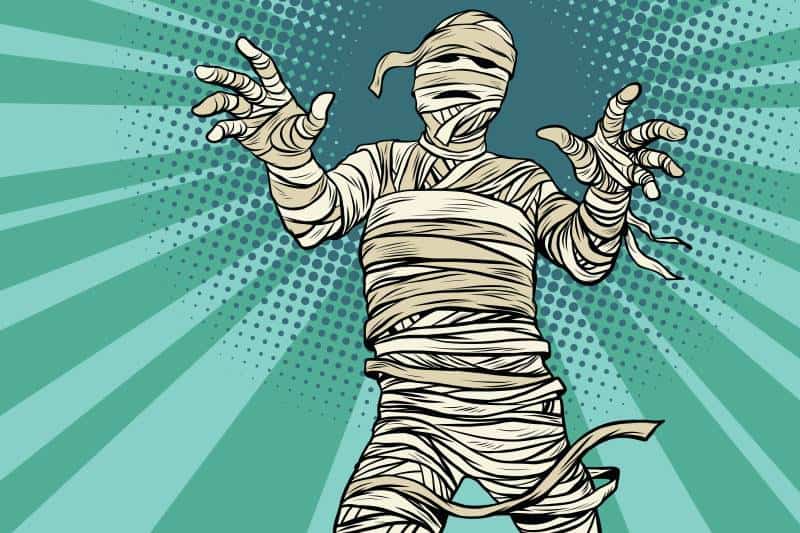 The Screenland Armour Theatre is one of Kansas City's few operating historic theatres. They have a full lineup of scary and freaky movies featured during this celebration of all things creepy, during SHOCKtober.
There are even a few fun ones for those who don't like to be frightened.
See here for specific movies and details for SHOCKtober at the Screenland Armour Theatre.
The Aztec Shawnee Theater is a restored single-screen movie house that provides a passage to the golden age of movies.
This October, Aztec Shawnee Theater hosts a Spooktober Series featuring Frankenstein (1931) and Bride of Frankenstein (1935). There are multiple showings of both films on select Wednesday nights.
Tickets for either of the Azetc's Spooktober Series films are $5.
The Legends Outlets hosts FREE outdoor movies every Saturday at 7 p.m. during September and October. The October films have a Halloween theme.
All fall movies at The Legends Outlets are rated G or PG for a family-friendly time.
Special activities are planned October 22 with Halloween on the Lawn. Check our post for details and the full film schedule.
October 21, 2022
Location: Zona Rosa – Kansas City, MO
Hours: 5 to 9:30 p.m.
Admission: FREE
As part of its Beats and Broomsticks Halloween event, Zona Rosa is hosting an outdoor showing of the Halloween classic Hocus Pocus. See here for details about this and other fall fun at Zona Rosa.
October 28, 2022
Location: Nelson-Atkins Museum of Art – Kansas City, MO
Hours: 6p.m.
Admission: $75
This Halloween celebration at the Nelson-Atkins museum is outside our normal free and cheap scope, but we felt obliged to include something that celebrates influential cinema figure Alfred Hitchcock.
A pre-party in Rozzelle Court with snacks, beverages a nd Birds-themed costume contest is followed by a screening of a 1963 classic The Birds at he Nelson-Atkins indoor theatre, Atkins Auditorium. Attendees are also treated to a tasting of Creative Juice Pale Ale, a recent beverage collaboration with City Barrel Brewing Company.
October 29, 2022
Location: Red Crow Brewing Company – Olathe, KS
Hours: 6 to 10:30 p.m.
Admission: FREE
Red Crow Brewing Company hosts a weenie roast and outdoor Halloween-themed movie night October 29 in the brewery parking lot.
Guests are invited to bring chairs and blankets along to this FREE event. Food and, of course, craft beers will be available for purchase. Ghostbusters is the featured movie.
Red Crow Brewing Company is delivering Halloween fun during other nights of October. See these activities and more at our post Kansas City Halloween Parties and Events for Adults.
In previous years, Sporting KC has hosted a Halloween-themed movie as part of its Movies at the Park series held at Children's Mercy Park.
Tickets to Movies at the Park are FREE, but you need to make reservations.
We haven't seen an announcement about any Halloween movies yet. Check back because we'll provide updates as soon as we can.
See here for full details about Sporting KC Movies at the Park.
AMC Thrills & Chills series brings horror and suspense to the big screen. Thrills and Chills films come from a variety of styles, budgets, genres and corners of the globe, but they all share the common theme of scaring.
Frightening flicks are on the big screen just in time for the Halloween season during the at AMC Theatres in Kansas City.
FUN FACT! John Carpenter's legendary slasher Halloween premiered at the Kansas City AMC Empire Theater in 1978.
Select dates in September and October
Multiple AMC Theatres in Kansas City
Enjoy watching:
Barbarian
Beast
Bodies Bodies Bodies
Don't Worry Darling
Fall
Halloween Ends
The Invitation
Jaws
Orphan: First Kill
Smile
Don't want to miss any Kansas City Halloween and Fall Fun? Be sure to check out our posts:
Kansas City Haunted Houses and Scary Attractions
Kansas City Pumpkin Patches, Corn Mazes & Hayrides
Kansas City Halloween Parades, Parties & Other Happenings for Kids
Dog-Friendly Halloween Events in Kansas City
Kansas City Halloween Parties and Events for Adults
Free and Cheap Trick-or-Treating in Kansas City
Kansas City Halloween/October Discounts and Freebies
Upcoming KC Halloween Events & Activities
Nelson-Atkins Museum of Art
4525 Oak Street
Kansas City, MO 64111
(816) 751-1278
Prev

1
2

Next