Trick-or-treating doesn't just happen on Halloween anymore and it's not just for kids. Bring along your four-legged canine friend to these pet-friendly Halloween events in Kansas City.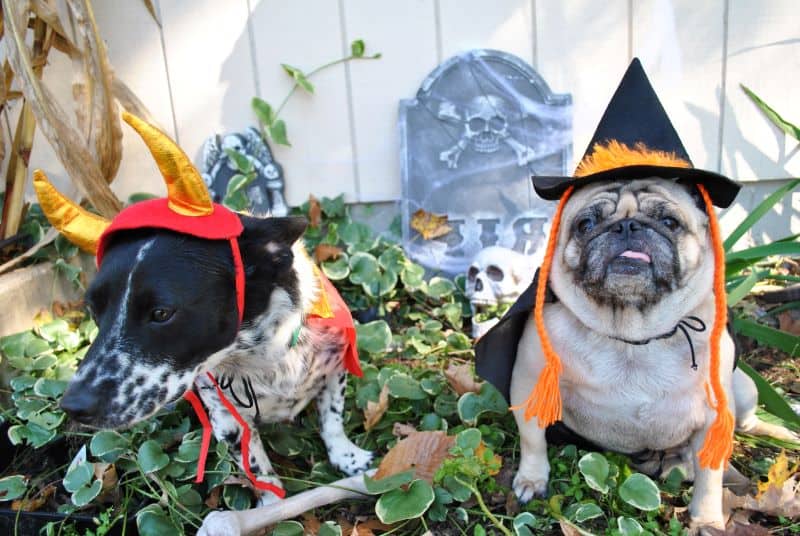 Many of these Halloween dog events have costume contests or parades. These are great opportunities to show your pup dressed up spooky and adorable.
Be sure to read details carefully, as some of these Halloween dog events require reservations, even if they are FREE.
Check back because some places in Kansas City won't announce Halloween events and activities until the last minute. We'll update this list as soon as we know what's taking place.
If you're a business or organization hosting a free or cheap Hallowing dog event in Kansas City, send us details at news@kansascityonthecheap.com and we'll include you for FREE.
'Tis the season for pumpkin patches, costumes, Halloween parties, haunted houses and candy. Find more Kansas City for Halloween and Fall at these posts:
Kansas City Pumpkin Patches, Corn Mazes and Hayrides
Halloween Movies Showing in Kansas City
Kansas City Halloween Parades, Parties and Other Happenings for Kids
Free and Cheap Trick-or-Treating in Kansas City
Free and Cheap Kansas City Halloween Parties and Events for Adults
Kansas City Halloween Food Discounts and Freebies
Halloween Dog Events in Kansas City for 2022
October 1, 2022
1 to 5 p.m.
Shawnee Mission Park – Shawnee, KS
Grab furry friends and have some family fun at the sixth annual Rescue K-911 Barktoberfest at The Pavilion at Theatre in the Park, 7701 Renner Road in Shawnee. Admission and parking is FREE. Bring your dogs on a leash.
K-911 Barktoberfest attendees are treated to a bake sale, vendors, food, games, DJ, auction, stein hoisting contest and costume contest for dogs and kids.
October 8, 2022
1 to 2:30 p.m.
Waggin' Trail Dog Park – North Kansas City, MO
Pups can celebrate Halloween with a costume contest, raffle, photos, vendors and more. A $5 or item donation gets your dog a trick-or-treat bag.
Items that can be donated include: Dog/Cat Treats, Blankets, Towels, Laundry Detergent/dryer Sheets, Kleenx, Dish Rags, Dog/Cat Toys, Paper Towels, Dawn Dish Soap, Bleach, Dishwasher Detergent and Disinfecting Wipes.
See more Waggin' Trail Dog Park Howl-O-Ween details.
October 15, 2022
5 to 8 p.m.
Penn Valley Off Leash Dog Park – Kansas City, MO
DIG (Dogpark Improvement Group) hosts its third annual Howl-o-Ween Ball fundraiser with t-shirts, vendors, koozies and trick-or-treat bags.
Oct. 16, 2022
10 a.m. to 4 p.m.
Outdoor Recreation Education Center in Fleming Park, Blue Springs, MO
Bring your dog and experience outdoor fall fun in Kansas City. See more Dogtober Fest details here.
October 16, 2022
Noon – 5 p.m.
Three Dog Bakery – 7951 W 160th Street, Overland Park, KS
Stop by Three Dog Baker in Overland Park in the afternoon for treats and a doggie costume contest.

October 22, 2022
10-11 a.m.
Tails and Trails Dog Park – Grandview, MO
Cost: FREE
Your furry friend can dress up, have fun and win prizes as this annual dog-friendly Halloween event.
October 22, 2022
11 a.m.
Mill Creek Park – Country Club Plaza, Kansas City, MO
Enjoy trick-or-treating with your best friend and Three Dog Bakery on the Country Club Plaza. There's also a costume contest with prizes.
October 22, 2022
Time: 4 p.m.
Location: Leavenworth, KS
Randi's Rockin Dachshund Rescue is hosting this dog-friendly Halloween event. Registration is required. Races begin at 5 p.m.
October 26, 2022
5 – 9 p.m.
Bar K – 501 Berkeley Parkway, Kansas City, MO
Bar K, Kansas City's dog park and bar/restaurant destination, is hosting a fabulous and furry Halloween party. Celebrate Halloween with live music, vendors, a doggie haunted house and costume contest.
First, second and third place prizes are awarded for best dog costume and best dog/human combo costume.
Entry is FREE for humans and Bar K Members. Non-members pay $10 to bring one dog, $5 for each additional dog.
October 29, 2022
Time: 9:30 a.m. – Noon
Downtown Lee's Summit, MO
Books, Barks and Badges Halloween Parade, a beloved Halloween favorite is back in downtown Lee's Summit. Join for FREE costume contest, parade and trick-or-treating that includes the whole family, including furry kids.
October 29, 2022
Time: 11 a.m. – 4 p.m.
Three Dog Bakery – 4322 W 119th St, Leawood, KS
Games, contests and treats are available for fur-kids at the Leawood Three Dog Bakery store.
October 29, 2022
Kansas City Power & Light District
Noon – 2 p.m.
Admission: FREE
Dress up the kiddos, furry friends or squad and head to the Kansas City Power & Light District for Halloween Fun. Tricks and Treats Around the District happens October 29, from noon to 3 p.m. for trick-or-treating fun! Enjoy festivities around downtown and travel around to participating venues for some treats!
October 30, 2022
2 to 4 p.m.
John Wornall House Museum – Kansas City, MO
Historically speaking, dogs have always been family. You can include them in this FREE dog-friendly Halloween celebration over Halloween weekend.
Mission, KS Parks + Rec Howl-O-Ween
October 15, 2022
Mohawk Park, Mission, KS
9 to 11 a.m.
Admission: FREE
Fun and prizes are awarded to the furry winners of games and contests.
KC Dog-Friendly Halloween Events 2021
These are the dog-friendly Halloween events that took place in 2021. We are checking with each group to confirm what they are hosting in 2022. Check back with us for updates.
Oct. 2, 2021
3-5 p.m.
E.H. Young Dog Park – Riverside, MO
Cost: $5
Dress up you and your dog to win prizes in the costume contest and enjoy an obstacle course, K9 Halloween treats and photo ops, all at Boos and Barks in the Park.
Oct. 18, 2021
3-7 p.m.
Melissa McGee Photography Studio – The Yellow Barn (3rd floor) – 11272 S. Ridgeview Rd. Olathe, KS
Melissa McGee Photography is hosting a FREE Halloween photo session for pets and kids from 3-7 p.m. on October 18. Come in costume to capture festive memories for your calendars, Christmas cards and scrapbooks.
Photos will be delivered by digital download. Pre-registration is required.
Oct. 31, 2021
10 a.m. to 3 p.m.
Faulkner's Ranch
It's a dog's day at the ranch with games, treats and a costume contest.
Upcoming Kansas City Halloween Events & Fun