Trick-or-treating doesn't just happen on Halloween anymore, and it's not just for kids. Bring along your four-legged canine friend to these pet-friendly Halloween events in Kansas City.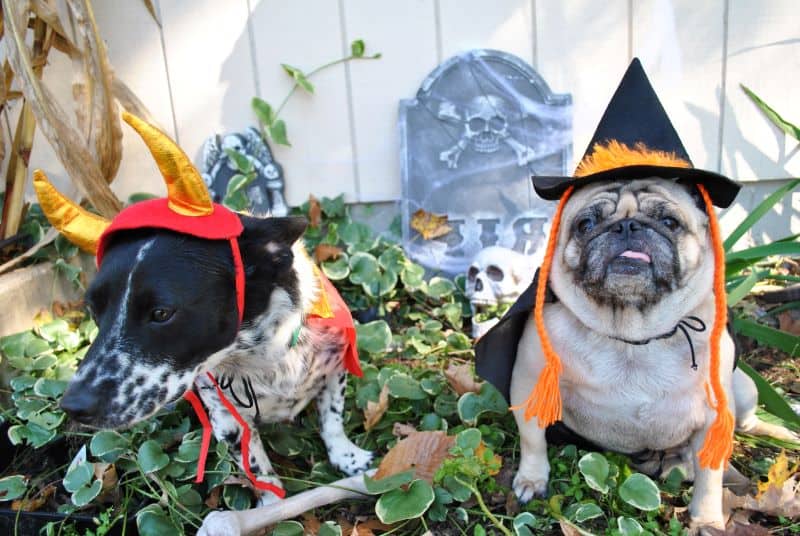 Many of these Halloween dog events have costume contests or parades. These are great opportunities to show your pup dressed up spooky and adorable.
Be sure to read the details carefully, as some of these Halloween dog events require reservations, even if they are FREE.
Check back because some places in Kansas City won't announce Halloween events and activities until the last minute. We'll update this list as soon as we know what's taking place.
If you're a business or organization hosting a free or cheap Halloween Dog event in Kansas City, send us details at news@kansascityonthecheap.com, and we'll include you for FREE.
'Tis the season for pumpkin patches, costumes, Halloween parties, haunted houses, and candy. Find more Kansas City for Halloween and Fall at these posts:
Kansas City Pumpkin Patches, Corn Mazes, and Hayrides
Halloween Movies Showing in Kansas City
Kansas City Halloween Parades, Parties, and Other Happenings for Kids
Halloween Dog Events in Kansas City 2023
Waggin' Trail Dog Park Howl-O-Ween
October 14, 2023
1 to 2:30 PM
Waggin' Trail Dog Park – 432 E 32nd Avenue North Kansas City, Missouri 64116
Pups can celebrate Halloween with a costume contest, raffle, photos, vendors, and more. A $5 item donation gets your dog a trick-or-treat bag.
Items that can be donated include Dog/Cat Treats, Blankets, Towels, Laundry Detergent/dryer Sheets, Kleenex, Dish Rags, Dog/Cat Toys, Paper Towels, Dawn Dish Soap, Bleach, Dishwasher Detergent and Disinfecting Wipes.
Children 5 and under are not allowed inside the designated dog area.
Oct. 22, 2023
10 AM – 4 PM
Kemper Outdoor Education Center – 8201 S. Jasper Bell Road, Blue Springs, MO 64015
Admission is free with a donation of dry or canned dog food.
Bring your dog and experience outdoor fall fun, including booths, demonstrations, contests, and games — all for your four-legged best friend!

October 21, 2023
10 AM – 11 AM
Tails and Trails Dog Park – Grandview, MO
Cost: FREE
A costume contest just for dogs, and it's FREE! Win or lose, you know this is going to be one of the cutest events of your lifetime.
October 21, 2023
4 PM
Randi's Rockin' Dachsund Rescue – 16530 Springdale Rd., Leavenworth, KS 66048
Admission is required for each dog. $10 for early registration, and $15 is registered the day of the event. Randi's Rockin Dachshund Rescue is hosting this dog-friendly Halloween event. Races begin at 5 PM.
October 28, 2023
9:30 AM – Noon
Downtown Lee's Summit, MO
Books, Barks, and Badges Halloween Parade, a beloved Halloween favorite is back in downtown Lee's Summit. Join for a FREE costume contest, parade, and trick-or-treating that includes the whole family, including furry kids.
October 29, 2023
2 PM – 4 PM
John Wornall House Museum – 6115 Wornall Rd., Kansas City, MO 64113
Historically speaking, dogs have always been family. You can include them in this FREE dog-friendly Halloween celebration over Halloween weekend.
October 26 & 27, 2023
Bar K – 501 Berkley Parkway, Kansas City, MO
5 Pm – 9 PM
Live music, drink specials, and a trunk-or-treat just for your pups! You and your fur baby won't want to miss Kansas City's favorite dog bar's annual Halloween bash.