Louisburg Cider Mill is a fantastic fall destination for all ages in Kansas City.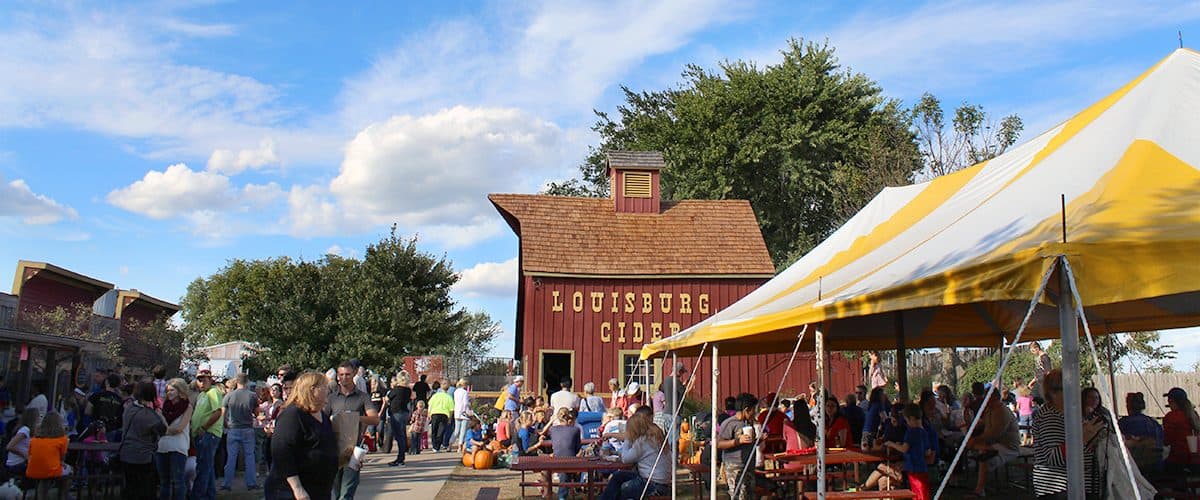 Family traditions and fall fun can happen at Louisburg Cider Mill this season from Sept. 17 – Oct. 31, 2021.
Louisburg Cider Mill Family Farm hours during the fall season are:
Monday-Thursday: 8 a.m. to 6 p.m.
Friday -Saturday: 8 a.m. to 10 p.m.
Sunday: 9 a.m. to 6 p.m.
Louisburg Cider Mill Fall Farm Admission
Monday-Thursday: $8.99
Friday-Sunday: $12.99
Kids 2 and under are FREE
Scroll down to see special admission savings days under Fall 2021 Events
Louisburg Cider Mill Fall Farm Activities
The highlights of the farm in the fall are the pumpkin patch and corn maze, both are included in admission although pumpkins cost extra.
The 10-acre corn maze has a new theme and game each year. For adventurous thrill seekers there are special nights where you can walk through it after dark.
Here's what else you get to enjoy as part of your admission:
Hay wagon rides
Children's play area
Spider web climber
Mount sunflower slide
Farm animals
Huge corn crib
Tricycle track
Orchard trail
Tire tower
Learning barn
Beehive exhibit
Giant swing set
Low challenge elements
Fall Farm Extras
Jump pillow: $2 wristband lets kids jump all they want (must be 36″ or taller)
Pumpkins: Access into the pumpkin patch is included but taking a pumpkin home costs extra. Prices range depending on size. You can also buy pumpkins at the Country Store without paying admission or if you don't feel like heading out to the field yourself.
Fire Pit Rentals: $50 for a group; four hours.
Concessions: Food vendors will be available periodically. Call ahead to confirm or save a little money by bringing along a picnic to enjoy on the grounds.
Louisburg Cider Mill Country Store
There is never a charge to go into the Cider Mill Country Store or view the apple cider pressing. Gift baskets and other unique items are for sale along with the mill's famous apple cider, syrups, preserves, pancake mix, cider donuts and Lost Trail Root Beer.
The store is open year round:
Monday – Saturday: 8 a.m. – 6 p.m.
Sunday: 9 a.m. – 6 p.m.
Louisburg Cider Mill Events Fall 2021
The beloved annual Ciderfest celebration is back for 2021 along with lots of of other fun for all ages. Dates and details are subject to change so it's always a good idea to call ahead or check the Louisburg Cider Mill Facebook page for updates before you head out.
Ciderfest: A beloved fall Kansas City tradition is back for two weekends: Sept. 25-26 and Oct. 2-3. Hours for the festival are 8 a.m. to 6 p.m. on all days. There is no admission or parking fees to attend Ciderfest.
Scout Weekend: Boy Scouts, Cub Scouts, Girl Scouts, Brownies and Daisies get $2 off admission when wearing a uniform or presenting their badge Sept. 17-19.
College Weekend: College students with current student ID can save $2 off admission Oct. 8-10.
Community Service Weekend: Community service workers (teachers, firefighters, enlisted military, first responders, police officers, EMTs, nurses and doctors) receive $2 off admission with a valid ID badge Oct. 15-17.
Zombie Forest Night: Don your costume for a night of live music, bonfires, hay rides and spooky thrills on Oct. 16 and Oct. 23. There's also a chance to go through the maze after dark so don't forget a flashlight. This special event is a fundraiser for the Paola High School Robotics group.
Burning Scarecrow: The Annual Burning Scarecrow event happens at 7 p.m. Oct. 23. Zombie Forest continues in the corn maze after dark so bring a flashlight. You'll also be treated to live music, bonfires, hayrides and more.
Costume Weekend: Save $2 off your admission when you visit wearing your cutest or spookiest Halloween costume on Oct. 29-31.
Cider & Spiders, Tricks & Treats: Come on Halloween (Oct. 31) to enjoy an afternoon of costumes, music, contests and trick-or-treating.
Tips for a Good visit to Louisburg Cider Mill
Here are some things to know that will help you have a pleasant time at the mill's pumpkin patch and corn maze.
Dress comfortably: Long pants and comfortable tennis shoes are recommended in the corn maze. It takes about 20 minutes to get through, up to 45 minutes if you play the game.
Other extras: Depending upon the weather, water, bug spray, sunblock and a flashlight (for night walks) are recommended.
Food and drink: Concessions are available for purchase and there are sometimes food trucks on site for some weekends. Cash, credit and debit cards are accepted. Save a little money by bringing along your own picnic or snacks and eating in the picnic area. Bring your own utensils if you want to roast marshmallows or hot dogs at the evening bonfires.
Pets: Dogs are OK if they are on leash. Be sure to clean up after your pet.
Louisburg Cider Mill Location and Parking
The Louisburg Cider Mill is located 20 miles south of the Kansas City metro area at 14730 K68 Highway, Louisburg, KS 66053. Take US Highway 69 to the Louisburg Exit (Hwy. 68), then 3 miles west.
Parking is FREE.
Don't miss our other Kansas City Fall and Halloween posts:
Kansas City Halloween Parades, Parties & Other Happenings for Kids
Halloween Movies Showing in Kansas City
Kansas City Haunted Houses and Discounts
Dog-Friendly Halloween Events in Kansas City
Free and Cheap Kansas City Halloween Parties and Events for Adults
Free and Cheap Trick-or-Treating in Kansas City
Kansas City Halloween Food Discounts and Freebies
Day-by-Day Calendar of Kansas City Fall Events