Get fired up for the Lenexa Chili Challenge in Old Town Lenexa October 7-8.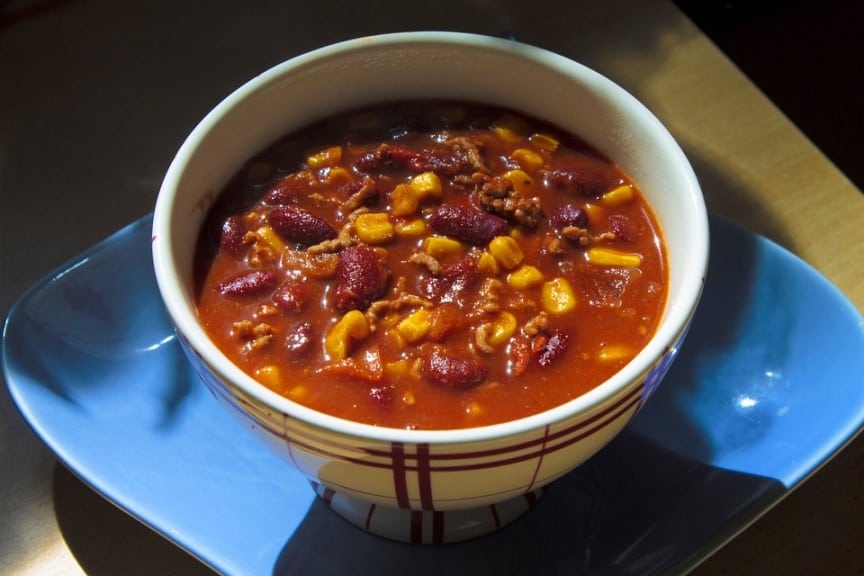 Unlike some tasting festivals, the Lenexa Chili Challenge leaves both your stomach and wallet full.
Admission is FREE and samples are plentiful on Saturday, while supplies last. Over the last few years, we've only seen a few contestants run out near the very end.
There are around 200 teams competing for the grand championship in the chili, salsa and hot wings contests. There's also a kids cornbread contest so you should be able to get some of that fluffy, sweet goodness along with your spicy selections.
If chili, salsa and hot wings aren't your thing, other concessions are available for purchase from vendors. You can also purchase cold beer which goes nicely with all the sampling on Saturday. If you find you need to take a break and sit down with a beverage, Jerry's Bait Shop is right along the path.
Activities include live music, arts and crafts and fireworks on Friday, weather permitting. Hours are:
Friday: 6 to 10 p.m.
Saturday: 10 a.m. to 3 p.m.
For more free and cheap fun in Kansas City this season, check out our full Kansas City Fall Festival listing.
Lenexa Chili Challenge Schedule:
Friday, October 7:
6 p.m.: Gates open to the public
6 to 9 p.m.: Face painting and balloon artist
7 to 8 p.m.: Live music with Stolen Winnebagos
8 p.m.: Fireworks display (weather permitting)
8:30 to 10 p.m.: Live music with Stolen Winnebagos
10 p.m.: Gates closed to the public
Saturday, October 8:
10 a.m.:
Gates open to the public.
Free samples available, while they last
Kids Kornbread Contest turn-in, Lenexa Senior Center
10 a.m. to 2 p.m.:
Children's arts and crafts
Judging
11 a.m. to 2 p.m.: Live music with Stolen Winnebagos
3:30 p.m.: Winners announced
Street Closures and Parking
For safety reasons, several streets in the Old Town Lenexa area will be closed or have limited access before, during and after the Lenexa Chili Challenge.
There's a limited amount of parking at the Lenexa Community Center so your best bet is to park on any public street. Just be smart and kind, don't block a fire hydrant or someone's driveway.
More Kansas City Fall and Halloween Fun
Kansas City Pumpkin Patches, Corn Mazes & Hayrides
Halloween Movies Showing in Kansas City
Kansas City Halloween Parades, Parties & Other Happenings for Kids
Dog-Friendly Halloween Events in Kansas City
Free and Cheap Kansas City Halloween Parties and Events for Adults
Free and Cheap Trick-or-Treating in Kansas City
Kansas City Halloween/October Discounts and Freebies
Subscribe to our FREE daily newsletter to be notified of all the FREE Kansas City events and deals. Sign up here.
More Free & Cheap Fall Fun in Kansas City
Saturday, September 30, 2023
Old Town Lenexa
Intersection of Pflumm Road and Santa Fe Trail Drive
Lenexa, KS (913) 477-7712