Eating well and being restful can go hand-in-hand in Kansas City over Labor Day weekend. Houlihan's is offering Burger Kits To-Go that serve up to four people.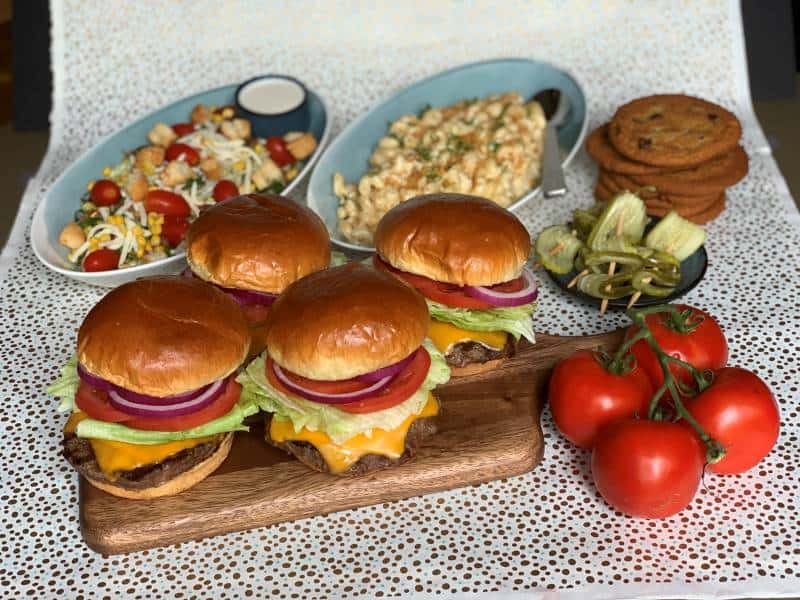 These kits can be packaged for grilling at home or guests can choose a fully-cooked, ready-to-enjoy meal that comes with heating instructions. There are two Houlihan's Burger Kits To-Go options:
Hou Burger Kit: served with or without American cheese, plus lettuce, tomato, onion and pickle on the side.
612 Juicy Lucy Burger Kit: burgers are stuffed with shredded white cheddar, butter and Lucy sauce (Worcestershire based sauce), plus shredded lettuce and pickle.
Each kit serves four people for $44.99 and includes 4 burgers, 4 servings of Mac & Cheese, 4 side salads with a choice of dressing and 8 chocolate chip cookies.
Orders must be done a day in advance by calling your local Houlihan's (scroll down to see the list). Pre-order Sept. 2 or 3 and pick up on Sept. 3 or 4.
Burger Kits To-Go are available while supplies last and cannot be combined with any other promotion, offer or discount.
Want more deals and discounts over Labor Day Weekend? Love a good burger for a great price? Check out these posts:
10 Grilling Tips from Houlihan's Restaurant + Bar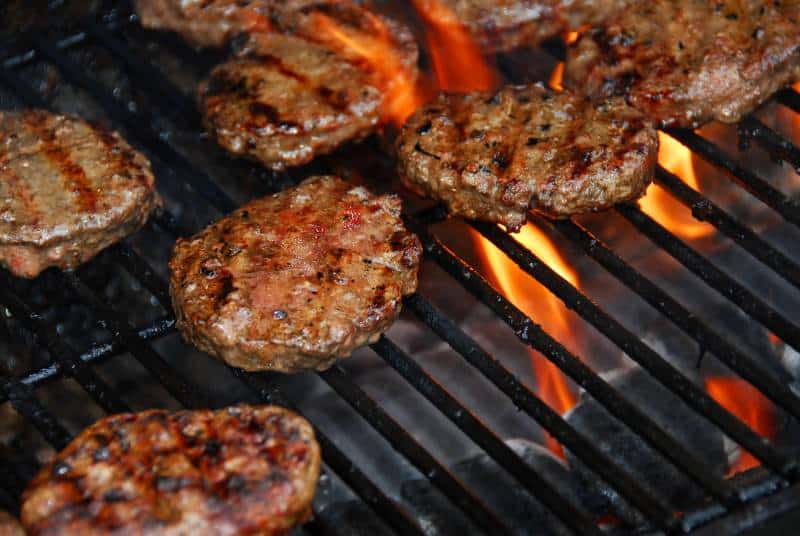 If you choose to do cook your own kit at home, you may find these tips helpful in achieving the premier meal.
Tip 1 – It's Cool To Be Clean
Use a wire brush to clean the wire grates and remove any burnt residue before you grill.
Tip 2 – Bring On The Heat
Start your gas grill or ignite your charcoal and allow it to reach 450-500F.
Tip 3 – Season It, Part One
Season the wire grates of the grill with an oil, such as vegetable oil, using a cloth or brush. Hold the towel with tongs and rub the oil vertically (in the direction of the grates). This will prevent the meat from sticking to the grate.
Tip 4 – Time To Rest
Once you take the meat out of the refrigerator, let it sit at room temp for at least ten minutes before placing it on the grill. This will allow the meat to temper. Hint: Burgers should be allowed to rest for about five minutes — don't let the burger get to room temperature. Unlike other meats, burgers benefit from being a bit cold to help them stay together while cooking.
Tip 5 – Season It, Part Two
Rub oil or butter on the meat to prevent it from sticking to the wire grates and promote beautiful diamond grill marks. Season meat with salt, pepper, garlic or other seasonings immediately before placing on the grill. If the seasoning is placed on the meat and then refrigerated, it will change the flavor of the meat and extract natural juices.
Tip 6 – Temp Check
Cooking food to the proper temperature takes practice. And keep in mind that the product's cut, size and thickness all play a role in determining cook time. Because temperatures are specific for steaks and burgers, these can be a bit trickier.
A Medium Burger takes about 6-8 minutes, or it reaches 135 degrees.
Steak Rare – Seared outside, 75% cool red through the center; 120 degrees
Steak Medium Rare – Seared outside, 50% warm red center; 125 degrees
Steak Medium – 25% hot pink center; 135 degrees
Steak Medium Well – Slightly pink center; 145 degrees
Steak Well – No pink, 100% brown; 160 degrees
Tip 7 – Wait For It …. Wait For It
Never press or force the juices out of a piece of meat to speed the cooking time.
Tip 8 – Yep, It's Time To Poke The Meat
Testing meat for the correct 'doneness' is a skill developed over time. The best method to check for doneness, especially with steaks, is to:
Press the center of the meat lightly with tongs or a broiler fork. The more done, the firmer it becomes.
Meat should never be cut into to check the temperature. If you're not able to tell by pressing the meat, use an instant-read thermometer to check internal temperature.
Tip 9 – 'Tis Not The Season
Do not season the meat with salt or pepper after taking it off the grill, as this will result in a "raw" or strong salt and pepper flavor, which takes away from the flavor of the meat.
Tip 10 – Chillax
With steaks, after they are removed from the grill, let them rest for 3-5 minutes before serving. This means – just leave it alone. This allows the juices to redistribute evenly through the meat which adds to its tenderness and flavor.
Houlihan's Kansas City Restaurant Locations
Leawood – 4900 W 119th St., Leawood KS 66209
913.663.2161
Sun-Thurs 11am – 9pm
Fri & Sat 11am – 10pm
Overland Park – 11851 W 95th St., Overland Park KS 66214
913.492.3926
Sun-Thurs 11am – 9pm
Fri & Sat 11am – 10pm
Lee's Summit — 625 NW Murray Rd., Lee's Summit MO 64081
816.524.2572
Sun-Thurs 11am – 9pm
Fri & Sat 11am – 10pm
More Food and Drink Deals in Kansas City
Thursday, November 30, 2023
Friday, December 1, 2023
Saturday, December 2, 2023
Sunday, December 3, 2023
Monday, December 4, 2023
Tuesday, December 5, 2023
Wednesday, December 6, 2023
Thursday, December 7, 2023
Friday, December 8, 2023
Saturday, December 9, 2023
Sunday, December 10, 2023
Monday, December 11, 2023
Tuesday, December 12, 2023
Wednesday, December 13, 2023
Thursday, December 14, 2023
Friday, December 15, 2023
Saturday, December 16, 2023
Sunday, December 17, 2023
Monday, December 18, 2023
Tuesday, December 19, 2023
Wednesday, December 20, 2023
Thursday, December 21, 2023
Friday, December 22, 2023
Saturday, December 23, 2023
Sunday, December 24, 2023
Monday, December 25, 2023
Tuesday, December 26, 2023
Wednesday, December 27, 2023
Thursday, December 28, 2023
Friday, December 29, 2023