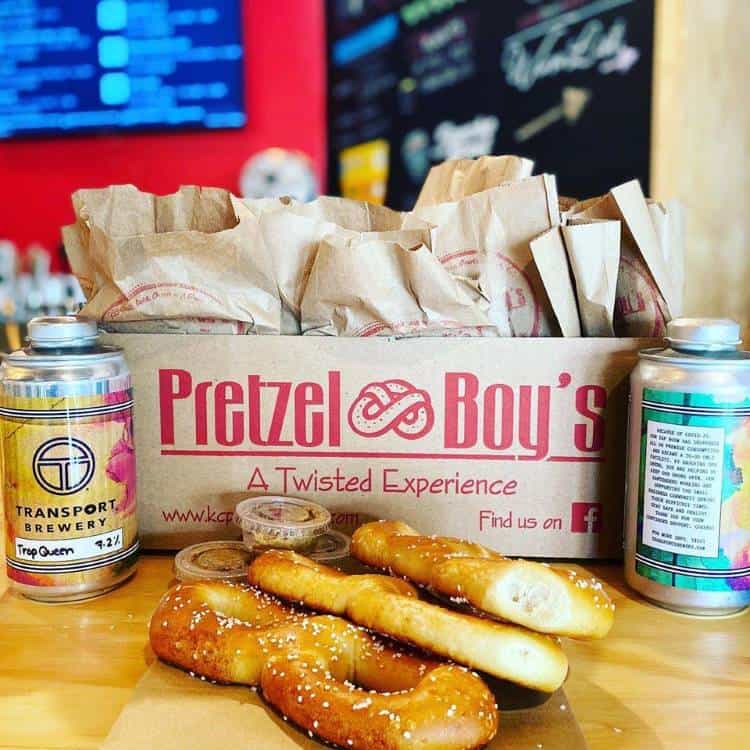 Transport Brewery is housed in a historic structure in the heart of Shawnee. It's a unique, friendly atmosphere where you can enjoy tasty beer made by a small but mighty staff.
You can find Transport Brewery at 11113 Johnson Drive in Shawnee, KS. The brewery is open:
Tuesday – Thursday: 4 p.m. to 10 p.m.
Friday – Saturday: Noon. to Midnight
Sunday: Noon to 7 p.m.
Transport Brewery Front Line Worker & Hero Discounts
Transport Brewery is always looking to give something back to those who contribute to our communities. The following beverage discounts are available anytime. If you're in one of the eligible groups just say so when you place your order.
Active military members, veterans, police officers, firefighters and EMTs: Enjoy 20% off any beverages.
American Homebrewers Association Members: Enjoy 15% off any beverages.
Teachers and Nurses: Enjoy 10% off any beverages
Events at Transport Brewery
Transport Brewery committed to the community and that includes making sure people have a good time. Here's some of what's coming up:
Labor Day Beer Specials: Come in and toast the social and economic achievements of American workers on Monday, Sept. 7. All beers are $5 all day. Whew, that makes for some easy math. Find more Labor Day Weekend fun at our post Kansas City Labor Day Weekend Events & Deals 2020.
Trivia Night: It's back every Wednesday night at 7 p.m.! Starting Sept. 16, you can spend two hours quizzing your brain for FREE on pop culture, sports, history and other random knowledge. Delicious beer is, of course, available. You can bring in your own food or Food is available to bring in, or you can buy KC Pretzel Boys with Pretzel Bites & Beer Cheese for $5.
There are some new rules for trivia so everyone stays safe. This means:
Teams have to be made up of 6 or fewer people. Only 3 teams of 6 will be allowed per trivia.
Check in at the bar when you arrive. Someone will seat you. Know exactly how many people are in your party. Chairs and tables can't be added or pushed together. It messes up that whole social distancing thing.
Menus can be found using the QR code at the table. A server will take your order.
At the end of each round, your score card will be collected and handed into your trivia host.
Masks must be worn except for when seated at your tables. No exceptions.
Second Annual Oktoberfest: Woo-hoo! Let's celebrate fall and our (real or pseudo) German heritage Friday, Sept. 25 and Saturday, Sept. 26. See more details here.
More Kansas City Restaurant Deals
Tuesday, January 31, 2023
Wednesday, February 1, 2023
Thursday, February 2, 2023
Friday, February 3, 2023
Saturday, February 4, 2023
Sunday, February 5, 2023
Monday, February 6, 2023
Tuesday, February 7, 2023
Wednesday, February 8, 2023
Thursday, February 9, 2023
Friday, February 10, 2023
Saturday, February 11, 2023
Sunday, February 12, 2023
Monday, February 13, 2023
Tuesday, February 14, 2023
Wednesday, February 15, 2023
Thursday, February 16, 2023
Friday, February 17, 2023
Saturday, February 18, 2023
Sunday, February 19, 2023
Monday, February 20, 2023
Tuesday, February 21, 2023
Wednesday, February 22, 2023
Thursday, February 23, 2023
Friday, February 24, 2023
Saturday, February 25, 2023
Sunday, February 26, 2023
Monday, February 27, 2023
Tuesday, February 28, 2023
Wednesday, March 1, 2023