We're sure a lot of people are in the spirit to go check out Christmas and holiday light displays in Kansas City.
And, why not? Looking at Christmas lights is an inexpensive and safe holiday activity that can be enjoyed by kids (and adults) of all ages.
This list includes any kind of displays we could find from professional set ups, civic events and private homes.
It's amazing the expense, time and effort that businesses and residents put into creating some of the holiday light displays around Kansas City. With that in mind, be more of Cindy Lou than a Grinch when viewing the light displays:
Donate if you can. While many holiday light displays in Kansas City are free, some also collect donations for charity or to keep the displays going from year to year. Try to have a little cash on hand and give something, even if it's just a couple of dollars. It all adds up to make a difference
Don't get put on the naughty list. If you're going through residential areas, be respectful of neighbors. Drive slowly as if your own family lives there and never block anyone's driveway.
Be patient. Sometimes the drive-thru holiday light displays don't move along as quickly as we'd like. Think of it as a time to slow down and try to remember the lyrics to Christmas songs you' haven't sung in years.
Lights off. If the light display involves a parking situation, be sure you park in designated places and shut your lights off.
If you know of any great public holiday light displays around Kansas City we've missed or you want your home or business to be added (for FREE), drop us a note at info@kansascityonthecheap.com.
Make sure you don't miss any upcoming deals by subscribing to Kansas City on the Cheap's daily emails (just one a day), and following us on Facebook and Twitter.
Best Holiday and Christmas Light Displays in Kansas City 2020
MISSOURI
Blue Springs
Ridgewood Lights
1817 SE Ridgewood Drive, Blue Springs, MO
Nov. 24-Dec. 31, 2021
Weekdays: 6 to 9:30 p.m.
Fridays and Saturdays: 6 to 10:15 p.m.
Admission: FREE (accept donations for Wayside Waifs)
A computer programmed Christmas light display consisting of nearly 25,000 lights, multiple songs and FREE candy canes. There is also a sleigh that makes a great backdrop for photos. Have the kids write a letter to Santa and drop it into the mailbox. They'll get a personal reply back in the mail!
Blue Springs Mayor's Christmas Tree
Blue Springs City Hall – 903 W. Main Street
Nightly starting Nov. 30
Stop by Blue Springs City Hall and get a glimpse of the festively decorated mayor's Christmas tree.
Buckner
Peterson Holiday Light Show
3019 N. Elsea Smith Road – Bucker, MO
Dec. 2, 2021 – Jan. 6, 2022
Nightly: 5 to 10 p.m.
Admission: FREE
Drive up and tune in at 100.3 FM to enjoy a synchronized light show at this home.
Excelsior Springs
Hall of Trees
Hall of Waters' Water Bar – downtown Excelsior Springs
Nov. 20-Dec. 31, 2021
Call to confirm hours
Admission: FREE
The Hall of Waters was listed on the National Register of Historic Places in 1983. See this annual seasonal display of trees put together by the community that serves to lift holiday spirits and raise money.
Lane of Lights
East Valley Park – Excelsior Springs
Nov. 20-Dec. 31, 2021
5:30 p.m. to 9:30 p.m.
Admission: $5 donation suggested
The spirit of season comes through in this drive-thru holiday lights display in Excelsior Springs.
Independence
Crysler Lights
3510 S. Crysler, Independence, MO
Nov. 24-Dec. 31, 2021
Sundays – Thursdays: 6-10 p.m.
Fridays and Saturdays: 6 to 11 p.m.
Admission: FREE
Holiday light show synchronized to music that you can listen to from the comfort of your car. Tune radios to 100.3 FM.
Lights on Liberty Street
2708 N. Liberty Street – Independence, MO
No show in 2021, but they do plan to be back in 2022 with something new.
Kansas City, MO
18th & Vine Historic District
Downtown East – Kansas City
Admission: FREE
Drive by and see the decorated tree billed as "Christmas in Color". The lighting and Soul of Santa Foundation's second annual holiday lighting ceremony happens December 3, but the tree is lit all season.
Crown Center Shops
Downtown Kansas City
Admission: FREE
Venture inside three levels of shops to see holiday finery. You can keep more green in your wallet and on the tree this holiday season in Kansas City by reading our post Making Christmas Memories at Crown Center.
Downtown Marriott Hotel
Downtown Kansas City – 12th Street
Admission: FREE
The 20-story hotel has a fondness for getting into the local spirit, including celebrating the KC Royals World Series competitions and the Kansas Chiefs Super Bowl win. For Christmastime, the Marriott hotel in downtown Kansas City turns on an animated display of characters and greetings made up of 30,000+ bulbs and a collection of color.
Magic of Lights at GEHA Field
Arrowhead Stadium
Nightly 5 to 10 p.m.
Nov. 24 – Dec. 24, 2021
Admission: Priced per carload
Guests enter through gates 3-4 for this drive-through holiday lights experience. Save a few bucks by buying tickets online.
Mayor's Christmas Tree
Crown Center Square
Downtown Kansas City
Nov. 27, 2020 – Jan. 3, 2021
Admission: FREE
All the trees in Crown Center Square are lit up for the holidays, but the centerpiece is the Mayor's Christmas Tree. At 100 feet tall, it's one of the tallest in the U.S. The first night of illumination is being done as part of a virtual ceremony.
Plaza Lights
Country Club Plaza
Nov. 24, 2021 – Jan. 19, 2022
Nightly at 5 p.m.
Admission: FREE
If you have never seen the Plaza Lights in Kansas City and you only have time to see one holiday display while you're visiting, this is the one to see.
Union Station
Downtown Kansas City
Nov. 26 – Dec. 27
Admission: FREE (some attractions have a fee)
Some of Union Station's holiday attractions have a fee attached, but it's FREE to catch glimpses of the exterior lit up. You can also step inside and get a look at the huge Christmas tree and other breathtaking holiday decorations. You don't want to miss our tips for celebrating the holidays at Union Station.
Winter Magic
Swope Park next to The KC Zoo
Nov. 1, 2020 – Jan. 2, 2021
Admission: $20 per car load; $30-$40 for commercial vans or buses
Winter Magic is touted as the most fantastic of drive-thru holiday events in Kansas City. Visitors cruise through nine themed displays of the 12 Days of Christmas, a toy workshop, stained-glass nativity. spinning trees, lighted animals in the zoo area, the KC Proud section and more.
Zona Rosa Holiday Lights
Zona Rosa Town Center
Nov. 20, 2021 – Jan. 3, 2022
Admission: FREE
Zona Rosa has put together a festive atmosphere with a 50-foot tree, suspended crowns and selfie photo stations.
Christmas at the Homestead
4908 NW 161st Terrace
Nov. 26 – Dec. 31
Admission: FREE
This private residence in the northland has a daily show from 5:30 to 9 p.m. Tune into 100.5 and listen as you watch the performance. Cookies and cocoa nights are hosted November 26 and December 11.
Kustom Christmas Lights Family Light Show
Carriage Hill Estates, NE 60th Court and North Spruce
Nightly 6 to 10 p.m.
Admission: FREE
This family gets into the holiday spirit with a variety of songs coordinated to a light show. Tune in at 90.7 FM and enjoy.
Ward Parkway Homes
60th – 70th Street Blocks off Ward Parkway
Admission: FREE
Several streets get festive with neighborhood light displays.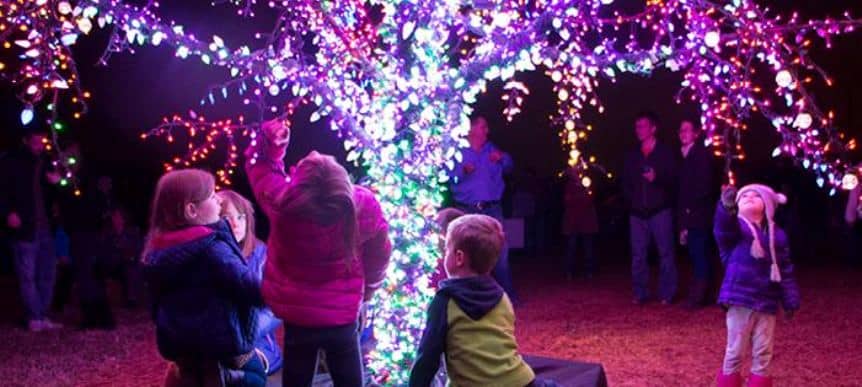 Kingsville
Festival of Lights
Powell Gardens
Nov. 11 – Dec. 30, 2021
Wednesday-Sunday: 4 p.m. to 10 p.m.
Admission: $6-$13; FREE for members
Accessible pathways are filled with holiday lights and unique botanically themed displays. Special weekends include time with Santa Claus. See here for more details.
Knob Noster
Country Acres Christmas Lights Extravaganza
1290 NE 140 Road, Knob Noster, MO
Nov. 30-Dec. 31, 2021
5 to 11 p.m.
Admission: FREE
Take a road trip to see this delightful display in Knob Noster, MO. See here for more details.
Lee's Summit
Christmas in the Park
Longview Lake
Nov. 23 – Dec. 31, 2021
Nightly: 5:30 p.m. to 10 or 11 p.m. (closing time varies)
Admission: FREE. Donations accepted.
This display is another popular Kansas City tradition. It features more than 500,000 lights and 175 animated figures in a drive-thru wonderland.
Magic Tree
I-470 and View High Drive
Nightly November 26, 2021 – December 2, 2022
Admission: FREE. Donations accepted for Operation Toy Soldier
The tree has more than 13,000 lights that stay illuminated 24/7 during the season.
Liberty
Liberty Light Show
Pleasant Valley Baptist Church
Evenings on select nights in December
Admission: FREE
This drive-through light display will be synchronized to live and automated music throughout various dates in December. See here for more schedule details.
North Kansas City
North KC Mayor's Christmas Tree
North KC City Hall, 2010 Howell Street, North KC, MO (corner of Armour & Gentry)
Evenings beginning at 6 p.m. through December
Admission: FREE
Take advantage of holiday displays and the North KC mayor's Christmas tree for your seasonal photo ops.
Parkville
Thousand Oaks Subdivision
Parkville and unincorporated Platte County
Admission: FREE
There are plenty of good displays in this northland subdivision.
KANSAS
Bonner Springs
Knights of Lights
KC Renaissance Festival Grounds
Dec. 2 – 31, 2021 (closed Dec. 25)
5 p.m. to 10 p.m. (open until 11 p.m. on Fridays and Saturdays)
Admission: $12 – $18
Medieval magic meets the Christmas spirit with the Kansas City Renaissance Festival Grounds transformed into a magical walk-through light display for the holiday season. See details here.
Santa Express in Lights
National Agricultural Center and Hall of Fame
630 N. 126th Street
Dec. 3-5, 10-12 from 5:30 to 9 p.m.
Admission: $10 per car
Drive along a luminary lit road to see holiday lights and a living nativity complete with camel, donkey, cow, goats and sheep. You can also wave to Santa, Mrs. Claus and the elves. Canned good donations are accepted for local food pantries.
Holiday Light and Magic
Wyandotte County Park – 500 North 126th Street
Nov. 18, 2021 – Jan. 1, 2022
Sundays through Thursdays: 6 to 9 p.m.
Fridays and Saturdays: 6 to 11 p.m.
Admission: Per carload – $20 (weeknights); $25 weekends
A mile long drive-through light display with Santa, elves, reindeer and (get this) dinosaurs and UFOs.
Gardner, KS
Gardner Christmas in the Park
Cornerstone Park – 215 N. Center
Beginning Nov. 29
Admission: FREE
Christmas lights are set up at Cornerstone Park in Gardner.
G-Town Christmas
29299 W 151st St just East of Gardner Road
Nightly from 5:15 to 10:30 p.m. Nov. 29-Jan. 5
Admission: FREE
Home of the first Computer Animated Christmas Lights Display in Gardner. Synchronized to music on 102.3 FM.
Kansas City, KS
Downtown KCK Holiday Lighting
Downtown Kansas City, KS – 701 N. 7th Street
Nightly beginning Dec. 3 at 7 p.m.
Admission: FREE
The KCK Mayor's Christmas Tree is festively decorated and joined by church steeple lighting from six participating churches in the historic downtown area of Kansas City, KS. Participating churches include:
Our Lady & Saint Rose Catholic Church – 2300 N 8th Street
Saint John the Baptist Catholic Church – 708 N. 4th Street
Former Holy Trinity Orthodox Church – 558 Lowell Avenue
Holy Family Catholic Church – 274 Orchard Street
Saint Mary-Saint Anthony Church – 615 N 7th Street
Police Athletic League(Former Saint Mary's Church) – 800 N. 5th Street
Lawrence, KS
Parkside Christmas
1132 Parkside Circle – NE corner of Dad Perry Park
Nightly from Thanksgiving to early January 2022
Admission: FREE
Started in 2008, this is a synchronized light and sound Christmas display showcased every night during the season.
Santa's Lights
132 Bramble Bend Court
Thanksgiving Night through New Year's Day
Admission: FREE
A synchronized Christmas light and sound display in Lawrence, KS. Tune to 96.7 FM to listen and enjoy.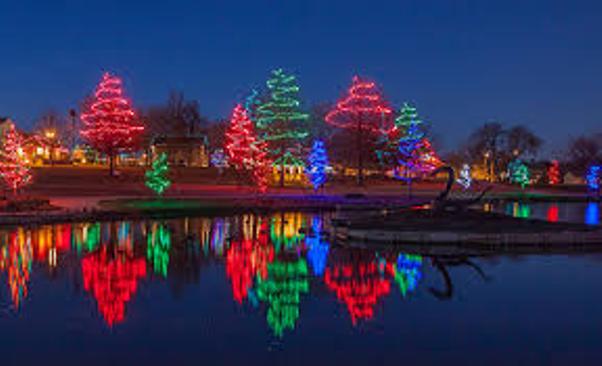 Lenexa
Laurendeau-lights
West 86th Street
Admission: FREE
This Lenexa home has an impressive lights display coordinated with music.
Sar-Ko Aglow
Sar-Ko-Par Trails Park
Dec. 3, 2021 – Jan. 17, 2022
Admission: FREE
All the trees around Rose's Pond will be lit up for the season beginning with an official ceremony December 3. See here for more details.
Speedy Car Wash
10150 Walker Street
Through December 31
Admission: FREE
A 40 minute light show synchronized to music can be seen nightly from 5 tp 11 p.m. Tune in at 89.9FM.
Olathe
Holiday Lights in Olathe
Admission: FREE.
The following neighborhood and public displays are found throughout the city of Olathe.
Prairie Point – 108th Ter and Lone Elm
Woodland Manor – 108th Ter and Woodland
Prairie Farms – Santa Fe and Persimmon Dr
Fairview Hills – Prairie and Logan
Downtown Olathe
Mission Ridge – Frontier Ln and Ridgeview
Brittany Place – Ridgeview and Sheridan
Christmas Card Lane – NW of 151st and Ridgeview
1932 S Stagecoach Drive
Arbor Landing – SW of 159th and Mur-Len
Brougham Village – 15904 W 152nd Pl and 152nd and Brougham
145th Ter and Summertree
153rd and Greenwood
Heritage Hill West – 143rd and Caenen Lane
1521 W. Cedar Street
Nottingham by the Green – 129th & Pflumm)
Paulie's Penguin Playground
16617 Indian Creek Parkway
Nov. 25 – Dec. 25, 2021
Admission: FREE. Donations accepted for the Leukemia Lymphoma Society.
A walk-through, penguin-themed display delights for the holiday season and raises money for the Leukemia and Lymphoma Society. It's open and worth visiting during the day, but the best experience is at night when the display is lit up.
Rockin' Winter Wonderland
KC Wine Co/KC Pumpkin Patch
Select weekends during the holiday season – starts at 5:30 p.m.
Admission: $12 (under 2 FREE)
This farm setting is turned into a winter wonderland where you walk through and take in the festive sights and sounds of the season. A portion of proceeds benefit Veterans Community Project.
Stagecoach Park & Olathe Community Center
1205 E Kansas City Road
Admission: FREE
A festive display of giant trees and twinkling lights. There is also a lighted luminary path that goes partially around the lake at the rear of the community center building.
Overland Park
Altasciences Holiday Light Display
103rd & Metcalf
Late November through Christmas
Admission: FREE
The Altasciences light display (formerly Vince & Associates Clinical Research) includes more than 200,000 LED lights synchronized to music. The best viewing experience is sitting in your car across the street in the parking lot of Emmanuel Baptist Church. Tune into 99.5 FM and enjoy.
Christmas on Bradshaw
13800 block of Bradshaw Street
Admission: FREE
An entire cul-de-sac and street decorated with holiday lights set to music. Tune in at 99.9 FM to enjoy.
Nyman Lights on Bradshaw
10401 Bradshaw Street
Admission: FREE
Overland Park residence features sequences of lights and music.
Christmas Place
131st & Antioch Road
Thanksgiving through New Year's Day
Admission: FREE
According to the Christmas Place website, this light display has been "voted the number one Christmas neighborhood in Johnson County for 16 straight years." It's a double cul-de-sac of 23 homes that shifts from a residential area into a winter wonderland you can drive through.
Holiday Lights on Farmstead Lane
Deanna Rose Children's Farmstead
Nov. 25, 2021 – Jan. 7, 2022
5 p.m. to 11 p.m.
Admission: FREE
This Overland Park attraction never fails to disappoint, regardless of the season. Even though the farmstead is closed, you can still enjoy a synchronized light show from the comfort of your car.
Holiday Luminary Walk
Overland Park Arboretum and Botanical Gardens
Select weekends in late November and December
5 p.m. to 10 p.m.
Admission: $15 (tickets must be purchased in advance); 5 and under FREE
Thousands of candles light the way through walking paths at the Overland Park Arboretum with music and wagon rides. See details for schedule and tickets.
OP Most-Spirited Holiday Home Contest
Overland Park Residences
Admission: FREE
The City of Overland Park is sponsoring a contest for the most-spirited holiday home display. The winner is announced December 17. In the meantime, here is a list of entries you can check out and vote on:
67th & Nall
7515 Hemlock
7616 Hemlock
7822 Hemlock
9407 W. 164th Terrace
9607 Horton
12501 Russell
7716 W. 98th Terrace
13130 Slater Street
80329 W. 122nd Terrace
11305 W. 143rd Terrace
4903 W. 155th Terrace
9407 W. 164th Terrace
Thompson Park
8045 Santa Fe Drive, Downtown Overland Park
Admission: FREE
The Overland Park Parks and Recreation crews have decked out the park with lots of pretty lights this year for the holidays. This includes the newly decorated Mayor's Christmas Tree. Drive on down Overland Park Drive and you'll see a few of the neighborhood houses decorated for the season as well.
Prairie Village
Candy Cane Lane
7900 Outlook Lane
Saturday after Thanksgiving – Jan. 1, 2022
Admission: FREE
Each year since 1958, the residents of Candy Cane Lane turn a quite suburban cul-de-sac into a magical Christmas wonderland. Drive through to see old favorites and new additions.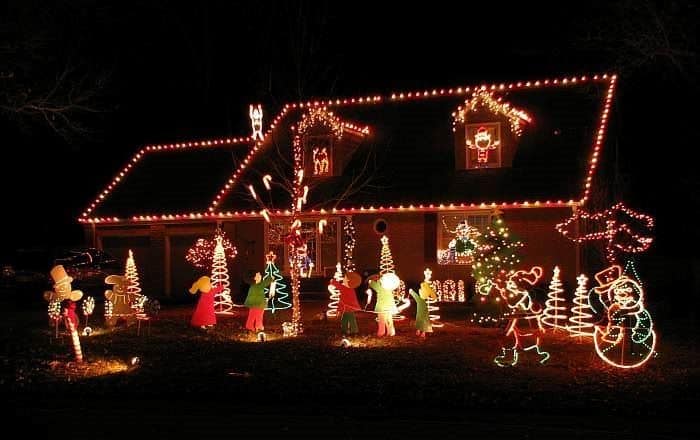 Shawnee
Brittany Ridge Neighborhood
W. 71st and Millbrook Streets
Admission: FREE
A festive neighborhood worth visiting for the multiple house and yard displays.
Shawnee Mission Park
7900 Renner Road
Admission: FREE
The flagpole near the Renner Road entrance is transformed into a 60-foot tree. The display includes 3,000 white LED lights.
Williams Christmas Lights
6321 Millbrook Avenue
Admission: FREE
A 10+ year tradition of Christmas lights synchronized to music. They took 2020 off. We're waiting for a 2021 update.
Spring Hill
Private Residence
21600 S. Madison
Admission: FREE
This home has a Christmas show featuring holograms and animated lights. Located 10 minutes south of Olathe.
Feeling festive? See our other Kansas City Holiday Posts:
Where to Visit Santa in Kansas City
Best Holiday and Christmas Light Displays in Kansas City
Classic Holiday Movies at Theaters in Kansas City
Holiday Shopping Gift Card Bonus Offers
Daily Calendar of Kansas City Holiday Events and Activities