For three weekends following Thanksgiving, the Overland Park Arboretum and Botanical Gardens is hosting the traditional Holiday Luminary Walk.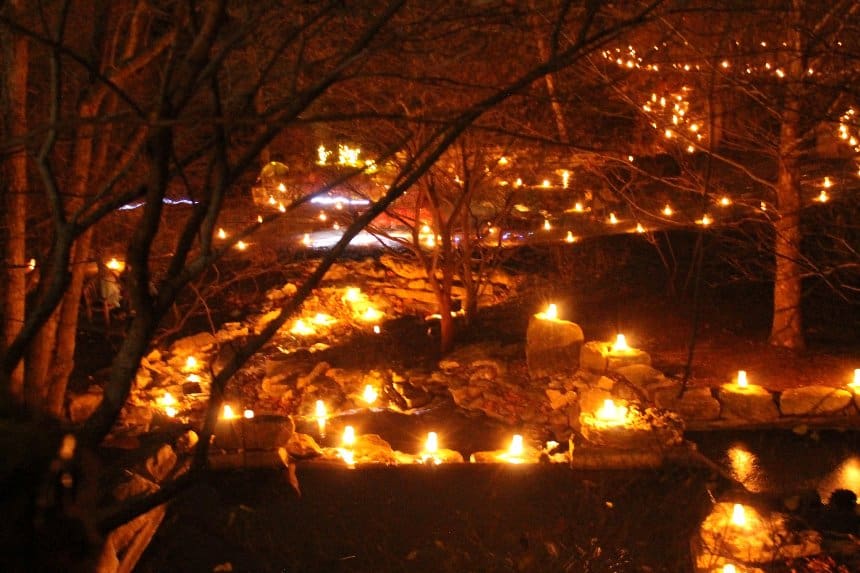 This popular Kansas City holiday event includes lighted trails through the gardens, holiday music, light displays, gnome and fairy villages, horse-drawn wagon rides and more. There is also an option for a more peaceful adults night on Dec. 3.
Masks are required and visitors are asked to keep an appropriate distance from those outside their household. More details on changes being made to this year's Holiday Luminary Walk can be found on the event site.
Holiday Luminary Walk 2020 Admission
Because of the popularity of the Holiday Luminary Walk, tickets are date specific and only a limited amount are sold for each night. Tickets must be purchased online. No tickets will be sold at the Arboretum.
Tickets are $14 per person
Age 5 and under: FREE
Friends of the Arboretum Members receive$2 off when tickets are purchased online with a promo code.
Holiday Luminary Walk 2020 Schedule
The 2020 Holiday Luminary Walk will be held from 4:30 – 10 p.m. on the following dates. The latest you can get into the arboretum is 9 p.m.
Friday, November 27, 2020
Saturday, November 28, 2020
Friday, December 4, 2020
Saturday, December 5, 2020
Friday, December 11, 2020
Saturday, December 12, 2020
Candlelight Stroll Event
The Arboretum is offering a quieter version of the Luminary walk on Thursday, Dec. 3 from 5 to 9 p.m. (last entry at 8 p.m.).
The Candlelight Stroll event is a chance for adults to enjoy the serenity of the Arboretum during the holiday season. This event features the glow of candles and light displays, but no music, wagon rides or kids. It's the perfect option for date night or a friends gathering.
Tickets for the Candlelight Stroll are the same as the regular Holiday Luminary Walk online in advance.
Overland Park Arboretum Location and Parking
The 300-acre Overland Park Arboretum and Botanical Gardens is a year-round attraction located at 8909 West 179th Street in Overland Park, Kansas.
Parking is FREE.
More Kansas City Holiday Events
Subscribe to our FREE daily newsletter to be notified of all the FREE Kansas City events and deals. Sign up here.
Overland Park Arboretum & Botanical Gardens
8909 W 179th Street
Bucyrus, KS 66013
(913) 685-3604