SantaCaliGon Days, one of Kansas City's biggest and best festivals, is happening Labor Day Weekend (Sept. 2-5, 2022) on the historic Independence Square. Admission is FREE.
The SantaCaliGon Days festival commemorates the origin of the Santa Fe, California, and Oregon trails traveled by adventurous pioneers during the country's westward expansion in the 1800's. The first SantaCaliGon Days Festival was held in 1940 to celebrate the unique heritage of the City of Independence as the starting point of the three trails. A second celebration was held after World War II in 1947. The festival was not held again until 1973.
Today, this four-day festival is a regional attraction of family fun that includes a carnival, live entertainment on two stages, craft and food vendors, demonstrations, kids' activities, contests, and more.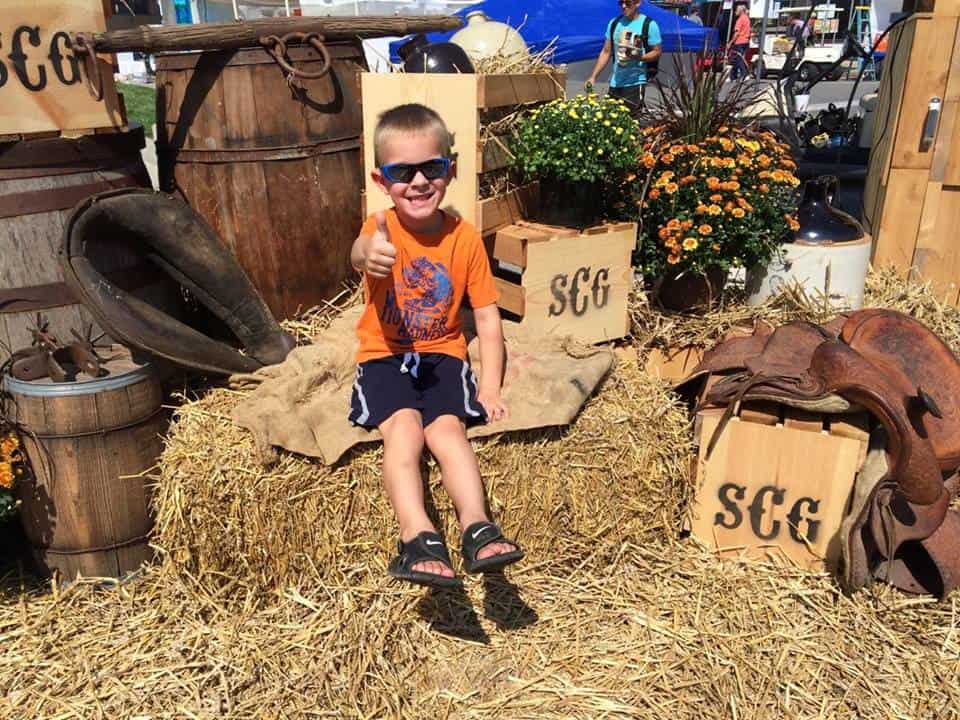 SantaCaliGon Days Festival Hours
Make SantaCaliGon Days part of your Labor Day fun in Kansas City. Witness history, enjoy great entertainment by talented performers, check out products created by artists, entrepreneurs, and craftsmen.
Friday, Sept. 2: noon – 11 p.m.
Saturday, Sept. 3: 10 a.m. – 11 p.m.
Sunday, Sept. 4: 10 a.m. – 11 p.m.
Monday, Sept. 5: 10 a.m. – 5 p.m.
SantaCaliGon Days Attractions
SantaCaliGon Days is a big community party where there is truly something for all ages.
Main Stree 1849
Kids of all ages can experience the past, at Main Street 1849 located on Main Street between Lexington & Kansas streets; guests can enjoy live entertainment, games and activities, live demonstrations and celebrate our pioneering past by interacting with true-to-life pioneer actors.
Carnival Rides
The Independence Chamber of Commerce has announced some new protocols for this year's carnival portion of the SantaCaliGon Days Festival.
Guests need to purchase a carnival wristband or ticket to enter the carnival area, unless you are an adult attending with children who will not be riding the amusement rides. Adult chaperones are required for those under 18. Chaperones do not have to have a ticket or wristband if they are not riding the rides.
The carnival will be completely fenced with access restricted to the corner of Kansas and Liberty where the Wade Shows ticket booth will be located. Another change implemented this year will include prohibiting backpacks or large bags in the carnival area.
The carnival presale is now open for the unlimited ride wristbands and may be purchased online at a discounted price of $25 per person per day, until Friday, September 2 at 11 a.m. The gate price for wristbands is $35 per person per day during the festival.
To purchase the advance unlimited ride wristbands, visit the SantaCaliGon Days Festival website.
We recommend checking height requirements before purchasing SantaCaliGon Days wristbands to make sure there are enough rides for your kids.
SantaCaliGon Days Festival carnival hours are:
Thursday, Sept. 1: 5 p.m. – midnight
Friday, Sept. 2: noon – midnight
Saturday, Sept. 3: 10 a.m. – midnight
Sunday, Sept. 4: 10 a.m. – midnight
Monday, Sept. 5: 10 a.m. – 5 p.m.
Live Entertainment
The golden anniversary celebration promises to bring the same quality entertainment as in years past on two stages.
All the shows are FREE; however, VIP wrist bands will be available for limited premium front of the stage seating
and will be sold online in advance for $30/person and can be used the entire weekend at the Main Stage.
Upcoming Kansas City Festivals