You can make Father's Day in Kansas City special and make dad proud by saving money. Remember, this is the guy who reminded you for years to turn the lights off, shut the front door when the heat/air conditioning was running and not to waste gas by driving around aimlessly.
Father's Day Sunday, June 19, 2022. Here are the local Kansas City Father's Day deals, activities and specials we've found so far.
Check back often because some Father's Day offers are not announced until the last minute. We'll compile a list of the best Father's Day deals and freebies once they are available.
If you have a business in Kansas City with a Father's day special or know of one, send us details at info@kansascityonthecheap.com and we'll include the listing here for FREE.
Make sure you don't miss any upcoming deals by subscribing to Kansas City on the Cheap's daily emails (just one a day), and following us on Facebook and Twitter.
Happy Father's Day to all the dads, stepdads, grandfathers, great-grandfathers and special people who play this important role in someone's life.
Kansas City Father's Day Food & Restaurant Deals
Bar K: There's a Father's Day deal at Bar K Kansas City on Saturday, June 18. To celebrate, all dog dads get $1 off all domestic draft beers. Adoptions and live music are also happening.
Barley's Kitchen + Tap: Dad can have all his favorites with a Father's Day brunch at Barley's Kitchen + Tap in Shawnee. Featured items include wood-grilled local sausages, prime rib carving station, house-made babyback ribs, shrimp cocktail, gourmet mac & cheese, bacon, biscuits & gravy, dessert bar and more! Prices are:
Adults: $33
Seniors (62+): $30
Kids (4-11): $13
Kids (3 and under): FREE
Blind Box BBQ: From 9 a.m. to 2 p.m. on Father's Day, Blind Box BBQ is hosting a Father's Day brunch. This is outside our usual free and cheap scope, but we've included it because it's fun, delicious and all-you-can-eat. Adults are $32, kids 10 and under are $10 for a selection of pastries, salads, classic breakfast and lunch entrees, carving station, waffle bar, omelet station, BBQ and desserts.
Blind Box BBQ Father's Day carryout packages are also available if you want to celebrate true Kansas City style at home. Feed 4-6 for $80 and 10-12 for $195.
Denny's: Take Dad out for breakfast at Denny's anytime on Father's Day. You can both enjoy an Endless Breakfast with eggs, pancakes and hashbrowns for $6.99.
Lamar's Donuts & Coffee: Dad can get a FREE treat at this Kansas City institution on Father's Day. See our post for more details.
Marco's Pizza: Get 20% off menu-price pizza from June 13-19, 2022. Use promo code JUNE20. This offer is good on Marco's app and online orders.
Minsky's Pizza: Who says dads don't like bouquets? On Father's Day enjoy great tastes from Minsky's Pizza, including a large buffalo chicken pizza with boneless wings for $29.99. A boneless bouquet is $17.99. These Minksy's Father's Day deals are available for dine-in, takeout, delivery and online order.
Popeyes: Move over spinach, bring on the chicken! Popeyes is celebrating its 50th birthday with two pieces of bone-in chicken for just 59 cents. The offer runs through Father's Day, June 19.
RA Sushi: If Dad loves sushi, get him a $50 gift card at RA Sushi and get a $10 promotional card. If Dad really loves sushi, buy him a $200 gift card and receive a $60 promotional card.
Smashburger: Smashburger is bringing back the popular 4-for-$20 deal for Father's Day weekend. From June 17 to 19, the popular burger joint is offering four (4) single burgers for just $20 at participating locations. That makes each burger just $5. However, you must purchase four burgers to get the special price. The discount is available in-restaurant and on the Smashburger website or app with promo code FATHERSDAY.
Stroud's: Feed 4-5 people with a Father's Day Picnic Box from Stroud's for $75. Order in advance and pick up by Father's Day on Sunday, June 19. Each order includes:
10 pieces pan-fried chicken
pulled pork and slider buns
mashed potatoes
gravy
green beans
pasta salad
cinnamon rolls
Transport Brewery: Take dad out for a Dad's Day Brew & Que on Sunday, June 19 at Transport Brewery in Shawnee. For $110, two people get a four-course meal of delicious meats, sides and a paired brew, two event t-shirts and sponsored BBQ sauce. Tickets are available online. The event is from 6:30 – 9:30 p.m. on Father's Day.
Things to Do in Kansas City for Father's Day
Kansas City Automotive Museum: On Father's Day, dads get FREE admission to this showcase of automotive history and heritage located in Olathe. Make it a full weekend with the recurring Cars & Coffee cruise-in and Model T. Ford meet and greet. Both events are taking place on Saturday starting at 8 a.m. If you're looking for a gift idea, consider a membership to the Kansas City Automotive Museum for repeated visits of updated themed displays and access to special, members-only events.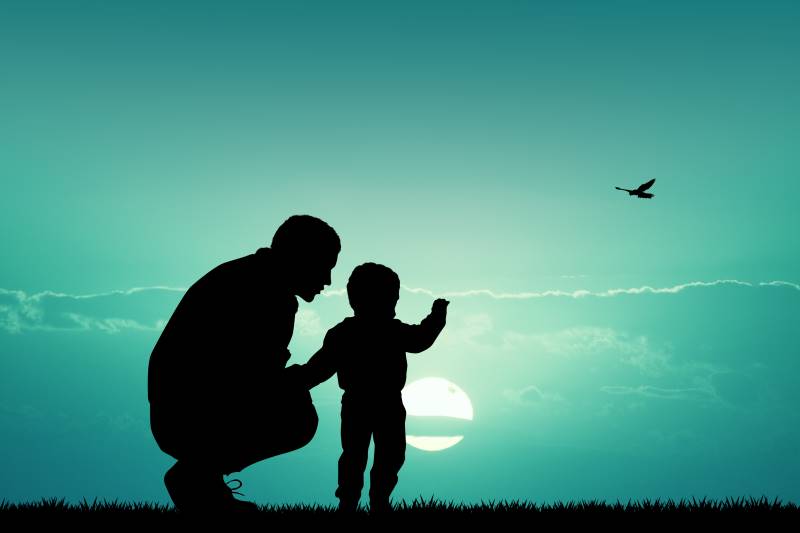 Image: DepositPhotosPlay Ball: The Kansas City Royals won't be playing at Kaufmann Stadium on Father's Day, but we have plenty of ways for you to save on tickets and concessions throughout the season. See details here.
Knuckleheads Saloon: Take dad down to Knuckleheads Saloon, the best live music joint in Kansas City, for a FREE open jam session hosted by Levee Town. Doors open at noon and the show begins at 1 p.m. The beer is cold and tacos are just $1. If you can't make it to Knuckleheads on Father's Day, there is also a FREE open jam session happening Saturday as well.
Take a Hike: The geography of Kansas City extends beyond farming fields. Take dad out for Father's Day to explore hiking, biking and walking trails in Kansas City. KansasCityHiker is a comprehensive guide for leisurely strolls or active explorers in rural and urban settings. Trails are listed by county in alphabetical order. From there you can make your choice based on distance, conditions, pet-friendly, etc.
World War I Museum & Memorial: Take dad (and the rest of the family) to Taps at The Tower. This annual tradition at the World War I Museum & Memorial happens at the base of the tower at sunset but you can make an evening of it with a picnic and games. See more information in our full post.
Kansas City Father's Day Shopping & Gift Card Deals
Applebee's: Let Applebee's make dinner for Dad. Buy a $50 gift card, and the restaurant will throw in a $10 bonus card for him.
Bonefish Grill: When guests purchase $50 in Bonefish Grill gift cards now through June 19, they receive a $10 bonus card to use on their next Bonefish Grill visit. The redemption window is June 21 – August 21, 2022.
The Cheesecake Factory: From June 10-19 2022, if you purchase a $100 gift card online you'll receive a $25 bonus card, redeemable from June 20-July 20, 2022. The Cheesecake Factory has a pretty extensive menu so there is bound to be something dad will like to eat.
Chili's: Does Dad enjoy Tex-Mex and margaritas? Treat him to lunch or dinner at Chili's. Buy him a $50 gift card and get a $10 bonus card. The offer is only available online.
Cold Stone Creamery: Treat Dad to big scoop of ice cream at Cold Stone Creamery. Purchase a $25 gift card online and receive a $5 bonus card.
Hooters: Wing it on Father's Day! Take Dad out for a few drinks at Hooters. On June 19, for every $25 gift card purchased, get an extra $5 Bonus Bucks. The bonus card is valid from June 20 to July 20.
McAlister's Deli: This Father's Day and graduation season, receive a $5 eReward bounceback (online) or physical reward voucher (in-store) for every $25 worth of gift cards you purchase. Offer valid through June 19, 2022. The $5 eReward can be redeemed between June 20-August 22, 2022.
Maggiano's Little Italy: Enjoy an Italian feast with Dad on his big day at Maggiano's Little Italy. Get a $20 bonus card with the purchase of a $100 gift card. The bonus offer is only available online.
On The Border: Enjoy a Mexican feast at On The Border on Father's Day. Buy a $50 digital gift card and receive a $10 bonus card.
Red Lobster: For every $50 spent on Red Lobster gift cards purchased in-restaurant or online, guests receive a bonus coupon for $10 off an order of $30 or more, to be used between June 27-August 31. This Red Lobster gift card offer is good through June 26, 2022.
Schlotzsky's: Schlotzsky's has a buy $25, get $5 offering. Each $5 eReward is awarded free with qualifying purchase from through June 20th, 2022, and may only be used to discount five dollars from purchased goods at participating Schlotzsky's locations. The eReward itself must be unlocked in the Schlotzsky's app prior to August 31, 2022, to be redeemed, after which it will expire after 14 days. Limit one reward redemption per customer per transaction. This offer is valid through June 20.
If you hail from the Wichita area and are looking for local Father's Day deals there, check out the list from our sister site Wichita on the Cheap.