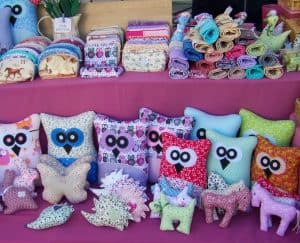 The annual Friends of Shawnee Town Arts & Crafts Fair will take place at Shawnee Town on Saturday, Sept. 21, 2019. Admission is $1.
This event, which runs from 9 a.m. to 4 p.m., will feature more than 130 booths filled with hand made, homemade, and re-purposed items for sale. There will also be live music, kids' activities, and food vendors. Special performances include Anchovy Fishermen performing from 10 a.m. to noon, followed by Darrell Lea from 12:30 p.m. to 3:30 p.m.
Shawnee Town is located at 11501 West 57th in Shawnee, Kansas.
Want to know about more local festivals? See our post Fall Festivals in Kansas City.
More upcoming Kansas City festivals
Friday, December 17, 2021