Arts, crafts and FREE kids' activities make for great fall fun at the Shawnee Town Arts and Crafts fair.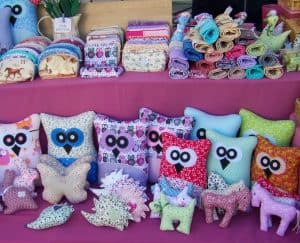 More 130 vendors, showcasing handmade and repurposed items are gathering Saturday, September 17 on the grounds of Shawnee Town 1929. The Shawnee Town Arts & Crafts Fair is open from 9 a.m. to 4 p.m.
Admission is $1. All admission proceeds benefit the Shawnee Town 1929 Museum.
The fair also features live music, kids' activities, and food vendors. Special performances include Anchovy Fishermen performing from 10 a.m. to noon, followed by Darrell Lea from 12:30 p.m. to 3:30 p.m.
Shawnee Town Arts & Crafts Fair Location & Parking
Shawnee Town is located at 11501 West 57th in Shawnee, Kansas.
Parking is FREE.
Upcoming Kansas City Fall Festivals
Saturday, September 30, 2023