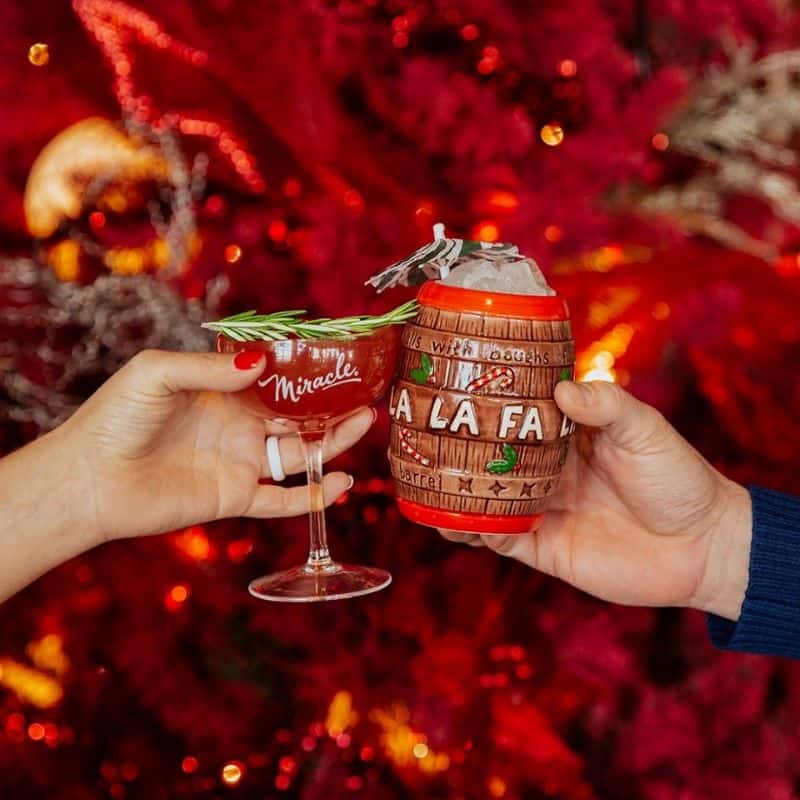 Is drinking holiday cocktails in a festive atmosphere on your wish list?
Miracle, a pop-up Christmas-themed bar channeling kitschy holiday décor with nostalgia and professionally-developed cocktails is opening up not one, but two locations in Kansas City this holiday season.
Miracle on the Plaza
The Plaza location opens on Thanksgiving in the former Oliver restaurant location at 4807 S. Jefferson Street, Kansas City, MO. What a perfect spot!
Hours will be 3 p.m. to midnight each day through Dec. 31, 2019.
Miracle at Rockhill Grille
Miracle also returns to Rockhill Grille this year. The location will open on Black Friday (Nov. 29) 2019 and takes over the second floor of the restaurant through Dec. 28. Click here to purchase a reservation ticket.
Hours will be 3 p.m. to midnight, daily.
According to their Facebook page, both locations will offer weekly giveaways and soon have a preview of their drink menu.
Ready to deck the halls? Check out our other holiday posts:
Kansas City Holiday Events & Activities 2019
Best Holiday and Christmas Light Displays in Kansas City
Kansas City Christmas Tree and Holiday Lighting Ceremonies
Polar Express, Santa Trains and Christmas Train Rides in Kansas City
Kansas City Holiday Markets, Bazaars, Craft Shows and Boutiques
Where to Visit Santa in Kansas City
Classic Holiday Movies at Theaters in Kansas City
Holiday Shopping Gift Card Bonus Offers
More Fun and Events at Bars, Pubs and Breweries in Kansas City