The sunflower is the state flower for Kansas. They are beautiful to look at and make a great backdrop for photos.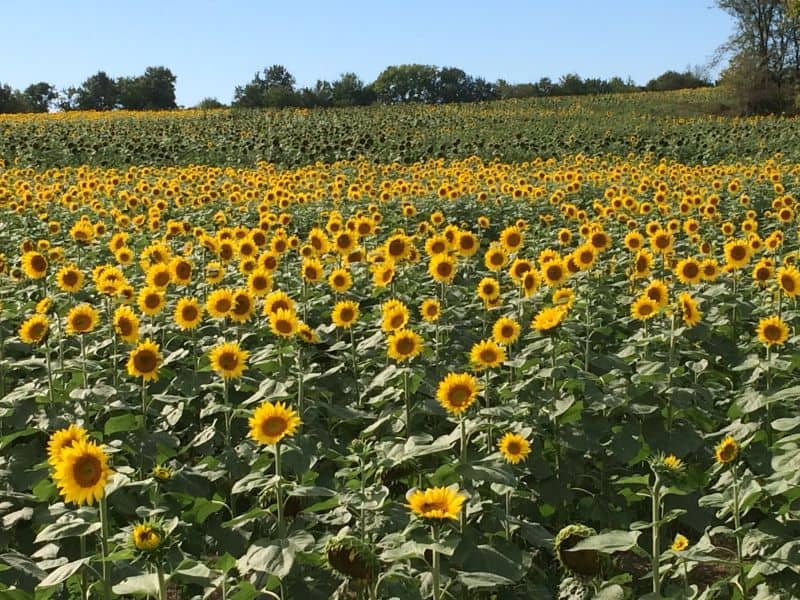 There are sunflower fields in Kansas that are both private and public.
If you are approaching a field, remember this and be respectful before you trod in and start taking pictures or picking sunflowers. That said, many farmers understand the attraction of these yellow beauties and have small donation boxes set up so you can leave a bit of money that enables them to plant more for the following year.
When Do Sunflowers Bloom in Kansas?
Kansas sunflowers seem to bloom in August and September, but have been known to appear in October.
We've rounded up a list of sunflower fields near Kansas City you can enjoy. Obviously, these fields are weather dependent so check back and we'll add updates as we get any new information.
If you're in the mood for an old-fashioned road trip, we encourage you to check out this post about sunflower fields near Wichita. Most are around three hours away from the metro but seem worth the miles.
Sunflower Fields Near Kansas City
Grinter Sunflower Farm
Grinter Farms
24154 Stillwell Road
Lawrence, KS
Grinter Farms in Lawrence, Kansas is one of the most popular and well-known sunflower fields near Kansas City. For 2022, plan for this field to be in its prime in early September.
The owners post regularly on their Facebook page. It's hard not to be delighted by the numerous blooms as photos start to pop up on social media. Some people even schedule professional photography sessions here.
Grinter Farms sunflower field is a FREE attraction.
This is an actual working farm on private property so visitors are reminded to be respectful of signs of where not to park. Also, drive slowly as crowds can get intense on weekends. Weekday visits are recommended if you can manage to get there.
Don't forget to take out your trash. If you see a cat in the field, let it be as it likely lives on the farm. Also be mindful of rain as there is a chance of getting stuck if the rainfall has been heavy enough.
There are two donation tubes where you can leave money as a thank you for the fields or if you would like to take a flower or two home. In the past the suggested donation is $1 per flower.
Sunflower General Store
Sunflower General is a local goods and bake shop located about a quarter mile west of Grinter Farms Sunflower Farm.
The store opens for the 2022 season Friday, August 26. Hours are from 9 a.m. to 5 p.m.
Sunflower General is well known for peanut butter-filled chocolate chip cookies. They also sell coffee (good for cool mornings), soaps, t-shirts, jellies, honey and more.
KC Pumpkin Patch in Olathe
KC Pumpkin Patch in Olathe
13875 S. Gardner Road
Olathe, KS
Two miles outside of Olathe, Kansas you'll find the sunflower field at KC Pumpkin Patch. Entry to the sunflower field is only allowed during posted hours and requires a ticket to the KC Sunflower Fest. This festival runs select weekends August 12-28.
KC Sunflower Fest tickets are $11.95 during presale and $19.95 at the gate. Admission includes access to the sunflower field, yard games, kids activities' and more.
Johnson Farms Plants & Pumpkins
Johnson Farms Plants & Pumpkins
17701 Holmes Rd
Belton, MO 64012
816-331-1067
Johnson Farms is just on the outskirts of south Kansas City and offers great plants and produce during the spring and fall. Take a wagon ride out to their sunflower fields to snap pictures and cut some sunflowers yourself so you can enjoy them at home.
Check back for details about admission for 2022. In the past, admission to the farm is $5 per person (ages 3+). This also includes access to the farm's playground.
While you're there, be sure to check out the beautiful mums for purchase. We've never seen any so big!
Berry Hill UPick Farm Sunflowers
Berry Hill UPick Farm Sunflowers
5950 Southeast Croco Road
Berryton, Kansas
(785) 633-7374
Berry Hill UPick Farm is a public sunflower farm south of Topeka. As of mid-August 2022, the sunflowers are fully bloomed.
There's no charge to visit the fields, but they do have donation boxes out in the fields and accept donations via Venmo @BerryHillUPickFarm. Suggested donation is $1 for each sunflower you take with you.
The best time for photos at Berry Hill is a couple of hours after sunrise and a couple of hours before sunset.
Professional photographers can do sittings here and are encouraged to donate $10 per shoot.
Sunflower sightseers are asked to be respectful, especially of neighboring property, when parking. Use caution when parking as the area can become muddy after heavy rains.
Berry Hill also offers sweet corn and a pumpkin patch farm.
Russell Sunflower Patch
Russell Sunflower Patch
18220 Hwy. B
Richmond, MO
Russell Sunflower Patch is about 1.5 hours from Kansas City, MO proper. The fields are open for viewing and photos from sunrise to sunset. According to their Facebook page, their fields are in the prime season as of mid-to late August.
Gieringer's Family Orchard & Berry Farm
Gieringer's Family Orchard & Berry Farm
39345 W. 183rd, Edgerton, KS
(913) 893-9626
Gieringer's offers u-pick sunflowers right from the field. According to their Facebook page, the sunflowers at Gieringer's are ready as of August 18.
Lewis Farms
Lewis Farms
18100 Edgerton Road, Edgerton, KS
(913) 802-7425
Another sunflower field in Edgerton, Kansas is found at Lewis Farms. For 2022, they expect the sunflowers to be in bloom around late September or early October. Follow the Lewis Farms Facebook page for the latest.
Photos can be taken in the sunflower fields for FREE, but a donation box is available. You can take sunflowers home with you for about $2 each. Mums are also available for sale.
Elanor's Events Sunflowers
Elanor's Events Sunflowers
473 W. 189th Street, Scranton, KS
If you're game for a bit of a road trip, load up the car and head to Scranton – not quite 1.5 hours from Kansas City. Look for the sunflower sign on the truck on the side of the main highway.
The sunflowers are estimated to be in bloom August 22-31, 2022.
It's FREE to visit the fields any day of the week from sunrise to sunset, but donations are appreciated. You can drop dollars and coins in the box onsite.