The annual Johnson County Old Settlers Festival is slated for September 8-9, 2022 in downtown, Olathe, KS.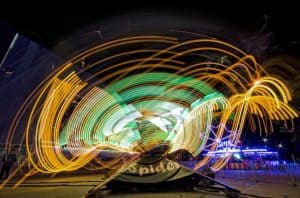 Admission is free for the festival and includes many activities, including live music concerts. Free concerts are scheduled for Friday and Saturday nights at 7:30 p.m.
Attendees can also enjoy arts and crafts, an ice cream social, carnival rides, flower show, parade and other fun.
Johnson County Old Settlers Day Festival Schedule
Thursday, September 8: Noon – 10 p.m.
Friday, September 9: 10 a.m. – 10 p.m.
Saturday, September 10: 9 a.m. – 10 p.m.
Carnival Rides
Carnival rides can be enjoyed during designated hours by purchasing individual tickets at 1 for $4 or 10 for $35. Wristband specials are also available for $30 per day. On Saturday, wristbands are good for Noon – 5 p.m. or 5 – 11 p.m.