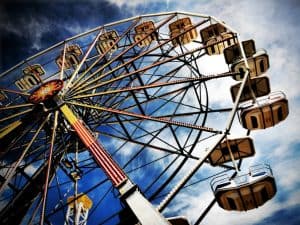 This Friday through Sunday, September 15-17, 2017, the Blue Springs Chamber of Commerce is holding its annual Fall Fun Festival in downtown Blue Springs. Admission is FREE.
This event includes a carnival ($), kids' activities, games, food and craft vendors, a car and bike show, a parade (Saturday at 10 a.m.), a petting zoo, a beer garden, and more.
Hours are from Noon to 10 p.m. on Friday, 10 a.m. to 10 p.m. on Saturday, and 10 a.m. to 6 p.m. on Sunday.