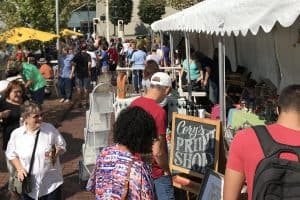 The annual Hallmarket festival celebrates the creativity and talent of employees and retirees of Hallmark. Saturday, Sept. 14, 2019, around 100 Hallmark artists, photographers, sculptors, and designers will be displaying their own personal works in Crown Center Square. Admission is free and the event is open to the public.
Headquartered in Kansas City, Hallmark is family-owned and was founded in 1910 by Joyce Hall as a postcard company. The Hall family eventually switched to greeting cards and now employees more than 30,000 people through six different businesses.
Attendees at Hallmarket have the chance to talk with the artists and purchase original works. There will also be free kids' activities, live music, a card sending station and food/beverage for purchase.
This event runs from 10 a.m. to 5 p.m.
Parking at Hallmarket
Crown Center is located at 2450 Grand Boulevard in Kansas City, Missouri. Parking is available at 25th Street and Grand Blvd. Weekend parking is FREE, starting at 6 p.m. on Friday, so perfect for coming down to check things out at Hallmarket.
You may also be interested in our post Kansas City Fall Festivals 2019.
Upcoming Kansas City festivals by day
Friday, December 17, 2021