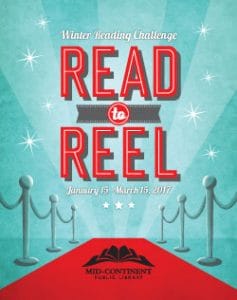 Libraries often host summer reading programs for children. However, Mid-Continent Public Library system is offering a Read to Reel Winter Reading Challenge for adults from January 15 – March 15, 2017. Please register here.
Read and log five books in two months and receive a 2017 limited-edition Winter Reading Challenge coffee mug. All participants who read five books or more are entered into a prize drawing.
The Grand Prize Winner will receive a Gold VIP Card to B&B Theatres entitling the winner to a year of free movies at any Kansas City-area location. Runners-up will receive a pair of free tickets to a film at a B&B Theatre, plus a complimentary large popcorn.
The Mid-Continent Library system has thirty-four locations in the Kansas City area.