Union Station's latest exhibit, Dinosaur Road Trip, is an ultimate family adventure along historic Route 66. It's a little science, geography and history blended to create a lot of fun.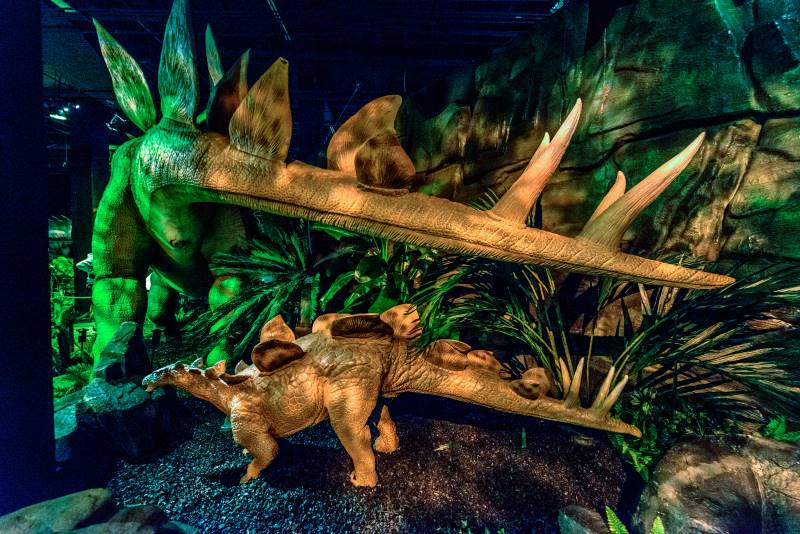 If you enjoyed Union Station's Dinosaurs Revealed exhibit a couple of years ago, you're likely to enjoy this new experience.
The Dinosaur Road Trip exhibit features:
26 life-size animatronic dinosaurs including T-Rex, Allosaurus, Triceratops, Utahraptor and Supersaurus.
An adventure through 18 different states such as Washington, New York, Nevada and California and travel spots like the Grand Canyon, Graceland and the Gateway Arch.
Stops at 15 unique roadside attractions including the world's largest cowboy boots, teapot, beagle, donut and more.
Tickets will be timed with a limited capacity of guests per hour. The exhibit is structured to allow for social distancing. See more here about Union Station's health and safety practices.
Union Station Dinosaur Road Trip Exhibit Hours and Ticket Prices
The exhibit is at Union Station July 3 through Jan. 6. Hours are daily from 9 a.m. to 5 p.m.
Sunday, Aug. 16: Beat the heat with this one-day only special. Tickets to Dinosaur Road Trip or Science City are just $8.16. Tickets must be purchased in person at the Union Station box office. Mention this promo when buying your tickets. All regular taxes and fees apply.
August – January 6th:
Member Price: $10
General Admission: $12
VIP Voucher: $20 (Adds flexibility to visit exhibition any time)
Groups: Adult: $8; Child: $8* (Available for groups of 15 or more)
All ticket prices listed above include a $1.25 preservation fee so be sure to figure that into your cost when hitting the road to Union Station!