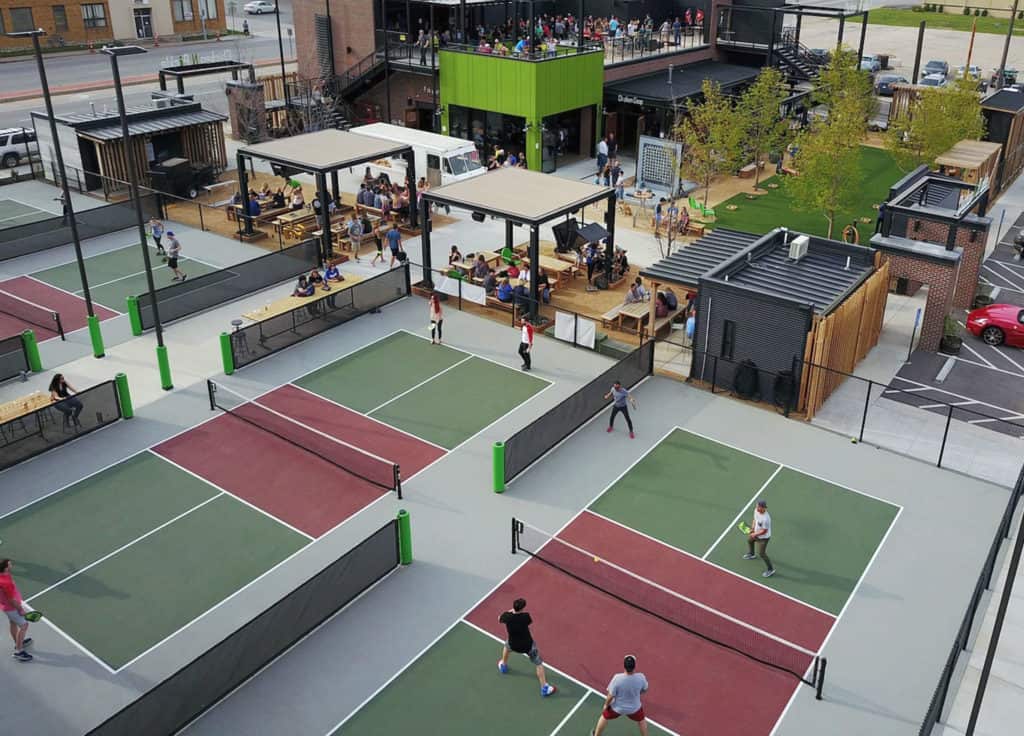 Chicken N Pickle is an outdoor/indoor entertainment venue in North Kansas City that offers casual dining, pickleball courts, a full bar including craft beers, lawn games, fire pits and plenty of TVs to catch your favorite sporting events. Kansas City is lucky to have this unique set up. The only other location is in Wichita, although another is coming to San Antonio soon.
Playing Pickleball
Sometimes described as the most popular sport you've never heard of, pickleball is a paddle sport where two to four players hit something resembling an enlarged whiffle ball back and forth on a court. Think of it as a combo of ping-pong, tennis and badminton, with a few variations. First-timers and advanced players can have fun playing at Chicken N Pickle.
Two outdoor courts are always available for open play. The other courts are as well if they're not reserved. Open play is $5 per person but may be less as the weather gets colder. You can bring your own equipment, or you can rent a paddle and a pickleball for $3 each. On Mondays and Wednesdays from 8 a.m. to 10 a.m. open play is $2 per person for anyone age 55+.
Learning the game
Beginner Pickleball Clinics: If you're interested in learning the basics of pickleball, there are beginning clinics from 9 a.m. to 10 a.m. every first and third Saturday of the month. These clinics are $10 and include a FREE rental paddle for the day. Once the clinic is done, you can play open play for as long as you like. Sign up here.
Lessons: If you want to sharpen up your skills Pickleball pros are on hand for lessons. An hour of private, one-on-one time with a pro will cost you $50. You can pay just $20 per person if you opt for the 3 and a Pro Play option. This is where three players and a teaching pro play doubles for an hour and everyone gets tips and feedback on how they're playing. Semi-private and group lessons are available with prices quoted on a case-by-case basis. Check the Chicken N Pickle website for details on schedule a lesson.
Leagues: Chicken N Pickle has men's, women's and mixed doubles leagues that run five to six weeks and include a tournament.  Find more details here.
Chicken N Pickle Kansas City Events
If pickleball isn't your game you can eat, drink, watch TV or play Jenga, cornhole and other yard games. Here are some other upcoming fun things to do at Chicken N Pickle. Be sure to go to Chicken N Pickle's website to double-check the schedule for any event before you head out.
Snake Saturday Block Party: Chicken N Pickle KC is the perfect place for pre-St. Patrick's Day fun on March 14.
Sunday Yoga in the Game Yard: When the weather is nice, yoga on the lawn is held from 9 a.m. to 10 a.m. every Sunday at Chicken N Pickle. It's a FREE activity but space is limited so you'll need to sign up. You can do that here. Be sure to bring a mat with you.
Trivia Night: Sharpen your random knowledge skills and join trivia at 7 p.m. every Monday night. It's FREE and popular so get there early to get a spot.
Sporting KC Watch Parties: Chicken N Pickle KC is now an official pub partner with Sporting KC. They'll be hosting watch parties with drink specials for every match.
Kansas City Chiefs watch parties: Game day specials begin at kickoff.
Chicken N Pickle Kansas City Hours and location
Chicken and Pickle is located on the corner of 18th and Burlington (1761 Burlington) in North Kansas City, MO. They are open the following days and hours. The kitchen and bar may close a bit earlier than what is listed below but the property is open for you to play games and watch TV.
Monday -Thursday: 8 a.m. to 11 p.m.
Friday – Saturday: 8 a.m. to midnight
Sunday: 8 a.m. to 10 p.m.
More Happenings at Breweries, Pubs and Bars in Kansas City
Sunday, October 1, 2023
Monday, October 2, 2023
Tuesday, October 3, 2023
Wednesday, October 4, 2023
Thursday, October 5, 2023
Friday, October 6, 2023
Saturday, October 7, 2023
Sunday, October 8, 2023
Monday, October 9, 2023
Tuesday, October 10, 2023
Wednesday, October 11, 2023
Thursday, October 12, 2023
Friday, October 13, 2023
Saturday, October 14, 2023
Sunday, October 15, 2023
Monday, October 16, 2023
Tuesday, October 17, 2023
Wednesday, October 18, 2023
Thursday, October 19, 2023
Friday, October 20, 2023
Saturday, October 21, 2023
Sunday, October 22, 2023
Monday, October 23, 2023
Tuesday, October 24, 2023
Wednesday, October 25, 2023
Thursday, October 26, 2023
Friday, October 27, 2023
Saturday, October 28, 2023
Sunday, October 29, 2023
Monday, October 30, 2023