Get a sweetheart of a deal at Kansas City restaurants for Valentine's Day.
Because they know you have lots of options, many restaurants in Kansas City are offering discounts or deals to lure you in with special Valentine's Day menus and offers.
Here's a list of Kansas City Valentine's Day restaurant deals for 2023. Some of these deals are a little outside our budget-minded offers, but we've added them in case you feel like spending a little extra for a special occasion. We still have plenty of frugal, fun and overall good values for the occasion.
This year, we're seeing good Valentine's Day dining deals for dine-in and carryout. Be sure to click the links and read the details. Some offers require advance ordering, others are available before and after February 14. Whatever is needed, you don't want to miss out.
Given the popularity of dining out on Valentine's Day it might be a good idea to see if these restaurants are taking reservations to avoid waiting in line or getting turned away altogether.
We've also included fun seasonal options. Because, who can resist heart-shaped foods on Valentine's Day? Look at our list of Kansas City Valentine's Day deals and think about making these part of sweet surprises for someone special.
Check back because we're adding new deals every day. If you know of a deal or your business has an offer, send us a note at news@kansascityonthecheap.com.
You may also be interested in:
Cheap, Not Cheesy Valentine's Day Date Ideas in Kansas City
Best Barbecue Restaurants in Kansas City
Kansas City Valentine's Day Restaurant and Food Deals
Enjoy heart-shaped treats, special Valentine's Day menus, and other deals from these Kansas City restaurants, bars, and businesses.
Aldi: If you're a bargain shopper Aldi's probably has a special place in your heart. They usually have a great selection of value-priced items for Valentine's Day items that should start showing up in ALDI stores nationwide by late January or early February. Here is what we've seen so far in local stores.
Truffle Hearts: Enjoy a sweet box of treats for $4.99.
Applebee's: Celebrate date night, Galentine's Day, or even just a night out with friends at your local Applebee's with $6 Smoocho Mucho Sips. Applebee's Mucho Cocktails are made with premium spirits and served in a signature Mucho glass. Plus, guests can enjoy these $6 Smoocho Mucho Sips To-Go at participating locations. Options include:
Tipsy Cupid: Tito's Handmade Vodka shaken with strawberry and lemonade
Date Night Daquiri: A frozen, swirled Strawberry Mango Daiquiri made with Bacardi Superior
Brio Italian Grille: Dinner for two, priced at $69.99. Start with a chopped or Casesar salad, choose an entree from the choices of Lobster & Shrimp Fettuccine, Gorgonzola-Crusted Beef Medallions, Grilled Salmon Fresca, Sausage Rigatoni Arrabbiatta, and share a Caramel Mascarpone Cheesecake topped with a chocolate heart.
Available for dine-in, carryout, or delivery on February 14.
Buca di Beppo: Italian food is always romantic, but even more so with heart-shaped lasagna from Buca di Beppo. The Lasagna Lovefeast is available for a celebration anytime over Valentine's Day weekend on February 14.
Chick-fil-A: Nothing says I love you like Chick-fil-A at Valentine's Day. Choose from nuggets, minis and chocolate chunk cookies or brownies in a heart-shaped box. Available for a limited time at participating locations.
Fogo de Chao: Heat up your kitchen this Valentine's Day with a Grilling at Home Date Night package from Fogo de Chao. For $125, two people can enjoy romance at home with a dinner that includes wo ready-to-grill premium steaks or salmon, two ready-to-heat Brazilian sides, Mozzarella Caprese, Pão de Queijo and your choice of two desserts to share. You'll also get your choice of a bottle of wine.
Give a minimum 24-hour advance notice. Pickups need to be done on the designated day by 3 p.m.
Hooters: The annual Shred Your Ex fun is back from Hooters. On Feb. 14, Hooters encourages customers to forget all about their ex by shredding a picture of him or her. By doing so, enjoy 10 FREE boneless wings with the purchase of 10 wings at participating locations. Use the shredder provided in-restaurant or shred it virtually for a digital coupon.
Houlihan's: Don't worry about pairing up for Valentine's Day, just get to Houlihan's for their Hou Needs a Date menu and dine deliciously for as low as $26.95 per person.
Krispy Kreme: The popular doughnut chain is offering heart-shaped treats that come in a limited-edition box with built-in Valentine's cards. The sweet treats from Krispy Kreme are available now.
Olive Garden: The popular Italian restaurant continues its $6 Take-Home Entrées. After enjoying your Valentine's Day date at Olive Garden, take home an extra budget-friendly entrée to enjoy later for just six bucks. Choose from fettuccine alfredo, five-cheese ziti al forno or spaghetti with meat sauce. The offer is available for dine-in only.
The Melting Pot: Experience Ten Days of Valentine's Day at The Melting Pot on the Country Club Plaza. Feb. 11-20. The price for people to feast on cheese and chocolate-dipped delights ranges from $134 – $165 per couple depending upon the date and time you visit. The four-course Valentine's Day menu is exclusively available from February 11-14. It is also available along with regular menu options February 15-20.
Get your best Valentine's Day deal at The Melting Pot in Kansas City February 10-19, excluding February 14. The price for those dates is $135 per couple.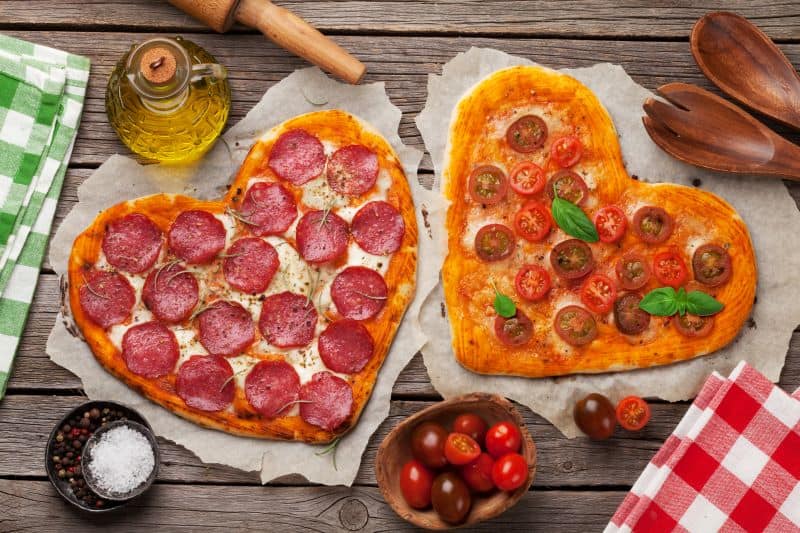 Minsky's Pizza:This Kansas City favorite is offering medium, two-topping or gourmet heart-shaped pizzas for $16.99 on February 14. Toss in a bouquet of wings ($23.99 for 12 jumbo and $17.99 for boneless) and you have a sweet meal. Available for dine-in, carryout, delivery and online ordering.
The love from Minsky's continues February 19-23 with their Love Your Pet Week special. Receive $1.50 off any large gourmet pizza and that amount goes to local pet rescues. Order online using the corresponding code below to support your preferred charity. Available for dine-in, curbside, carryout and delivery.
Chain of Hope: LYPCOH
Unleashed Pet Rescue: LYPUNL
Lawrence Humane Society: LYPLH
The Rescue Project: LYPRP
Lucky 13 Rescue: LYPL13
Papa John's Pizza: The chain usually has heart-shaped pizzas available around Valentine's Day. Check your closest location for availability and to confirm local pricing.
Papa Murphy's: Don't break your loved one's heart and let them miss out on Papa Murphy's heart-shaped Heartbaker pizza. Available beginning February 1, this special is available for $11 depending on location. Papa Murphy's Heartbaker pizza is available as a cheese or pepperoni option.
Summit Pizza: Dine in or carryout with a four-course dinner from Summit Pizza for $45. This Valentine's Day dinner special feeds two people and comes with garlic cheese bread, salad bar, a medium 12-inch pizza with up to three toppings and gooey butter cake. Gluten free and vegan options are available for a slight upcharge.
Waffle House: You'll need to make reservations because this annual romantic Valentine's dinner at Waffle House is a popular tradition. Expect white tablecloths, candles and dinner music to set the mood on Valentine's Day February 14. This year location of 7401 NE Parvin Road in Kansas City is participating.
Customers, who reserve a spot, will be welcomed by tablecloths at the booths, festive decorations, meals by candlelight and a special jukebox playlist designed just for the evening. Reservation time slots generally are between 5 p.m. to 9 p.m., though actual times may vary depending on the location.
Whole Foods: If you're picking up groceries, be sure you don't miss Whole Foods' Double Dozen roses savings for $24.99. This is a Prime member exclusive. See here for details.
Kansas City Valentine's Events & Specials