Cooking up a classic Thanksgiving dinner for the family isn't always much of a holiday for the cook.
Here's a list of Kansas City restaurants that are open on Thanksgiving Day 2021, if you'd prefer to take some of the stress out of your holiday meal preparation. Most offer a dine-in option on Thanksgiving Day. Others offer Thanksgiving meals to go or ala carte items (side dishes, pies, fresh-baked breads, etc.) for purchase. Several places are offering both.
Click the links and read carefully. Many require or strongly recommend reservations. Places fill up fast so don't delay. The same is true if you're ordering a to-go Thanksgiving feast.
Be aware that every place on this list doesn't follow our usual "on the cheap" approach. Some are definitely splurges, but they'll free up your time and energy for more fun with your family.
We'll keep adding to the list, so make sure you check back. Also, if you know of anywhere we've missed, drop us a note at info@kansascityonthecheap.com.
Make sure you don't miss any upcoming deals by subscribing to Kansas City on the Cheap's daily emails (just one a day), and following us on Facebook and Twitter.
Want us to highlight your event or give it a prime spot at the top of this list? Email us about sponsoring this post: ads@kansascityonthecheap.com.
Restaurants Open on Thanksgiving in Kansas City 2021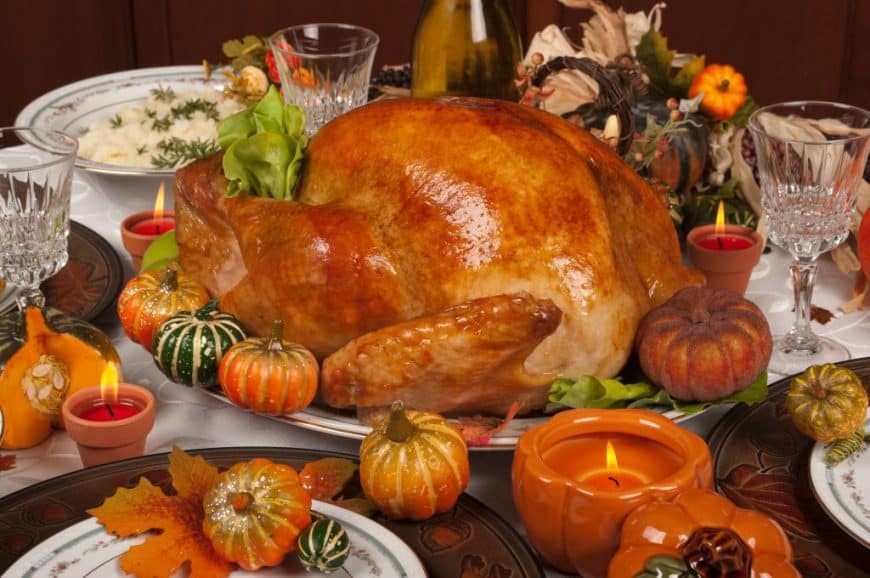 These Kansas City restaurants are open and serving dinner on Thanksgiving, Nov. 25. Some of these restaurants, even upscale ones, are also offering take home meals for Thanksgiving.
Scroll down because we have a separate section below that includes those Kansas City businesses just offering to-go Thanksgiving meals you can heat and eat at home.
Happy Thanksgiving Kansas City!
Blue Moose – Lenexa: The Blue Moose in Lenexa is offering a Thanksgiving Day buffet from 11 a.m. to 4 p.m. Adults are $31.99, kids 4-12 are $10.99, those 3 and under are FREE. Make reservations to save your spot.
Bob Evans: The chain is taking the stress out of Thanksgiving dinner. Locations nationwide are open on Thanksgiving Day from 8 a.m. to 7 p.m. for dining. Special meals and breakfast favorites are available all day for dine-in, delivery or curbside pickup. We advise checking with your preferred Bob Evans location to confirm for adjusted hours.
If you want to eat at home, Bob Evans is offering a Farmhouse Feast Thanksgiving meal to-go with options, including one that serves as many as 10 people. Individual pies and side dishes are also available if you need a potluck dish or a little something to complement your own feast. These eats are packed cold and you warm them up in the oven or microwave at home. You'll need to order these deals from Bob Evans in advance.
Bristol Seafood: Bristol Seafood +Steak + Social restaurants in Leawood and the Power & Light District are open for dine-in on Thanksgiving from 11 a.m. to 7 p.m. Choose a 3-course plated Thanksgiving dinner at either location. Reservations are strongly recommended. Adults pay $42, kids 12 and under eat for $21. A regular prix fixe and limited dinner menu is also available.
You can also pre-order a Bristol Seafood Thanksgiving carryout kit complete with all the fixings. A kit feeding 4-6 people is $175. Pickup for carryout kits can be done Nov. 24 during normal business hour and before 11 a.m. on Nov. 25.
The Capital Grille: Alongside their full dinner menu, The Capital Grille is serving a special Thanksgiving menu in the restaurant on Thanksgiving Day. The cost is $43 for adults; $15 for kids. Dessert is an extra $11. Reservations are highly recommended. ]
The Capital Grille is also offering sides to go you can serve at home. For $125 you can serve four people a collection of 6 sides and rolls. Order from The Capital Grill online.
Chaz on the Plaza: Chaz on the Plaza is open Nov. 25 and offering a five-course Thanksgiving menu from 11 a.m. to 8 p.m. Cost is $60 for adults and $24 for kids under 12. Diners choose five courses and have their choice of tea, coffee or soda. Reservations are recommended forChaz on the Plaza Thanksgiving Day dining.
Cracker Barrel: A Homestyle Turkey and Dressing meal is served for dining in at Cracker Barrel from 11 a.m. to close on Turkey Day. The meal includes turkey, gravy, a sampling of sugar-cured ham, sweet potato casserole, cranberry relish, choice of a country side, a refillable beverage, buttermilk biscuits or corn muffins, and a slice of pumpkin pie for dessert. In the Kansas City area, this is priced at $12.99 ($7.99 for kids).
The Cracker Barrel Thanksgiving Heat and Serve Feast must be ordered in advance and serves 8-10 people or can be sized to feed 4-6 people. These dinners are provided cold so you can heat them up at home when you're hungry. Round out any meal for a little more with additional sides. rolls and whole pies.
Denny's: The popular breakfast chain will be open all day on Thanksgiving. Enjoy the turkey and dressing dinner (includes carved turkey breast, stuffing, gravy, cranberry sauce, two sides, and dinner bread), or you pick from the regular menu options.
Eddie Vs: Gather for a traditional dinner at Eddie V's on Thanksgiving Day. The traditional dine-in dinner cost is $43 for adults: $15 for kids; dessert is $12 extra. The full menu will also be available in the restaurant on Thanksgiving Day.
Fogo de Chão: Fogo on the Country Club Plaza is open for dine-in from 11:30 a.m. to 9 p.m. on Thanksgiving Day.
If you want to eat at home, the Fogo Thanksgiving To-Go Package starts at $165 and serves at least six and can be reheated at home. They also offer ala carte sides you can warm up in your own kitchen.
Garrozzo's: The downtown Kansas City and Overland Park Garrozzo's restaurants are open for dine-in on Thanksgiving Day from 11 a.m. to 6 p.m. The regular menu is available as well as a full turkey dinner for $29.95 per person (dessert included). Reservations recommended.
Garrozzo's Thanksgiving turkey feast is also available for curbside pickup and includes the Thanksgiving dine-in menu packed in oven-ready containers to enjoy at home. Cost is $40 to feed 2 people, $80 to feed 4 people. Add whole apple or pumpkin pies for $20 each. Must pre-order one of the two locations in Kansas City.
Golden Corral: Participating locations are offering a Thanksgiving Day buffet. The buffet includes carved turkey, carved ham, fried chicken, rotisserie chicken, pot roast, meatloaf, sirloin steak, fried shrimp and much more. Many locations are offering complete meals to go. Call your local Golden Corral for special holiday hours.
Grand Street Cafe: Both Grand Street locations (Country Club Plaza and Lenexa City Center) are serving Thanksgiving Dinner this year. Dine-in is available with reservations only. Grand Street Cafe is serving from 11 a.m. to 4 p.m. The three-course meal is $39.95 for adults and $16.95 for kids under 10. A 20% gratuity is added to all checks.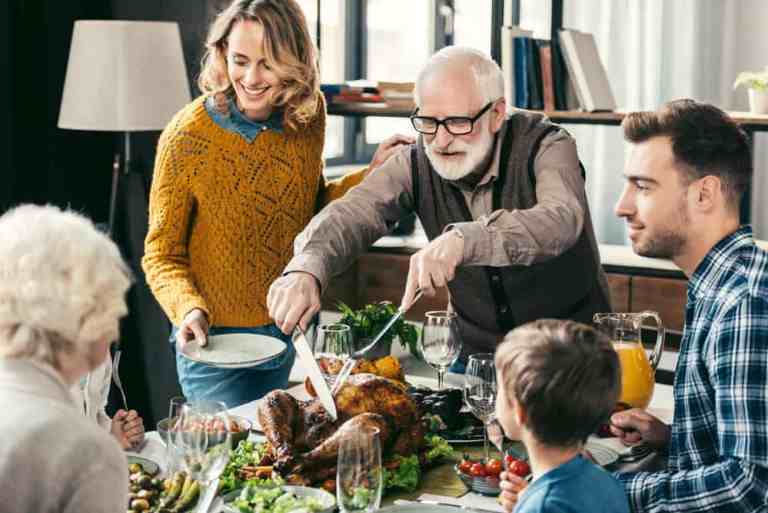 Hereford House: Feast without the fuss! Enjoy a Thanksgiving meal dining in at Hereford House. Cost is $39 for adults, $19 for kids 12 and under. Reservations are recommended.
You can also choose from Herford House curbside Thanksgiving menu that can be picked up warm or cold and heated up at home. Four to six people are served for $175. Order online.
Houlihan's: Hou wants a turkey dinner on Thanksgiving? Houlihan's is offering a traditional Thanksgiving dinner for dine-in or carryout on Nov. 25. Pricing for adults is $22.95, kids $9.95. A reduced dinner menu will also be available on that day. All three Houlihan restaurants in Kansas City (Overland Park, Leawood and Lee's Summit) will be open serving this turkey dinner.
J. Gilbert's Wood-Fired Steaks and Seafood: Opt for traditional Thanksgiving feast or choose items from a regular prix fixe or limited dinner menu from 11 a.m. to 8 p.m. on Nov. 25. For the 3-course turkey dinner, adults are $42; Kids 12 and under are $21. Reservations are recommended. J. Gilbert's is also offering it's Thanksgiving feast as a carryout option while supplies last.
Joy Wok Super Buffett & Hibachi Grill: Feast at Joy Wok on Thanksgiving Day from 11 a.m. to 9 p.m. Choose dine-in, carryout and delivery.
June's Northland: There's a traditional Thanksgiving feast on the table at June's Northland in Leavenworth from 11 a.m. to 5 p.m. on Nov. 25. The selection seems pretty diverse with traditional turkey, ham, mashed potatoes and gravy, stuffing and cranberry sauce. There will also be fresh fruit, salad bar, shrimp cocktail, cakes, pies, pastries and more. Adults are $24.95, kids 9-12 are $14.95 and kids 3-8 are $11.95. Reservations are required for groups of 10+. To-go boxes are available – 3 boxes for $19.95.
Kona Grill: Kona Grill on the Plaza is offering Thanksgiving Dinner with Macadamia Nut Turkey, Traditional Turkey, Turkey Loco, Pumpkin Spice Old Fashioned and Pumpkin Pie. The full Kona Grill menu, Kids Thanksgiving Specials, and Thanksgiving Dinner Takeout and Delivery also available.
Limitless Brewing: This Lenexa brewery is hosting a FREE Thanksgiving dinner in their taproom at 3 p.m. It's open to the public. They're providing the turkey and everyone is asked to bring a side dish to share. If you already have dinner plans, maybe stop by the night before for some brews.
Maggianos: You can dine in at Maggianos on Nov. 25 and treat yourself to a family style dinner of traditional and Italian food items. Reservations are needed. The restaurant is also offering carryout Thanksgiving package that feeds 4-5 people starting at $169.99. Each order includes fresh bread and must be reserved in advance.
Maloney's Sports Bar & Grill: In Downtown Overland Park, Maloney's is open from noon to 2 a.m. serving its late night menu only.
McCormick & Schmick's: All locations are open on Thanksgiving Day. Along with their regular dinner menu, they are serving a roasted turkey dinner with classic sides. Cost is $32 per adult, $10 for kids. Reservations are highly recommended. Individual Thanksgiving plates are also available for to-go service. McCormick & Schmick's on the Plaza is also offering a pre-order to-go option that serves 4-6 people for $189. Orders must be placed by Nov. 22 to confirm availability.
Michael Forbes Bar & Grille: This Brookside restaurant will be open Nov. 25 and offering a Thanksgiving menu for delivery, carry out and dine-in from 11 a.m. to 4 p.m. Meal cost is $23.90 per person and includes a starter, choice of entrée, three sides, rolls and dessert.
Michael Forbes is also offering a complete Thanksgiving carryout family meal deal for $99 that serves 6-8 people and is reheated at home. There are also ala carte meats, sides and desserts available to add to or round out your meal. All orders due by Nov. 21.
Niecie's Restaurant: Good food served right is Niecie's motto and they are doing that on Thanksgiving Day from 6 a.m. to 3 p.m. Choose from breakfast or a Thanksgiving dinner special of turkey with 2 sides, roll or muffin and a slice of pumpkin or sweet potato pie. Dine or carryout available.
Ophelia's Restaurant: Ophelia's in Independence is offering an prix fixe menu on Thanksgiving Day from 11 a.m. to 4 p.m. Prices for adults range from $55-$75 and includes dessert. Kids 12 and under eat for $15.
Piropos: Piropos is open on Thanksgiving from noon to 7 p.m. and is serving their regular menu along with a couple of special 3-course menus. The traditional turkey dinner is $49 for adults, $22 for kids under 12. The Osso Busco option is $59 per person. Make reservations here.
Ruchi Indian Cuisine: Dine in on a special lunch buffet available from 11 a.m. – 2:30 p.m. and from 5 – 8 p.m.
Sandy's Restaurant: For $12.99 per person you and your special diners can enjoy Thanksgiving dinner to go from Sandy's Restaurant – if you order by Nov. 20. Pies are also available, even special orders if you ask.
The Savoy: A pre-fixe Thanksgiving menu is available for dining in at The Savoy. Reservations are needed for the 3-course dinner priced at $75 per person.
You can also get Thanksgiving to-go from the Savoy. The meal is designed to be reheated at home. Prices start at $105 to serve two. Dessert and wine can be added for an additional charge.
Seasons 52: All the favorites are prepared and ready to eat. Served all day. Adults are $32.95; Kids are $16. Reservations required. Seasonal cocktails recommended. Seasons 52 also offers a warm and serve Thanksgiving dinner you eat at home. For $175 this meal serves 4-6 people. Order the take-home dinner by Nov. 22.
Silo Modern Farmhouse: Enjoy a Thanksgiving Day brunch at Silo Modern Farmhouse in Lenexa. They're serving Nov. 25 from 10 a.m. to 6 p.m. Cost is $43 for adults, $24 for kids 6-12 and those 5 and under eat for FREE. Reservations are required as seating is limited. The regular Silo Farmhouse menu will NOT be available on Thanksgiving.
Stock Hill: Celebrate Thanksgiving at Stock Hill for lunch or dinner. A buffet-style meal is served from 11 a.m. to 4 p.m. for $55 per guest. Dinner menu and Thanksgiving specials are available from 5 to 8:30 p.m. Reservations are needed for both options.
Sullivan's Steakhouse: They've got a classic Thanksgiving feast in the restaurant with roasted turkey, sweet potato casserole, bread pudding, and more. The three-course prix-fixe dinner is $45 for adults and $22 for children. You can also order off their full dinner menu if you prefer.
Bring Sullivan's home for Thanksgiving with their Thanksgiving Meal To-Go that feeds 5-10 people.
Summit Grill and Pearl Tavern KC: A special Thanksgiving dine-in menu will be available at the Gladstone, Lee's Summit and Waldo locations on Thanksgiving Day from 11 a.m. to 4 p.m. Make reservations now.
You can also pre-order a Thanksgiving meal to eat at home – available at all three locations (feeds 4-5 people). They are also offering add-on ala carte items so you can be sure to have plenty of leftovers.
Third Street Social: Celebrate Thanksgiving with a Third Street dine-in feast at the South Plaza location (11 a.m. to 6 p.m.) or the Lee's Summit location (11 a.m. to 4 p.m.). Or, choose a Thanksgiving Meal Pack To-Go. Call your preferred location to place your order.
Waffle House: Open 24 hours a day, 365 days a year. You can order from the regular menu.
YaYa's Euro Bistro: Dine in for a traditional Thanksgiving buffet available from 10 a.m. to 5 p.m. on Nov. 25. Adults pay $39.95, kids 12 to 6 are $15.95, kids five and under are FREE. Call to make reservations.
YaYa's also has Thanksgiving To Go Packages you can order in advance and pick up on Thanksgiving Day during select hours. For the To Go options, dinner for two is $85, dinner for four is $170. You can add an additional person to either for $45 more. Order by Nov. 22.
Thanksgiving Dinner To Go 2021
All you have to do is set out the good china and warm up the oven when you have one of these Kansas City restaurants or grocery stores prepare your Thanksgiving meal.
BC Bistro: A family style Thanksgiving To Go package of traditional fixings, including dessert, is available from BC Bistro for $150 (feeds four people). Additional desserts can be added for an extra cost. Order by Nov. 20.
The Brass Onion: The team at The Brass Onion has Thanksgiving Meal Kits of turkey, ham and traditional sides you can enjoy at home. Kits serve six for $120 and 10 for $200. You can receive your meal hot and ready to serve or cold so you can warm it up in your own oven. They are also offering ala carte appetizers, additional sides and desserts for an additional cost. Orders need to be placed by noon on Nov. 19. Pick up can be done at one of three locations:
The Brass Onion, 5501 W 135th, Overland Park, KS
Brancato's Catering, 5050 Kansas Avenue, Kansas City, KS
Harvey's at Union Station, 30 W Pershing, Kansas City, MO
Bravo Italian Kitchen: To-go feasts can be picked up hot and ready or cold so you warm up at home. The traditional Thanksgiving feast feeds 3 for $78.00 and 6 for $148.
Broadmoor Bistro: The students of Broadmoor Bistro Center for Academic Achievement is running its Everything But the Turkey fundraiser for Thanksgiving. Choose from a variety of sides and desserts to round out your at-home holiday meal or allow you to contribute to a potluck. Items range in price from $7-$18. Order deadline is Nov. 22 at noon.
Buca di Beppo: Bring the family together with a Thanksgiving Feast to-go from Buca di Beppo. Just place an order in advance and you can have a traditional family style meal to pick up. Serve three for $78.99 or serve six for $148. Expand the meal by adding additional classic Italian dishes. These to-go feasts can be hot when you pick them up or cold so you do the warming in your own oven.
Cake Loft: This home-based Olathe bakery knows how to get you some help in the kitchen this Thanksgiving. DIY cookie decorating kits are available for $15. Pick these up and let everyone decorate their own fall-themed sugar cookie with royal icing and sprinkles. Pickup locations vary by date (Nov. 24 and 25).
Cupini's: Order a complete Thanksgiving dinner from Cupini's for $159.99. Ala carte ordering is also available for certain items. Reheat to enjoy at home when you're ready to eat. Order by Nov. 20.
Firebirds Wood Fired Grill: Pre-order a full Thanksgiving dinner that feeds up to six people. Choose roasted turkey for $149.95 or prime rib for $199.95. Pile on additional meats by the pound or an additional pan of bread pudding if you like.
French Market: The Prairie Village-based restaurant is taking orders for Thanksgiving meals to go, including full dinners, desserts and ala carte sides. The full Thanksgiving dinner is $28 per person. Add extras ranging from $7 to $32. Orders due by 6 p.m. Nov. 20.
Gigi's Bait and Tackle: Gigi's is taking pre-orders for their Thanksgiving menu items until Nov. 20. Choose from fried turkey, ribs, stuffed cornish hen, pans of traditional sides and sweet potato pie.
Hen House: This locally owned grocery store makes the holidays easier with pre-ordered ala carte meats, side dishes, Kansas City famous Tippin's pies, breads and rolls. They also have full heat-and-eat holiday dinners that start at $50 for two people and size up for larger groups.
HyVee: Whether you want help with individual sides and desserts or the full spread, HyVee has a way to lend a hand. Traditional turkey or ham dinners serving 2 people start at $34.99. Options go up from there and you can always spring for smoked meats or prime rib. HyVee is also offering brunch meals in case you want to have a nice morning meal without too much effort.
The Market: Get a fully cooked Thanksgiving meal from The Market in Prairie Village for $27 per person. Ala carte sides and desserts are available as well. Orders need to be placed by 6 p.m. Nov. 21.
Martin City Brewing Company: Purveyors of great beer and frequent happy hour specials, Martin City Brewing Company is offering prepared to-go traditional Thanksgiving meals. You just pick them up and reheat at home when you're ready to eat. Feasts start at $120 and there is enough to feed 4-6 people. Add an extra pie (pumpkin or apple), craft beer six packs or a bottle of wine for extra specialness. You can pick up from the Martin City or Lee's Summit locations. .
McGonigle's BBQ and Fareway Meat Market: These two local businesses are teaming up to do the cooking with fully prepared Thanksgiving meal options. Prices differ based on the size of your meat. Each meal includes the following: Roasted Turkey, Herb Stuffing, Mashed Potato, Homestyle Green Beans, Homemade Gravy and Homemade Cranberry Walnut Relish. Dessert is additional and there are other sides you can add onto your feast for an additional cost. You can also opt for them to just make your meats.
Price Chopper: Price Chopper will be offering pre-made Thanksgiving meals, with options of ham, turkey, prime rib and sides. Prices start at $34.99 to serve two and go up to $199.99 to serve 14-18. Desserts are extra and they're offering full pies (even some reduced sugar options) in lots of flavor from $8.99 to $12.99.
Scott's Kitchen and Catering at Hangar 29: Scott's is offering fully prepared Thanksgiving meals you heat up at home. Order in advance and feed 8-10 people for $200. Must order by Nov. 19.
Social Suppers: Full and half-package Thanksgiving dinners are available from Social Suppers in Prairie Village. Order by Nov. 19 and you can feed 6 for $115 or 12 for $205. Items can also be purchased ala carte.
Sprout's Farmers Market Store: Make it a meal worth celebrating with one of five fully prepared holiday meals – just heat and serve. Choose from turkey, turkey breast, beef rib roast, ham or vegan holiday roast meals that come complete with sides. Servings range from four to eight with prices starting at $34.99.
Stroud's: Stroud's offers a Thanksgiving carryout package for $89.99. Serves 5 people.
Tabard's Kitchen: Tabard's in Overland Park is offering a family style carry out Thanksgiving dinner. Serve 4 for $90, 2 for $5. Comes with ham, turkey, corn, green beans, cranberry sauce, mashed potatoes, rolls, apple crisp and ice cream.
Three Dog Bakery: Let Three Dog Bakery make your dog's Thanksgiving meal for just $20. Beast Feast includes: roasted turkey and mashed paw-tatoes, green beans, cheese please hound rounds and Pup-Kin pie ala mode. Personalized Gobble Gobble cookies can be added for $4 extra. These pup treats are available at the following Three Dog Bakery locations: Overland Park, Lee's Summit, Leawood and the Country Club Plaza. Order by Nov. 19.
Trezomare: The chefs at Trezomare have you covered with a Thanksgiving to-go meal that can be reheated at home. Build your own meal with a choice of appetizers, soup and salad, entrée, sides and desserts. Don't forget wine or other favorite drinks to go. Dinner choices can be sized to serve 2, 4, 6 or 8.
V.'s Italiano Ristorante: V's in Independence isn't able to offer their traditional Thanksgiving brunch but they are taking orders for Thanksgiving feasts for curbside pickup. Feed 4 people with turkey, sides and rolls for $80. Whole pies and rum cakes can be added for extra.
Whole Foods Market: Whole Foods stores in Kansas City, MO; Olathe and Overland Park, KS have full turkey or ham dinners to go. A turkey breast dinner for four starts at $69.99 and options go up from there. They also have a vegan dinner for two for $39.99. You can also opt for prepared meats, sides and bakery items if you don't need help with the entire meal.
All holiday orders must be made by Nov. 23.
Wingz & More: Get Thanksgiving catered from Wingz & More's Grandview or Liberty location. Choose a package with smoked meat and sides or pick your sides ala carte in full and half pan sizes. Order by Nov. 2o.
You Say Tomato: To-go options are plentiful this Thanksgiving at You Say Tomato. Choose a full Thanksgiving dinner, put together your own from an ala carte menu or pick something from the brunch menu. Order by Nov. 18.
Zarda: Order a fully cooked Thanksgiving feast that serves 6-8 people for $149.99. You can also just purchase the hickory smoked, apple harvest rubbed turkey (12-14 lb.) for $69.99. Order by Nov. 19.
Restaurants Open on Thanksgiving in Kansas City 2019
Affare: Make Thanksgiving dinner an "Affare" to remember. They're offering a special holiday menu from noon until 9 p.m. Cost: $65 for adults; $25 for kids 12 and under. Dessert is an additional $10 per person. Make reservations now.
Alamo Drafthouse: There's a $20 turkey dinner option available at Alamo Drafthouse on Thanksgiving.
Denny's: The chain has launched a new festive menu for the holiday season that's available through the end of the year, including Thanksgiving and Christmas. Dishes vary from around $8 to $18. Additionally, Denny's is offering customers a Turkey and Dressing Dinner Pack as a carryout order. This dinner pack feeds up to six people and comes ready to heat and serve. Order online at Dennys.com at least 24 hours before your desired pickup time.
Golden Corral: Offering an endless bounty in its Thanksgiving buffet. Carved turkey or ham, sliced turkey, fried chicken, roast beef, meatloaf, and even steak and shrimp are featured, as well as more than a dozen side dishes – stuffing, potatoes, casseroles and corn on the cob. It's the "Endless Buffet," so you can plan to go back for seconds or thirds. Or order and On-the-Go holiday meal. Call your nearest restaurant for holiday hours.
Granite Brewery: A three course, family-style, all-you-can-eat Thanksgiving meal is being served at the Legends, Olathe and Zona Rose Granite Brewery restaurants. Cost is $26.99 for adults, $8.99 for kids 12 and under and FREE for kids under 6. You can come in to feast from 11 a.m. to 8 p.m. Reservations are highly recommended.
Gram & Dun: Regular menu and Thanksgiving specials are being served from 10:30 a.m. to 9 p.m. The bar is open all day and a late-night food menu begins at 9 p.m.
Hogshead: Open from 11 a.m. to 2 p.m. The regular menu will be available with a turkey plate feature for $32. Reservations recommended.
Intercontinental Hotel: You can savor Thanksgiving dinner from the Regional American Thanksgiving menu in the hotel's Alameda Ballroom for $85 or enjoy American Slang's modern Thanksgiving selections.
Ignite Wood Fired Grill: Open from 10:30 a.m. to 7:30 p.m. serving an all-day Thanksgiving day buffet with appetizers followed by turkey, ham or prime rib carving stations, all the sides and dessert. Adults are $34.95 and kids are $12.95.
Lidia's: Serving a Thanksgiving Feast with a special menu from 11 a.m. to 7 p.m. Cost: $55 for adults: $18 for kids.
Tavernonna: The Thanksgiving menu will be served from 11 a.m. to 4 p.m. Adults are $49; Kids (6-12) are $24; under 6 eat for FREE. A traditional plated meal will be served from 5 p.m. to 10 p.m. for $29. Reserve your places now.
The Well: A Thanksgiving buffet with a carving station is being served from 11 a.m. to 3 p.m. Adults feast for $29.99, kids do so for $14.99 and those 3 and under are FREE. If you can't make it for dinner, don't count The Well out of your Thanksgiving plans. They are also having a Thanksgiving Day Eve party with happy hour specials from 3 p.m. to 6 p.m. and live music starting at 8 p.m.
Thanksgiving Dinner To Go 2019
Avenues Bistro: A Thanksgiving Meal At Home option is available for $169 (serves 8-10). Reserve right away, as there is a limited number of meals sold and they usually sell out.
Thanksgiving Weekend Events in Kansas City
COMING SOON!
More Kansas City Holiday Events
COMING SOON!