For many people dogs are like family. Here's a list of dog parks in Kansas City where you and your fur-kids can play, exercise and socialize without fear of getting lost, running into traffic or breaking a leash law.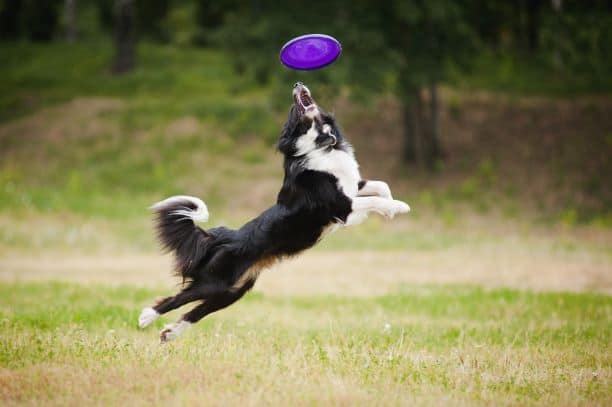 Be sure to check with each location to confirm rules and amenities. General guidelines include keeping a proper distance, not petting a dog that isn't yours and bringing hand sanitizer. You may want to bring water because not all fountains will be turned on in many of the local dog parks.
While dogs are often welcome on a leash in many parks in Kansas City, this round up focuses on off-leash dog parks and places where dogs rule. We've tried to give a good summary of each dog park, but you should check directly with each one to confirm rules of how many dogs you can bring, guidelines on kids, etc., as they will vary.
Have fun.
Free Public Dog Parks in Kansas City
Blue Springs Dog Park
1049 NE 20 Street
Blue Springs, MO 64029
Hours: Daily, 6 a.m. to midnight
This dog park spans almost three acres at Gregory O. Grounds Park. It includes open space, shade trees, a pond, agility equipment, dog fountain and dog wash area. A separate area has been created for smaller dogs (25 pounds or less).
Elkhound Ranch Kennel Dog Park
9205 N. Brooklyn
Kansas City, MO 64155
(816) 734-2526
Hours: Year-round, dawn to dusk
Elkhound Ranch Kennel is located about 15 minutes from KCI. They have a dog park that is FREE and open to the public so long as you follow their rules and policies.
K9 & Me Dog Park
221 Pratt Avenue
Bonner Springs, KS 66012
Hours: Follows Lion's park hours
Bonner Springs only off leash dog park. Parking is nearby.
LeaWOOF Dog Park
106th & Lee Boulevard
Leawood, KS 66211
Hours: Year-round, dawn to dusk. Closed for maintenance every Thursday from 6 a.m. to 10 a.m.
Leawoof Dog Park is located at the east end of the park and over the bridge in Leawood City Park.
Liberty Dog Park
Stocksdale Park Drive
Liberty, MO 64068
Hours: Daily, 5 a.m. to 9 p.m.
Liberty Dog Park is located within Stocksdale Park and includes three acres of fenced area and a sectioned off area for smaller dogs. Amenities include an agility tunnel and ramp, water spigot, benches, and double-gated fences.
Platte Landing Dog Park
300 South Main Street
Parkville, MO 64152
Hours: Daily, 5 a.m. to midnight. Please note that due to recent Missouri River flooding the Platte Landing Dog Park is currently closed.
Seven fenced-in acres provide room for your dog to run; includes separate large and small dog areas. Running water is available for people and dogs.
Independence, Missouri Parks and Recreation Off-Leash Zones
Independence, Missouri's Parks and Recreation Department has off-leash zones in two of its parks. These zones are fenced public areas (see below) where you can allow your dog to run and play with other dogs. Full rules and guidelines can be found here.
Santa Fe Park Off-Leash Zone
2900 S. Santa Fe Road
Independence, MO
Fairmount Park Off-Leash Zone
300 N. Home
Independence, MO

Kansas City, Missouri Parks Department Dog Parks
The following free public dog parks are managed by the Kansas City, Missouri Parks Department.
Penn Valley Off-Leash Dog Park
29th and Wyandotte
Kansas City, MO
Hours: Daily, 5 a.m. to midnight
Your pup can enjoy freedom in the nearly-three acre fenced off-leash area with two double-gated entries to ensure your dogs don't get out until you want them to. There's also a separate 1.8-acre area reserved for small, elderly or handicapped dogs so this might be the place to go if your dog has issues that make him or her overwhelmed at most dog parks.
Please note: The park normally has fountains for both people and dogs, but they are currently not working so you'll want to be sure to bring some of your own.
Swope Park Off-Leash Dog Park
East of Elmwood on Gregory Boulevard
Kansas City, MO
Hours: Daily, 5 a.m. to midnight
This five-acre dog park is located within Swope Park just east of Lakeside Nature Center on Gregory Boulevard. There are two areas: One acre for small (under 30 pounds), elderly or handicapped dogs. Four acres for the big dogs. Both have water fountains so you and your dog can stay hydrated.
Waggin' Trail Off-Leash Dog Park
NE 32nd and Swift
North Kansas City, MO
Hours: Daily, 6 a.m. to 9 p.m. (or sunset) whichever comes first
There are separate small and large dog areas. The park also features a walking trail, agility course, benches, ADA water fountains and three tunnel runs.
Johnson County Parks and Recreation District Dog Parks
The Johnson County Parks and Recreation District has four dog parks. Anyone using one of the dog parks needs to follow these rules.
Heritage Park
16050 Pflumm Road
Olathe, KS 66062
Hours: March 1-Oct. 1, 5 a.m. to 11 p.m.; Nov. 1-Feb. 28, 7:30 a.m. to 8 p.m. The dog park area is closed for maintenance Tuesday and Thursday from 5 a.m. to 9 a.m. March 1-Oct. 31 and from 7:30 a.m. to 9 a.m. from Nov. 1-Feb. 28.
The off-leash parking, gates, sidewalks, restrooms and drinking fountains are all ADA compliant at this 30-acre space that includes an open area, small pond and trails. Restrooms are near the south part of the dog park near the Lackman Road and West 161st Street entrance and area heated during winter months.
Kill Creek Streamway Park
33460 W. 95th Street
De Soto, KS 66018
Hours: Year-round, dawn to dusk
Bring your dog to enjoy the 16-acre off-leash area located at access point near 33460 West 95th Street.
Shawnee Mission Park
7900 Renner Road
Shawnee, KS 66219
Hours: March 1-Oct. 1, 5 a.m. to 11 p.m.; Nov. 1-Feb. 28, 6 a.m. to 8 p.m. The dog park area is closed for maintenance Tuesday and Thursday from 5 a.m. to 9 a.m.
As Johnson County's second-largest park, it makes sense that Shawnee Mission Park would provide 44 acres for man's best friend. Here your dog can enjoy an off-leash area, dog swim area and trails. The dog area is located east of the observation tower on John Barkley Drive where you'll find paved parking and portable toilets.
Thomas S. Stoll Memorial Park
12500 W 119th Street
Overland Park , KS
Hours: Year-round, dawn to dusk
An 80-acre park with seven of those fenced off for dog fun year-round. The area is located near the center of the park and has plenty of parking.
Lee's Summit Parks & Recreation Dog Parks
Here's what you need to know when using the Lee's Summit Parks and Recreation dog parks.
Dogwood Park
51 NW Victoria Drive
Lee's Summit, MO 64066
Hours: 6 a.m. to 9 p.m. or sunset (whichever comes first)
A five-acre park with fenced-in area for dogs along with agility equipment and water feature/spray ground you can both enjoy.
Happy Tails Park
1251 SE Ranson Road
Lee's Summit, MO 64063
Hours: 6 a.m. to 9 p.m. or sunset (whichever comes first)
This was Lee's Summit's first off leash dog park, includes a secured, fenced-in area where dogs can run free.

Membership-Only Dog Parks
West Terrace Dog Park
750 Pennsylvania Ave
Kansas City, MO
Hours: Daily, 5 a.m. to 10 p.m. Closed every Thursday from 8 a.m. to 11 a.m. for mowing.
This is a fully enclosed, 1.5-acre park has controlled entry and is accessible only to paying members and their dogs. Amenities include benches, shade pavilion, picnic tables, disposal bags and water fountains. It's important to know that this park is not lighted so keep that in mind for your evening trips, especially in the winter.
Memberships are $50 for new members, $40 for renewals. More details can be found here.
Wayside Waifs Bark Park
3901 Martha Truman Road
Kansas City, MO
(816) 761-8151
Hours: Main doors are open daily 8 a.m. to 5 p.m., but accessible by key card 24/7, 365 days a year
All proceeds of this members-only park go to support Wayside Waif's animal shelter operations.
Membership options are:
Annual – $120
Monthly – $20
Daily – $3
A distinct feature of this park is the courtesy comfort station which features heat and air conditioning so you can warm up or cool down, restrooms with leash tie-down hooks, plenty of seating, a paw wash area and plenty of lighting. Wayside's Bark Park is never dark so whatever your schedule, you and your dog can enjoy some outdoor fun.
Bark Park also has time-out kennels. These spots are great if your dog gets overexcited during play. Because you can only bring two dogs per adult with you, the kennels are handy if you need to "park" one of your dogs there while giving the other some one-on-one time.
Bar K
501 Berkley Parkway
Kansas City, MO
(816) 474-2275‬
Hours: Daily, 9 a.m. to 10 p.m., serving breakfast, lunch and dinner
Bar K is unique bar, restaurant, coffee shop and dog park all in one.
Bark K's two-acre dog park is staffed by trained dog people so you can feel good letting your dog run off leash or enjoy the play equipment while you grab a bite to eat, have coffee or smoothies, or relax with an adult beverage. Your dog is welcome to join you (leashed) on the patio, rooftop deck, outdoor bar beer garden or stage area. They also offer Puppies Pub, a dedicated play area for 3-9-month-old puppies.
To bring your dog, you'll need a Bar K membership or guess pass.