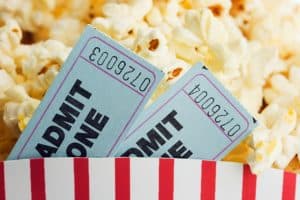 Movies have gotten expensive, especially when you add in the cost of snacks and drinks. But if you know when and where to catch the movie you want to see, you can save some serious dough.
If you're not doing this already, you can subscribe to Kansas City on the Cheap's daily emails (just one a day), and follow us on Facebook and Twitter. Want exposure for your business or event? Consider sponsoring this popular post. Email ads@kansascityonthecheap.com.
Here are the prices/movie discounts I've found as of today. There's a $2 to $3 surcharge for 3D movies. Make sure you click on the links below to see if the deals have changed before heading out. And if you know of any discounts or theaters I've missed, please leave a comment below.
Alamo Drafthouse
AMC 
$5 Ticket Tuesdays: All movies are $5 on Tuesdays through October 31, 2017.
Celebrate 50 years of ICEE: For a limited time, get a collectible cup when you buy a large ICEE.
Loyalty Program (AMC Stubs): Refill your large popcorn for FREE at each visit. Get a $2 discount on tickets on Tuesdays. And get a $5 reward every time you reach 5,000 points (earn 20 points per $1 spent).
B&B
Cinemark
Discount Day (Tuesdays): All movies are discounted on Tuesdays except for new movies on opening day and specially-priced engagements. Offer not valid on holidays.
Early Bird Discount: Get special discounted price for the first matinee showtime of the day that starts before 1 p.m. Excludes special engagements.
FREE refill on large fountain drinks: Limit one per visit. You must show your receipt to get the FREE refill.
Glenwood Arts Theater
Matinee/Twilight Tickets: You'll save around $2 if you see a show before 6 p.m.
Child Tickets: Child tickets are less than $1 cheaper than adults tickets for matinee/twilight movies, but $2.50 cheaper for evening movies.
Senior Tickets: Seniors save $1.50 on evening movies.
Miller Theatres
Regal Cinemas
Screenland Crossroads
Tivoli Cinemas