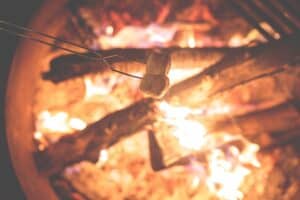 Looking for a fun and amazing bonding experience with your family this weekend? Johnson County Parks and Recreation is hosting The Great America Campout at Shawnee Mission Park on Saturday, June 16, 2018. Admission is $10 per person or $30 for a family of four. Children 3 and under are FREE.
Campers will also receive FREE tickets to the production at Theatre in the Park, as well as passes for a FREE paddle boat rental.
Campout Schedule
June 16
2-6 p.m. – Set up campsites and fun activities.
6:45 p.m. – Early admission to Theatre in the Park.
8:30 p.m. – "The Little Mermaid" theater production begins.
10:45 p.m. – Camp fire and s'mores at the campsite. S'mores will be provided.
11:30 p.m. – Quiet time.
June 17
7 a.m. – Complimentary milk, juice, and bagels.
9:30 a.m. – Clean up and take down campsite.
10 a.m. – Event concludes, but marina passes are valid for the remainder of the day.
The best way to register is by phone at 913-831-3359 or walk-in to the JCPRD Registration Office at Antioch Park at 6501 Antioch Road in Merriam, Kansas. You can also mail or fax in your registration.
Shawnee Mission Park and Theatre in the Park are located at 7900 Renner Road & 7710 Renner Road in Shawnee, Kansas.