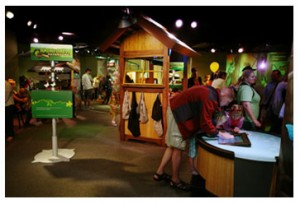 Crown Center has a new Rainforest Adventure exhibit that runs during regular shopping hours through September 5, 2011. Admission is free.
The exhibit will introduce kids to tropical rainforests around the world. It features 40 interactive components, including computer games, a 9-foot kapok tree, a gorilla blind, and a station where kids can color their own unique insects.
Kids will also get a chance to role-play as research assistants as they explore and learn about the rainforest.
For more information, call 816-274-8444.
The Rainforest Adventure Exhibit is located in the Crown Center Shops, Level 1 Showplace at 2405 Grand Boulevard in Kansas City, Missouri.