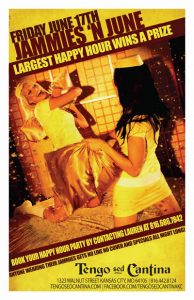 Tengo sed Cantina is having a pajama party this Friday, June 17, 2011 at 10:00 p.m. Anyone who shows up in their pajamas will get free admission, no line, and drink specials all night long.
The biggest happy hour party Friday night also gets a prize. To book your happy hour, contact Lauren at lauren@tengosedcantina.com.
Tengo sed Cantina is located at 1323 Walnut Street in the Kansas City Power & Light District.