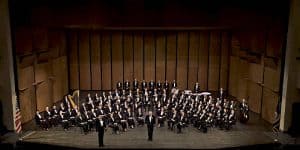 It's a privilege to announce a concert performed by the United States Navy Concert Band at the Kauffman Center on Tuesday, March 6, 2018. Admission is FREE.
There's an 8 ticket limit. Reserve your tickets online.
The concert begins at 7 p.m. in Helzberg Hall.
The Kauffman Center for the Performing Arts is located at 1601 Broadway Boulevard in Kansas City, Missouri.
Kauffman Center for the Performing Arts