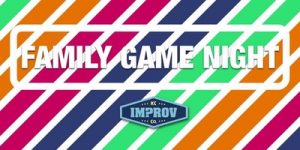 Looking for something fun to do as a family? Join the KC Improv Company every Saturday night from 6:30 – 7:30 pm for their family friendly show! Admission is $10 for adults, $8 for groups of 6 or more, and $5 for students/children. Tickets may be purchased in person or online by clicking on the date of your choice.
Family Game Night is fun hour of short form "whose line?" style improv games, based entirely on suggestions from the audience. The talented cast will create the comedy off the top of their heads.
The KC Improv Company is located in the Westport Entertainment District at 4010 Pennsylvania Avenue in Kansas City, Missouri.