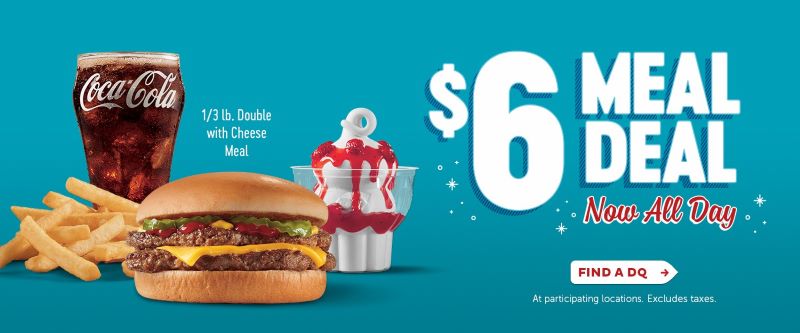 For those who like their lunch with a sweet treat, Dairy Queen continues offering a lunchtime meal deal — but with some changes.
(Previously, the offer was its $5 Buck Lunch.)
For a limited time, the $6 Meal Deal is available all day at participating locations.
Who doesn't love a meal deal that includes a sundae? Because, can you really go to Dairy Queen and not get ice cream?
Whether you like beef or chicken, DQ has you covered.
For $6, get a 1/3 Double Burger with Cheese, regular fries, a fountain drink (21-oz.) and sundae. The burger is two stacked 100% all-beef patties topped with melted American cheese, pickles, ketchup and mustard — served on a toasted bun.
If you prefer, get three chicken strips instead of the burger.
Kansas City Dairy Queen Locations
Kansas City Deals may not be valid at every location, so be sure to ask before you order. Here are the Kansas City locations, including those a bit far and wide of the metro. After all, everyone likes a good deal for lunch.
Kansas:
103 E Front St Bonner Springs, KS 66012
518 E Main St Gardner, KS 66030
212 N Maple St Garnett, KS 66032
402 N Main St Lansing, KS 66043
1835 Massachusetts St Lawrence, KS 66044
2545 Iowa St Lawrence, KS 66046-4042
120 S Broadway Leavenworth, KS 66048
13385 S Blackbob Rd Olathe, KS 66062
13525 College Blvd Olathe, KS 66215
17930 W 119th St Olathe, KS 66061
7580 W 151st St Overland Park, KS 66223
8601 W 137th St Overland Park, KS 66223
11904 Shawnee Mission Pkwy Shawnee, KS 66216
22520 Midland Dr Shawnee, KS 66226
Missouri:
3901 Miller St Bethany, MO 64424
1900 SW State Route 7 Blue Springs, MO 64014
1010 S Washington St Chillicothe, MO 64601
6001 Main St Grandview, MO 64030
14420 E Highway 40 Kansas City, MO 64136
10350 NE Cookingham Dr Kansas City, MO 64157
8530 N Oak Trfy Kansas City, MO 64155
1100 W 135th Terrace Kansas City, MO 64145
501 Hwy 92 Lot 4A Kearney, MO 64060
400 SE Douglas St Lees Summit, MO 64063
615 Armour Rd North Kansas City, MO 64116
301 SW 1st St Oak Grove, MO 64075
1404 Branch St Platte City, MO 64079
400 N Foxridge Dr Raymore, MO 64083
Hunter St Raytown, MO 64133
More Kansas City Food and Drink Deals
Sunday, May 22, 2022
Monday, May 23, 2022
Tuesday, May 24, 2022
Wednesday, May 25, 2022
Thursday, May 26, 2022
Friday, May 27, 2022
Saturday, May 28, 2022
Sunday, May 29, 2022
Monday, May 30, 2022
Tuesday, May 31, 2022
Wednesday, June 1, 2022
Thursday, June 2, 2022
Friday, June 3, 2022
Saturday, June 4, 2022
Sunday, June 5, 2022
Monday, June 6, 2022
Tuesday, June 7, 2022
Wednesday, June 8, 2022
Thursday, June 9, 2022
Friday, June 10, 2022
Saturday, June 11, 2022
Sunday, June 12, 2022
Monday, June 13, 2022
Tuesday, June 14, 2022
Wednesday, June 15, 2022
Thursday, June 16, 2022
Friday, June 17, 2022
Saturday, June 18, 2022
Sunday, June 19, 2022
Monday, June 20, 2022