Freddy's Frozen Custard & Steakburgers is celebrating National Frozen Custard Day with a really cool deal for its customers.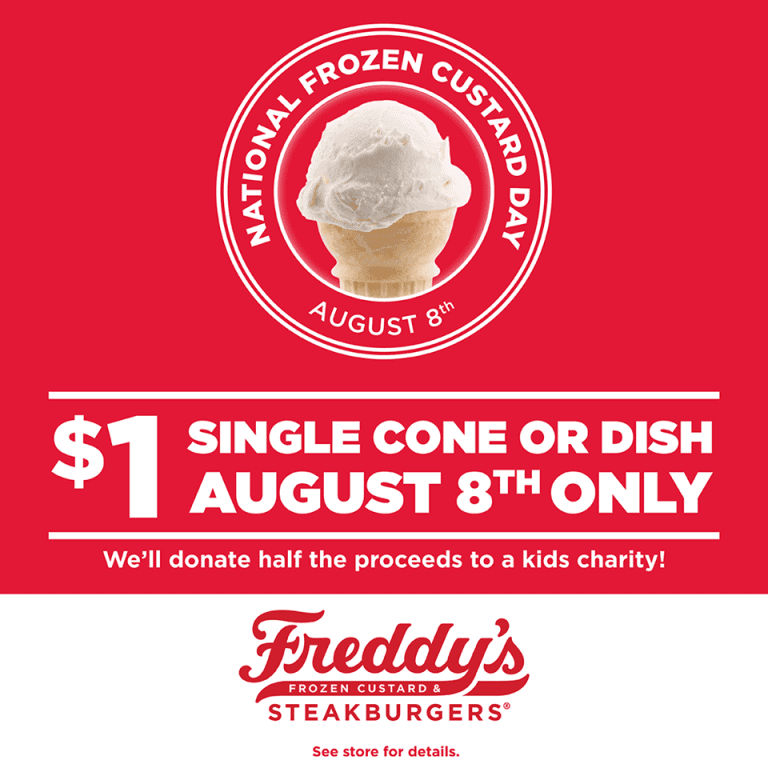 On Aug. 8, 2019, get a single cone or dish of the restaurant's signature chocolate or vanilla frozen custard for just $1 at participating locations. (Toppings and/or a waffle cone are available at an additional cost.)
And although it looks a lot like ice cream, Freddy's Frozen Custard uses a churning process that minimizes ice crystals and air to make a custard that is smoother and richer than ice cream and frozen yogurt. National Frozen Custard Day will be the perfect opportunity to try it if you haven't already!
This deal is even more delicious because a portion of sales will be donated to charity.
For each single cone and single dish of frozen custard sold on Aug. 8, 2019, Freddy's will donate 50 cents to the Kids in Need Foundation, an organization that provides school supplies to kids across the country who need them.
Kansas City Area Freddy's Frozen Custard locations:
Shawnee Mission Parkway – COMING SOON!
8817 Shawnee Mission Parkway
Mission, KS 66202
Overland Park – Roe Ave
10690 Roe Ave
Overland Park, KS 66207
Overland Park – College & King
11301 College Blvd
Overland Park, KS 66210
Lenexa
16300 W 87th St
Lenexa, KS 66219
Olathe – S Black Bob Rd
11775 S Black Bob Rd
Olathe, KS 66062
Overland Park -W 135th St
7301 W 135th St
Overland Park, KS 66223
Kansas City (Legends)
1931 N 98th Street
Kansas City, KS 66111
Olathe – 151st & I-35
19020 W 151st Terrace
Olathe, KS 66062
Raytown
10019 E 350 Hwy (350 Hwy & Raytown Rd)
Raytown, MO 64138
Kansas City – North Oak Trafficway
5150 N Oak Trafficway
Kansas City, MO 64118
Belton
1822 E North Ave
Belton, MO 64012
Lee's Summit
194 NW Oldham Pkwy
Lee's Summit, MO 64081
Kansas City – I-29 & Barry Road
8071 NW Roanridge Rd
Kansas City, MO 64151
Liberty
9800 NE Barry Rd
Kansas City, MO 64157
Lansing
237 N Main St
Lansing, KS 66043
Most locations are open from 10:30 a.m. to 10 p.m. on National Frozen Custard Day. For other locations, click here.
More upcoming food and drink related deals and events in Kansas City
Wednesday, November 30, 2022
Thursday, December 1, 2022
Friday, December 2, 2022
Saturday, December 3, 2022
Sunday, December 4, 2022
Monday, December 5, 2022
Tuesday, December 6, 2022
Wednesday, December 7, 2022
Thursday, December 8, 2022
Friday, December 9, 2022
Saturday, December 10, 2022
Sunday, December 11, 2022
Monday, December 12, 2022
Tuesday, December 13, 2022
Wednesday, December 14, 2022
Thursday, December 15, 2022
Friday, December 16, 2022
Saturday, December 17, 2022
Sunday, December 18, 2022
Monday, December 19, 2022
Tuesday, December 20, 2022
Wednesday, December 21, 2022
Thursday, December 22, 2022
Friday, December 23, 2022
Saturday, December 24, 2022
Sunday, December 25, 2022
Monday, December 26, 2022
Tuesday, December 27, 2022
Wednesday, December 28, 2022
Thursday, December 29, 2022