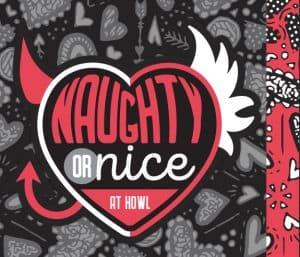 Make Valentine's Day a multi-day celebration. Howl at the Moon is hosting Naughty or Nice on Friday, February 15, 2019. There's no cover charge and if you check in under Kansas City on the Cheap, you'll receive two $1 drinks and half-priced drinks until 10 p.m.
Enjoy games, drink specials, giveaways, live music and more. Feature drink specials include Miller Lites, Skyy cocktails and 86 oz. Love Potion buckets.
The party is from 7 p.m. to 3 a.m.
Howl at the Moon is located in the Power & Light District at 1334 Grand Boulevard in Kansas City, Missouri.