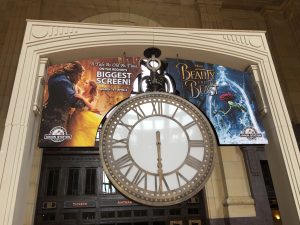 Enjoy the classic remake of "Beauty and the Beast" on the largest screen in Kansas City!  "Beauty and the Beast" will be featured at the newly renovated Regnier Extreme Screen Theatre at Union Station today, March 17th, through April 6, 2017.
General admission is $8 for adults and $7 for children ($1 extra for 3D). Admission for the daily 12:30 p.m. showtime is $5. Tickets may be purchased online or at the movies concession stand.
SHOWTIMES
• 12:30 p.m. (2D)
• 3:30 p.m. (3D)
• 6:30 p.m. (2D)
• 9:30 p.m. (3D)
The Extreme Screen is located inside Union Station at 30 West Pershing Road in Kansas City, Missouri.