The 300-acre Overland Park Arboretum and Botanical Gardens is a year-round educational, recreational and cultural attraction for the Kansas City area.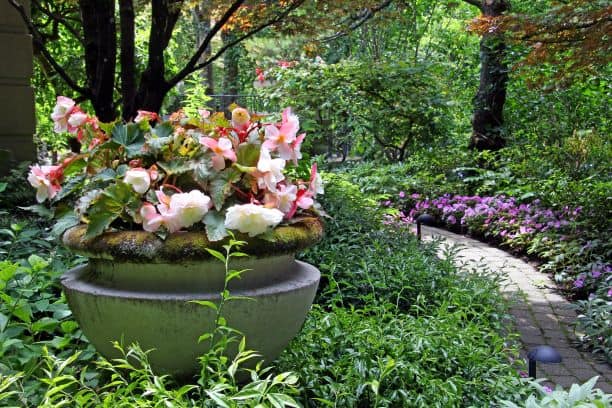 There are some FREE admission days throughout the year that allows you to explore and enjoy at no charge. An annual membership is also a great way to save money if you plan to visit several times through the year.
When you visit you can experience and explore 13 gardens with more than 1,700 kinds of plants; trails and paths; acres of prairie land with native grasses and wildflowers; birds, dragonflies, deer, snakes and other wildlife; art sculptors tucked in among trees and flowers; as well as educational activities and fun events.
The best way to find out about discounts to the Overland Park Arboretum and Botanical Gardens and similar attractions is to sign up for email updates from Kansas City on the Cheap and follow us on Facebook and Twitter. When we find new deals, we make sure our readers know about them.
Outdoor enthusiasts can find more great places to visit in Kansas City at our post Essential Gardens to Visit in Kansas City.
Overland Park Arboretum Hours
The Arboretum is open nearly every day of the year with extended hours for special events. Hours are currently daily from 9 a.m. to 5 p.m.
Summer hours are from April 1 – August 31. During these months the Arboretum will be open with these extended hours (in addition to the daily 9 a.m. to 5 p.m.):
Wednesdays: 7 a.m. to 5 p.m.
Thursdays: 9 a.m. to 8 p.m.
Overland Park Arboretum Admission
Admission for 2022 is:
$3 for visitors 13 and older
$1 for visitors ages 6 to 12
FREE for visitors 5 and under and Friends of the Arboretum members

Free Admission Days in 2022
Admission to the Arboretum will be FREE all day on the following Tuesdays in 2022:
February 1
March 1
April 5
May 3
June 7
July 5
August 2
September 6
October 4
November 1
December 6
FREE admission is also offered to the Arboretum on the following weekends in 2022:
March 26 and 27
October 1 and 2
Friends of the Arboretum Membership
The Arboretum is open year-round so if you plan to go several times throughout the year a Friends of the Arboretum membership is a good investment. Besides FREE admission during normal operating hours, you'll receive discounts to special events and classes, reciprocal membership to over 200 participating botanical gardens, an invitation to the members-only annual social event and eNewsletter updates. Membership levels are:
Individual member: One membership card for an individual member – $35
Member + 1: Two membership cards for two individuals living at the same address – $50
Member + 1 Silver: Two membership cards for two individuals living at the same address and 20 guest passes – $75
Family: Membership for two adults and dependent children – $75
Patron: Two membership cards for two individuals living at the same address and 50 guest passes – $100

Overland Park Arboretum Events and Activities
While some programs and events are included with admission, others have a participation fee. Advanced registration and RSVPs are encouraged and sometimes required so follow any links for details and reservations.
Arbor Day Giveaway: Tree saplings are given to visitors on April 30. See details.
Discover Kits at the Garden: Each month, the Arboretum education team puts together kits families can use to get outside, learn about nature and be creative. Kits can be picked up at the ticket booth, while supplies last. A donation of $5 per kit is suggested.
Night at the Arboretum: Experience the Arboretum in a whole new way once the sun has set. Flashlights are encouraged. There is no additional cost beyond regular admission for these special nighttime sessions.
2022 Night at the Arboretum is scheduled from 5 to 9 p.m. on the following dates:
February 19
October 7
October 21
November 11
Workshops, Walks and Tours: The Arboretum comes to life in a variety of activities that help participants experience and learn about the plants and animals that inhabit the area. See here for more details.
Overland Park Arboretum Location and Parking
The Overland Park Arboretum and Botanical Gardens is located at 8909 W 179th St, Bucyrus, KS.
Parking is FREE.
Outdoor Fun & Exploration at OP Arboretum & Botanical Gardens
Overland Park Arboretum & Botanical Gardens
8909 W 179th Street
Bucyrus, KS 66013
(913) 685-3604