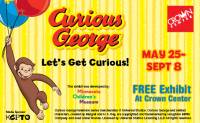 On Saturday, July 27, 3013, take the kids to Crown Center to meet Curious George and participate in a fun activity with KCPT Kids. Admission is free. Bring your own camera.
The event will be held from noon to 4:00 p.m. in conjunction with Crown Center's "Curious GeorgeTM: Let's Get Curious!" exhibit.
Crown Center is located at 2450 Grand Boulevard in Kansas City, Missouri.