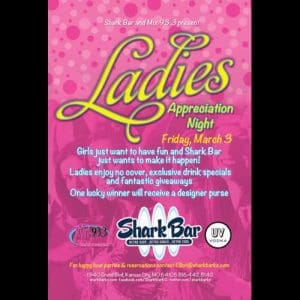 This Friday, March 2, 2012, Shark Bar is hosting a Ladies Appreciation Night with Mix 93.3.
This event includes free admission for ladies, exclusive drink specials, and giveaways. One lucky lady will win a designer purse.
The party starts at 8:00 p.m.
Shark Bar is located at 1340 Grand Boulevard, in the Kansas City Power & Light District.