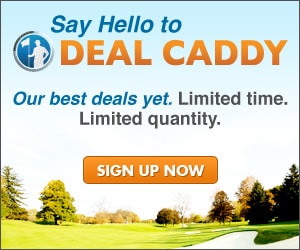 Click here to get the latest discounts at Kansas City golf courses, courtesy of GolfNow.com's Deal Caddy.
Deal Caddy is a free nationwide daily deal site, so you'll need to sign up with your e-mail address and preferred city in order to get the deals. You can opt out at any time if you decide you don't want the e-mails, or search other cities if you're planning to travel. You can also use the site to book tee times.
GolfNow.com is an advertising partner of Kansas City on the Cheap.