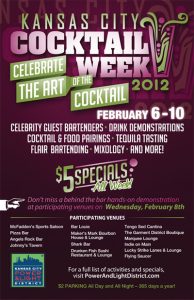 The Kansas City Power & Light District is hosting Kansas City Cocktail Week this Monday through Friday, February 6-10, 2012. Admission is free if you arrive early. Some of the participating bars will have cover charges after around 9:00 p.m. (i.e., the usual cover charges apply).
During Kansas City Cocktail week, participating venues will offer $5 specialty cocktails. There will also be celebrity guest bartenders, drink demonstrations, cocktail & food pairings, tequila tasting, flair bartending, mixology, and more. There will be additional hands-on demonstrations on Wednesday, so if you're really interested in the flair bartending, make sure you show up on Wednesday.
Participating venues include McFadden's Sports Saloon, Pizza Bar, Angel's Rock Bar, Johnny's Tavern, Bar Louie, Maker's Mark Bourbon House & Lounge, Shark Bar, Drunken Fish Sushi Restaurant & Lounge, Tengo sed Cantina, The Garment district Boutique, Marquee Lounge, Indie on Main, Lucky Strike Lanes & Lounge, and Flying Saucer.
The Kansas City Power & Light District is located across from the Sprint Center in downtown Kansas City, Missouri.