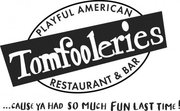 Finding a good Happy Hour is a great way to save money if you're planning to have dinner and drinks. And in my opinion, Tomfooleries has a pretty good Happy Hour menu.
I got this information from the Zona Rosa Web site, so keep in mind that the menu at the Plaza location may not be exactly the same.
Here are the deals:
Drink specials:
Domestic draws: $2
Well drinks: $2 (add $1 if you want juice)
Call drinks: $3.50 (Add $1 if you want juice)
Jose Cuervo margaritas: $3.75 (rocks only)
$3 Food specials:
Chicken tenders with waffle-cut fries
Cheeseburger with waffle-cut fries
Roasted garlic hummus with grilled pita
Steamed pot stickers
Grilled Thai chicken sticks
Buffalo chicken sandwich with waffle-cut fries
$4 Food specials:
Onion Rings
Meatball slider with waffle-cut fries
Layered enchilada dip with tortilla chips
Pepperoni pizza with housemade herb crust
Spicy grilled chicken soft tacos
Happy Hour at Tomfooleries runs from 4:00 to 7:00 p.m. daily. The drink specials (but not the food) are also good from 9:00 p.m. to close.
There are two Tomfooleries locations in Kansas City.